Inside: Teaching novel strategies for Spanish class. Reading a comprehensible novel in Spanish class tips and tricks. Ways to teach Spanish comprehensible input readers and my favorite novels for Spanish class.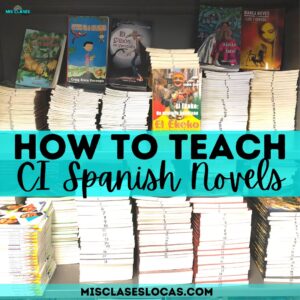 Reading is one of the most important skills that any language learner can acquire. However, teaching comprehensible Spanish books can be a challenge. You can see my journey learning and growing teaching with Spanish readers documented here on the blog since 2014. I actually have 80+ posts with the label novel, so my goal is is to organize these posts together to show how to effectively teach comprehensible Spanish books in order to maximize student learning and engagement.
As for some prologue reading, if you are brand new to the idea of using acquisition-based Spanish novels and need help funding, organizing & planning to use books, read these posts first.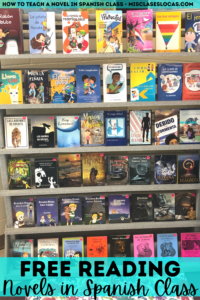 This post focuses on full class novels. To learn more about free reading & a Spaniash classroom library, read these blog posts. The Game Changer Introducing FVR & Spanish Classroom Library Tour
Choose the Right Book in Spanish for your class
The first step in teaching comprehensible Spanish books is choosing the right book for your classroom. My number one suggestion is to start with a book in Spanish that is on the easier side. When selecting a book, it's important to consider the level of your students, their interests, and the topics you want them to learn about. But, above all, you want students to build confidence and feel successful reading in Spanish. This is why starting with an easier book is key.
For example, the first comprehensible input Spanish book I ever tried, Brandon Brown Quiere un Perro, was actually purchased for my Spanish 1. But, I taught it to my Spanish 2 as their first-ever book. You can read about that journey from 2014 with my chapter-by-chapter posts starting here.
It's also a good idea to choose a book that has an interesting storyline so that your students will be motivated to read. Now, I like to pick Spanish novels that are centered on culture, so you can use them as a full novel unit. I also prefer Spanish novels with robust teacher guides to save time. You can see all of the novels I would teach as a part of my Mis Clases Locas Curriculum for Spanish 1-4.
My favorite full-class novels for each level of Spanish
FYI This post is in no way sponsored. This is my honest truth and opinion based on my own experiences, students, and the books that have worked best for me. As you can see in my curriculum, I often used as many as four full-class Spanish books per year. Here I will keep it to just my two top books in Spanish per level. I included my own resources and blog posts linked, the top themes & an Amazon affiliate link to purchase. (If you are wanting bulk orders or teacher's guides, please reach out to the authors on their official websites. I do not work for any of them.)
Best Level 1 Spanish 1 Readers
El capibara con botas by Mira Canion
Peter va a Colombia by Craig Klein Dexemple
Other Level 1 Spanish 1 Comprehensible Input Book Options
Get all of these for your Spanish Classroom Library for FVR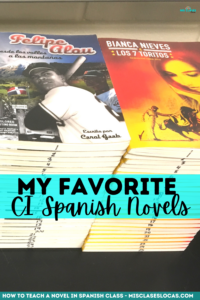 Best Level 2 Spanish 2 Readers
Felipe Alou by Carol Gaab
Bianca Nieve y los 7 toritos by Carrie Toth
Other Level 2 Spanish 2 Comprehensible Input Book Options
Get all of these for your Spanish Classroom Library for FVR
Best Level 3 Spanish 3 Books
For Spanish 3, I would also suggest doing Literature Circles as well.
Robo en la Noche by Kristy Placido
Vida y Muerte en la Mara Salvatrucha
El Salvador & U.S., immigration, past tense, social issues
MS13 Stations – for before reading the book or sub plans
Suggested film to pair – Voces Inocentes
Get the book Vida y Muerte
Other Level 3 Spanish 3 Comprehensible Input Book Options
Get all of these for your Spanish Classroom Library for FVR
Best Level 4 Spanish 4 Books
For Spanish 4, I would also suggest doing Literature Circles as well. (Get my Literature Circles for Spanish Class Unit here)
Vector by Carrie Toth
La Calaca Alegre by Carrie Toth
+ If you want Authentic Spanish Literature, I highly suggest Cajas de Cartón – short story unit or the full novel Cajas de Cartón paired with A Million Miles Away.
Remember, you could for sure use these books down a level or two to start out and build confidence. For example, I started a Spanish 4 class with no prior experience reading a novel with Felipe Alou. It includes rich culture and allows for deep discussion, along with easier language in the actual book.
Strategies to Teach Comprehensible Spanish Books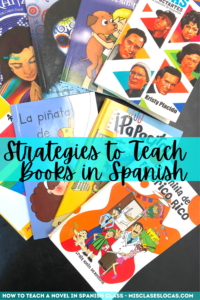 Once you have chosen your book, you need to decide HOW you are going to use it in Spanish class.
Tips to teach a full class novel in Spanish class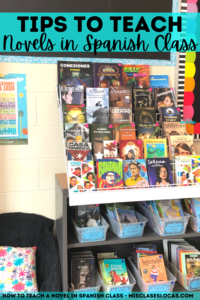 Front Load Vocabulary to best teach comprehensible Spanish books
First and most importantly, pre-teach difficult vocabulary words before reading. I actually do this by starting the year with a focus on the Super 7 high-frequency verbs. Then by picking a book students will be successful with, there should only be a few words in each chapter to introduce in advance. You can front-load this vocab by using visuals like pictures or videos that illustrate key concepts in the text, as well as activities like personalized discussions that allow students to practice using new vocabulary words in context.
Read to your Spanish class
As mentioned in my posts with tips above, I always read the first chapter(s) to the whole class. While reading, I check for understanding frequently. This can be done by asking different types of questions related to the text. These can be quick and non-verbal like a yes/no question with a thumbs up or down. Or use an either-or question to get in more input and seek clarification. Additionally, open-ended questions show an overall understanding.
I then like to provide the option for every chapter to be read out loud. Depending on the class this might be any small group of students or a full class that wants/needs it. I have had whole classes in which most students chose to read each chapter, They enjoy having comprehension checks out loud and they feel more confident in their understanding.
Activities to Mix up Teaching a Spanish Class Book
Comprehension Checks Using Technology
Integrating technology into your lessons can help engage students while lessening the load for the teacher. For example, you can use websites such as Blooket, Gim Kit, or play Quizlet Live Relay Race to search for already made comprehension checks after reading a chapter. Or you could use these same sites to practice vocabulary before reading or to review the previous day's reading.
Post Reading Options in Spanish Class
It is alright to give options for how students show their comprehension. When I taught El Silbón de Venezuela at the end of the year in Spanish 1, I used the pictured board for students to pick options each day. This was at the point that the students knew what these options meant and it gave me a break from creating something new every chapter.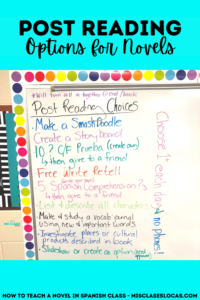 Final Thoughts on Teaching a Novel in Spanish Class
Teaching comprehensible Spanish books doesn't have to be difficult. With careful planning and creative strategies like those outlined above, teachers can create engaging lessons that will help their students develop their language skills while having fun at the same time. By choosing appropriate texts for your classes, front-loading vocab, and providing a variety of comprehension checks, you'll get the best possible results from teaching comprehensible Spanish books.
If you make a purchase from the Conference or Amazon links above, I may make a small commission. Thank you for your support of this free blog Affiliates & Disclaimer