In my post about my Curriculum Year 4, I mentioned a plan to have literature circles in both Spanish III and IV. I have always wanted to try out this English class technique, where multiple groups are reading and discussing different books all at once. Luckily, I am a part of the language PLC with the English teachers, which includes a young rock star English teacher who shared her wisdom and resources with me while I planned. I also checked out the following posts as well
Kristy Placido – Círculos de la literatura
&
Martina Bex – literature circles
. We just finished up literature circles in Spanish 4, and are starting in Spanish 3.
**You can download the entire Literature Circle Unit here**
The first step was to purchase a variety of books in sets of 5. I chose the books below, all from TPRS Publishing. For Spanish 4, I picked all level 3 books, and for Spanish 3 a variety of levels that all use the past tense. I like that for individual reading, I like that these books all have a glossary that included every word and cognate.
Spanish 4 – Literature Circles with the following 3 books
Spanish 3 –
Literature Circles with the following 4 books in past tense
For students to rank their choices, I made a power point for each class with a description of each book, including the country of setting and main cultural themes. This was shared in our shared Schoology folder and students filled out a form ranking their choices, and giving their reasoning as well. I went through their requests and tried to put students into groups of their 1st or 2nd choice, while making sure that each group would be a positive functioning unit. For the duration of this unit, groups sat together in table groupings.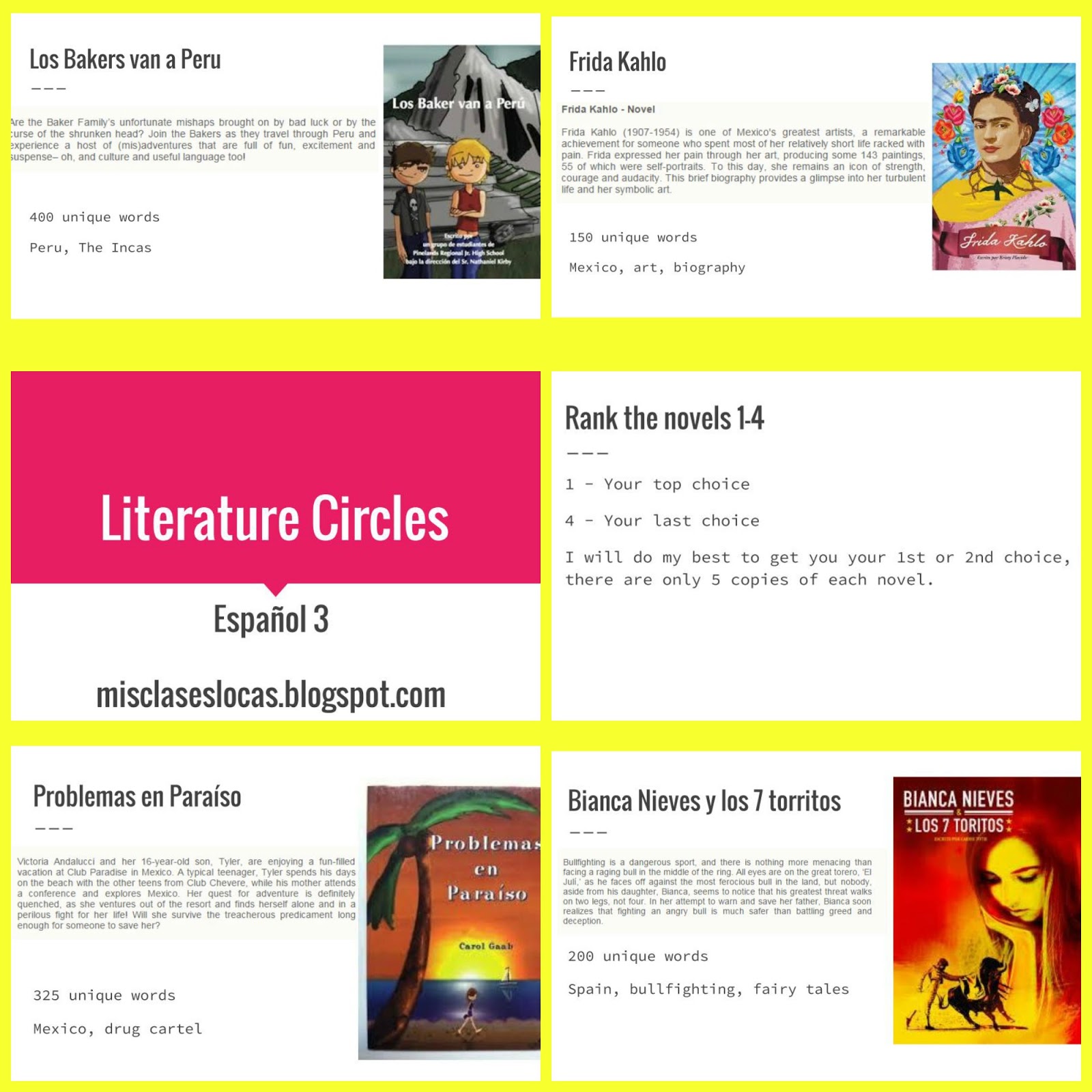 Once in their groups, they filled out calendars to keep everyone accountable for their plan. I I included an editable calendar in the unit package.
This is the plan that was shared with students as the basis of our unit. It includes the following days as a part of our plan.
Reading & Discussion – They have these general discussion questions, which help them when they get stuck. I move from group to group, helping where needed. I wanted to give them enough in class time to make sure everyone reads, and to provided support for those who like to read out loud with their group. For next year I am requesting the audio books for each group to have as an option as well. For my first time I did not have specific "roles" in each group, but this is something I think I may add with Spanish 3 especially. Spanish 4 had just gotten done doing lit circles in English class, so they had a better idea already of how to stay on track.
Guided Interpersonal Speaking – Every few days we have a more structured interpersonal time which is required to be completely in Spanish. I give a topic (characters, setting, theme, plot, dram, critique etc), set a timer for 15 minutes, and then walk around informatively assessing. Here is my power point of topics & prompts. It is meant to be like a book club and students may use their books and notes.
Guided Writing – Right after speaking I set another 15 minute timer and students write about the topic they just discussed, also comparing it to other books and movies. I read these, give feedback and return them as formative practice. you can get all of the writing prompt forms in the unit plan.
Interpersonal Speaking Assessment – I will listen to each group separately as they discuss and critique their book.
Presentational Writing Assessment – Students write an individual essay in class on paper about their book, using the literary elements discussed in class, as well as comparing it to other books and/or El Internado. It is included in the unit plan.
Project – Each group does a short presentation to teach the others about their book and the related culture. All others are encouraged to ask questions as well.
**You can download the entire Literature Circle Unit here**


As always this is a work in progress and I would love any feedback that you have for me to make this better!


If you do not have multiple copies of each novel and would like to do something similar, check out my posts on how we did Individual Novel Study last year. Individual Novel Study Part 1 & part 2.