Inside: Tierra Incógnita in Spanish class. Resources for the Disney+ original show Tierra Incógnita to use in Spanish class. Tierra Incógnita en la clase de español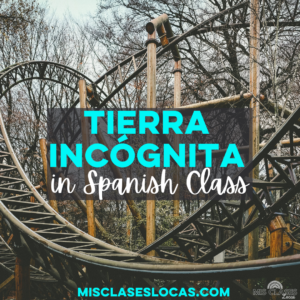 If you have not seen it, there is a new popular thriller series on Disney Plus that was originally created in Spanish, Tierra Incógnita. This authentic show was created in Argentina in Spanish. What makes it especially exciting for Spanish teachers is that this is a PG-appropriate show, created in Spanish, that is engaging. Tierra Incógnita would work well in a Spanish classroom for grades 7-12. You can see how I have taught using shows in upper-level Spanish with Go! Vive a tu Manera & El Internado + ideas for younger students with Maya y los tres. Plus check out Teaching TV Shows in Spanish Class.
How can you use Tierra Incognita in Spanish class?
Tierra Incognita is suggested for ages 10+ for jump scares and teen romance (according to Common Sense Media). Another site in Spanish suggested the show for ages 14+. There are some pretty scary moments that for sure made me jump. I am not a fan of scary movies, but this is more like El Internado or a mystery like El Orfanato. It is not gory or violent. The budding teen romance includes simple kisses, similar to what you would see on a family sitcom. There has not been anything that I have seen so far that I would feel the need to skip or feel uncomfortable showing.
In my opinion, Tierra Incógnita would be appropriate for grades 7-12 Spanish students. There are eight total episodes so far that are each about 30-35 minutes long of the actual show. So, if you were looking for a series that you could show each Friday in secondary Spanish, this could be the answer. Or, one episode could be a great sub plan, treat, or teaser around Halloween to get students to go home and watch more on their own.
Character Introduction
I have found that introducing characters in Spanish makes watching a new show a lot more enjoyable. It is especially true with this show since a lot of characters get introduced in a short amount of time in the first episode. If you want to introduce the characters of the show in novice Spanish, I have an editable Slideshow all ready to go. Just enter your email below and they will be sent to you.
Episode 1 Guide for Tierra Incógnita in Spanish class
I created an episode 1 guide for Tierra Incógnita which is all ready to go. It would be a perfect one-day sub plan or a fun 1 class period reward, especially around Halloween. The guide has also been added to my movie guide bundle if you happen to already have that.
UPDATE: The original resource was just a guide for episode 1, but due to requests I added to it. The resource is now a guide for season 1 of Tierra Incógnita. I added beyond the traditional episode 1 guide with comprehension questions. You now have two ways to get the guide! Tierra Incógnita Season 1 guide from MCL Shop or Season 1 guide on TPT.
See below for more info about the 12 additional resources that could be used with any episode.
What's Included in the NEW Editable Tierra Incógnita Activities for Episodes 2-8
✅ Sample season 1 of Tierra Incógnita lesson plan.
✅ 12 Editable Google activities designed to use with any episode of Tierra Incógnita.
✅ 6 during & 6 post-viewing activities that mix it up beyond comprehension questions for the Spanish show.
✅ 6 During-watching activities include Basic Character Chart, advanced Character Chart, Vocab Graphic Organizer, Events list – English, Events – Spanish & Graphic Organizer.
✅ 6 post-viewing activities include Free Write in Spanish, Ensayo in Spanish, Create a Comic in Spanish, Chat in Spanish – Basic ?s, Chat in Spanish – Advanced ?s & Write about Chat extension.
If you want to collaborate on activities specific to the later episodes, please send me an email.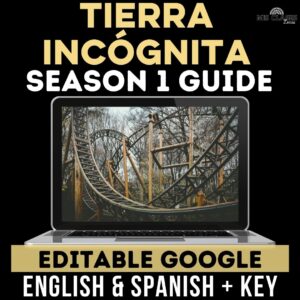 What Language & Subtitles for Tierra Incógnita in Spanish class?
On Disney+, you can change the language & subtitles to Spanish if you like. As always, do what is best for your students and situation. Here is my go-to way.
Upper-level classes – Spanish audio & Spanish subtitles
Lower-level classes – Spanish audio & English subtitles
Exploratory or Culture class – English audio (& maybe Spanish subtitles for fun)
More support on HOW to teach a TV program in Spanish class
Trailers to use for Tierra Incógnita in Spanish class
First, before watching you could play some of these videos to build interest. For lower-level classes, you could use a clip chat style, pausing and describing in basic Spanish. Or take screenshots of the video and project them. Then have students write or discuss what they see and what they wonder about. Finally, you could have students find cultural elements and then research to make predictions as well.
Trailer – español – 30 seconds
Teaser Trailer – no speaking – 20 seconds
Trailer – español – 2 minutes
More Videos for Tierra Incógnita in Spanish class
Also, for upper-level classes, you could use some of these videos in Spanish. They would be great authentic listening comprehension related to the series.
¿De qué va a tratar? + Reacción | PeterRdzl – advanced
Interview – A solas con el elenco de "Tierra incógnita"
DISNEY COMENZO FILMACION DE PELICULA EN LA EX FABRICA MILITAR EN PELLEGRINI – news story
Tierra Incógnita 🎡 CAPITULO 1 – Watch AFTER Episode 1
Authentic Readings about Tierra Incógnita
Also, you could use these resources for additional interpretive practice.
Authentic Tweets

More advanced authentic readings for Tierra Incógnita in Spanish class
Other Film Resources for Spanish class
Finally, if you want a different series or film to use in your Spanish classes right now, here are some resources to save you time.
Other shows
Film resources – great for Hispanic Heritage Month
So, if you want to try out Tierra Incógnita, get my Tierra Incógnita Season 1 guide from MCL Shop or Season 1 guide on TPT and bonus slides by signing up for my email list above & let me know how it goes!
If you have more resources for Tierra Incógnita in Spanish class, please share them in the comments and I will add them!