This is part two in a series about getting started using novels in her classroom. You can find my post here for Steps 1 & 2 Research and Find Funding.


Novel Basics in Spanish Class
Step 3: Organize the novels
Step 4: Plan for the novels
T
oday I will share steps 3 & 4 Organize & Plan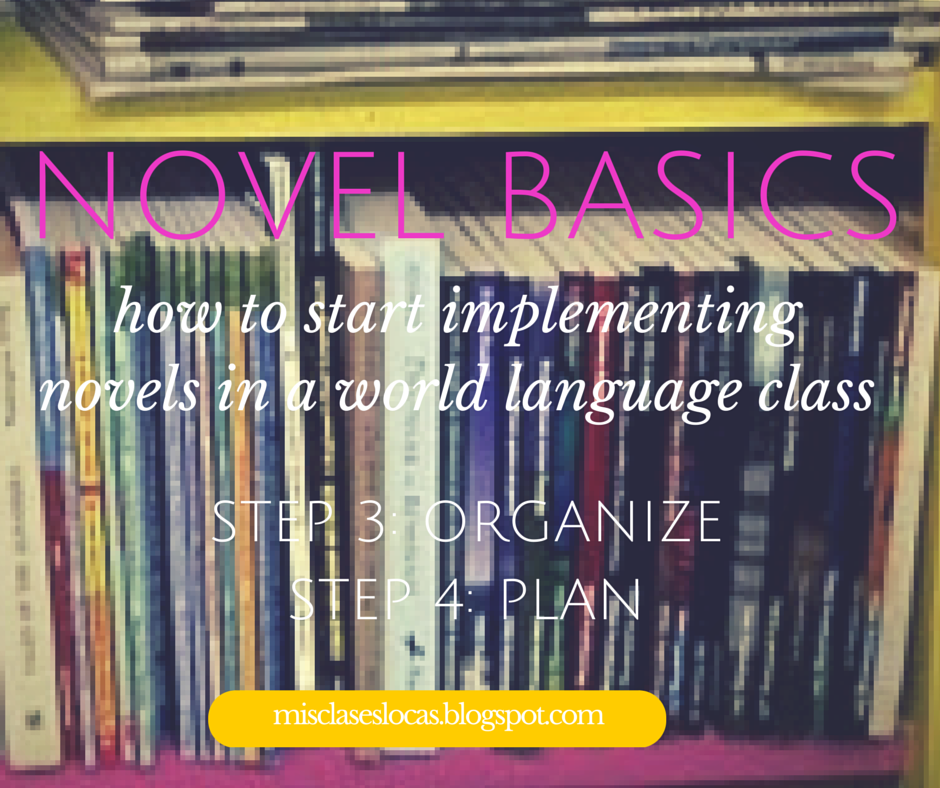 Step 3: Organize the novels
Congratulations! You have now chosen and purchased class sets of novels. Now that you have worked so hard to get these novels, the last thing you want is for them to go missing! If you are a bigger school some of this may not apply to you, but at a small school I am handed the fresh box of books and I am responsible for taking it from there. These are the systems that I have found that work, but please let me know if you have better ideas!
Novel Organization Basics
Label all books with your school or personal name. Just this summer I ordered a self-inking stamp to mark all of my novels and books for my classroom library.

(This is after writing my name in hundreds of new books this year).

It was less than $10 with shipping and even if the ink runs out I can use it forever with an ink pad.

my awesome book stamp

Number all books. I use a sharpie and number the novels on the bottom spine. This way when the books are stacked on a table in number order, it is easy to see which ones are missing.

Assign each student to a number and RECORD this somewhere. 
Class Set
The books stay in the room and multiple students may have the same number. 

When students enter class they grab their numbered book and put it back in the specified location before they leave. It works well to have students put their books in order, so a student or myself can check before everyone leaves if a book is missing.

If you have multiple sections of the same class in a row, it works well to have books that stay on each table or desk. The first class sends one student to get their table's books, and the last class puts them back.

You need to make sure you do not assign outside reading or homework where they need the novel, because there are not enough copies for everyone to complete it.

If a student is absent, they can check out a book to take home to catch up. *Use books that are not checked out to a specific student as loaners, or a student in another class will not have a book for class. I have a checkout log on my desk where students write their name, book title and number, and cross it off once returned.
Enough Books for All Students
Students are checked out their book and can choose whether each day they leave it in the room in a specified place, or bring it to class.

I have found that younger students do better with just leaving the books in class. They are guaranteed to be prepared and it is one less thing for them to forget.

Upper level students tend to like to keep their book with them, and are usually prepared with it each day to class.

Even if all students have a copy, make sure to have a few loaners for those books that magically disappear and mom brings the book in two years later when cleaning out her now graduate's closet.
Step 4: Plan for the novels
The number one step is to read the teacher's guides! This means when you go back to 
Step 2: Find funding & buy the novels, you MUST have funding to purchase teacher's guides. Most guides I purchased through the same publisher as the novel, but bought the great guide for 
Cajas de Cartón from Musicuentos.
After exploring the teacher's guides I like to see if any teachers out there have used the novel and what they used for activities and ideas. A quick Google search brings up linked posts about that specific novel from the archive of blogs I probably already follow. I personally like to see reflections of what worked well from teachers who have already tried out the novel. 
Next, I go to my trusty Pinterest where I type in the title of the novel and then click "boards." As you can see below there are MANY teachers who have already started boards with authentic resources and ideas related to the novel Felipe Alou. I like to put my favorite ideas on my own board, or start a Google presentation for the novel with links, videos and photos that I plan to use to teach the book. 
Search the novel & click "boards" for tons of ideas!
I then put together all of these ideas to set up a general idea of what we will do while studying the novel. I once heard to plan about two days per chapter, one for reading activities and the other for cultural exploration and connections. I go into more detail in this in posts about resources I used teaching specific novels, which are linked below. 
If you are interested in using a classroom library for free reading, you can find posts here. 
As always, please let me know if you have any questions, because it might inspire my next post!