Inside: Encanto in Spanish class. Resources for the Disney movie Encanto to use in Spanish class. Encanto en la clase de español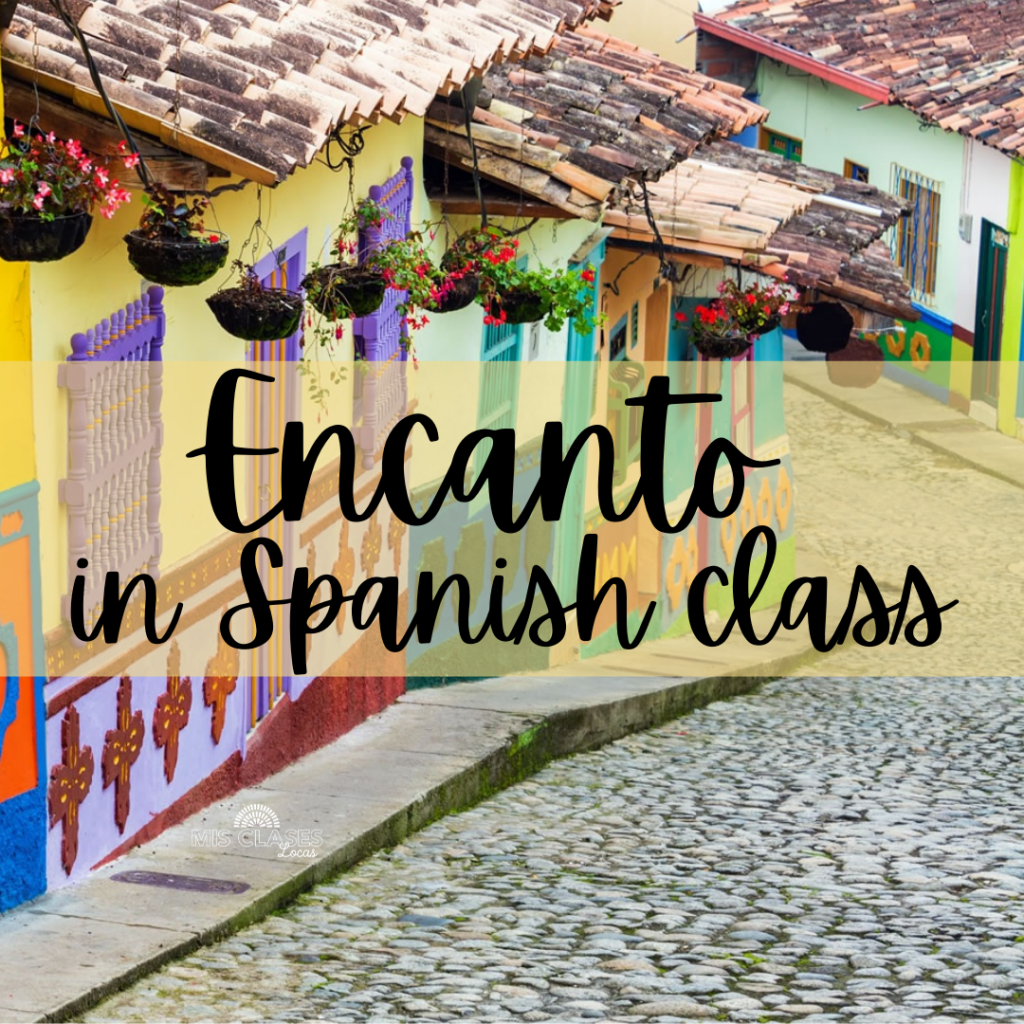 All the Spanish teachers are so excited to see a new appropriate Disney movie set in a Spanish-speaking country. Unfortunately, Encanto does not come out until November. But, here are some authentic resources that you can use to discuss the film today.
Trailers to use for Encanto in Spanish class
First, play these videos to build interest. For lower-level classes, you could use them movie talk style, pausing and describing in basic Spanish. Or take screenshots of the video and project them. Then have students write or discuss what they see and what they wonder. Finally, you could have students find cultural elements and then research to make predictions as well.
1st Teaser Trailer – 30 seconds
Trailer – español
Trailer – English
More Videos for Encanto in Spanish class
For upper-level classes, you could use some of these videos in Spanish. They would be great authentic listening comprehension related to the film.
Reaction to Trailer in Spanish
7 Curiosidaded sobre Encanto
Song from Encanto – Colombia tierra Querida
Authentic Readings about Encanto
Novice reading for Encanto in Spanish class – Authentic Tweet
More advanced authentic readings for Encanto in Spanish class
Ya hay fecha de estreno de 'Encanto', película inspirada en Colombia – SINOPSIS OFICIAL – Encanto de Walt Disney Animation Studios cuenta la historia de los Madrigal, una familia extraordinaria que vive escondida en las montañas de Colombia, en una casa mágica, en un pueblo vibrante, en un lugar maravilloso conocido como un Encanto. La magia de este Encanto ha bendecido a todos los niños y niñas de la familia con un don único, desde súper fuerza hasta el poder de sanar. A todos, excepto a Mirabel. Pero cuando descubre que la magia que rodea al Encanto corre peligro, Mirabel decide que ella, la única Madrigal sin poderes mágicos, podría ser la última esperanza de su excepcional familia.
Other Colombia resources
If you want to dig deeper and connect more with the beautiful culture of Colombia, here are some resources.
Other Film Resources
If you want a film to use in your Spanish classes right now, here are some resources to save you time.
If you have more resources for Encanto in Spanish class, please share in the comments and I will add them!