Inside: Ferdinand movie in Spanish class. Resources for teaching about Bullfighting and Spain to use in Spanish class. Ferdinand movie guide, Ferdinand worksheet, Ferdinand Trailers, and more. Olé, El Viaje De Ferdinand en la clase de español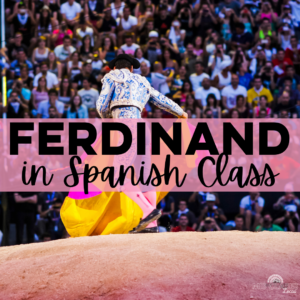 Why use the movie Ferdinand?
Since I studied in Spain for a semester, as well as lived there for a summer, it will always hold a special place in my heart. I have always enjoyed teaching about Spain through the novel Bianca Nieves. That unit was typically saved for the 4th quarter of Spanish 2 in my Curriculum since it ended the year on a positive high note. I saved the film for after the book as a fun way to end out the year. It might be a children's movie, but my high school students have overwhelmingly loved it.
Ferdinand is clean and rated PG, with a run time of 1 hour and 47 minutes. It is one of my personal favorite movies that I have shown the most in class on my list of 10 appropriate movies for Spanish class. Ferdinand can be currently found on Disney+ or purchased or rented through Amazon, Youtube, or on DVD. It is likely at your public library to rent as well. Give yourself and your students a much-needed break this Spring and watch an enjoyable movie in Spanish class.
If you are in need of a break and looking for a ready-to-go movie guide for every level you teach, my Ferdinand movie guide is for you. It includes character identification, 20 questions in English OR Spanish to use while watching, and post-viewing questions and character matching. It is the same format as many of my other popular movie guides.
What audio & subtitles to use for Ferdinand in Spanish class?
First, it all depends on your goals and level of students. *If you buy a DVD or rent it online, make sure that the option for Spanish audio and subtitles are included before you pay. As always, do what works best for your classes. Here is what I personally do:
Spanish audio & Spanish subtitles – upper-level students
Spanish audio & English subtitles – novice level students (what I used with my Spanish 2)
English audio – exploratory Spanish or culture class
Below are other resources you can use to teach about Ferdinand
(In addition to my movie guide).
*Ferdinand Character Introduction in novice Spanish
Introduce the characters in basic novice Spanish before watching the film to help aid comprehension. Enter your email and the editable Google Slides will be sent to you.
Ferdinand Movie Trailers in Spanish
Show trailers before watching the film. Predict what is going to happen & introduce characters.
Songs for Ferdinand in Spanish class
Any of these songs would be a fun complement to a Selena unit.
Song – Macarena
Song – Lay Your Head on Me (Spanglish from Juanes)
El Toro Ferdinando – book
If you have more time and want to dig deeper into the original children's story Ferdinand, check out the resources shared by Kara Jacobs. You could then compare and contrast the two Ferdinands (or 3 if you are also reading Bianca Nieves).
Typically my full Spain/Bullfighting Unit went in this order
Other Film Resources
If you are not interested in Ferdinand, here are some other movie resources to save you time. My top appropriate movies for Spanish class Blog post
Movies that have a lot of music
Other Movies for Spanish class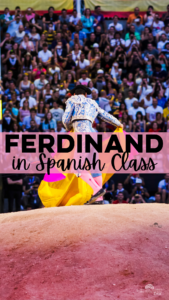 Ferdinand has been one of my favorite, appropriate movies for Spanish class for years. It has a great message while incorporating the culture of Spain. Make sure to grab the Free Ferdinand Character Slideshow above and the Ferdinand movie guide to teach it. If you have more resources for Ferdinand in Spanish class, please share them in the comments and I will add them!