Inside: A review of Adriana Ram

í

rez's novel for upper level Spanish class El Cóndor de los Andes.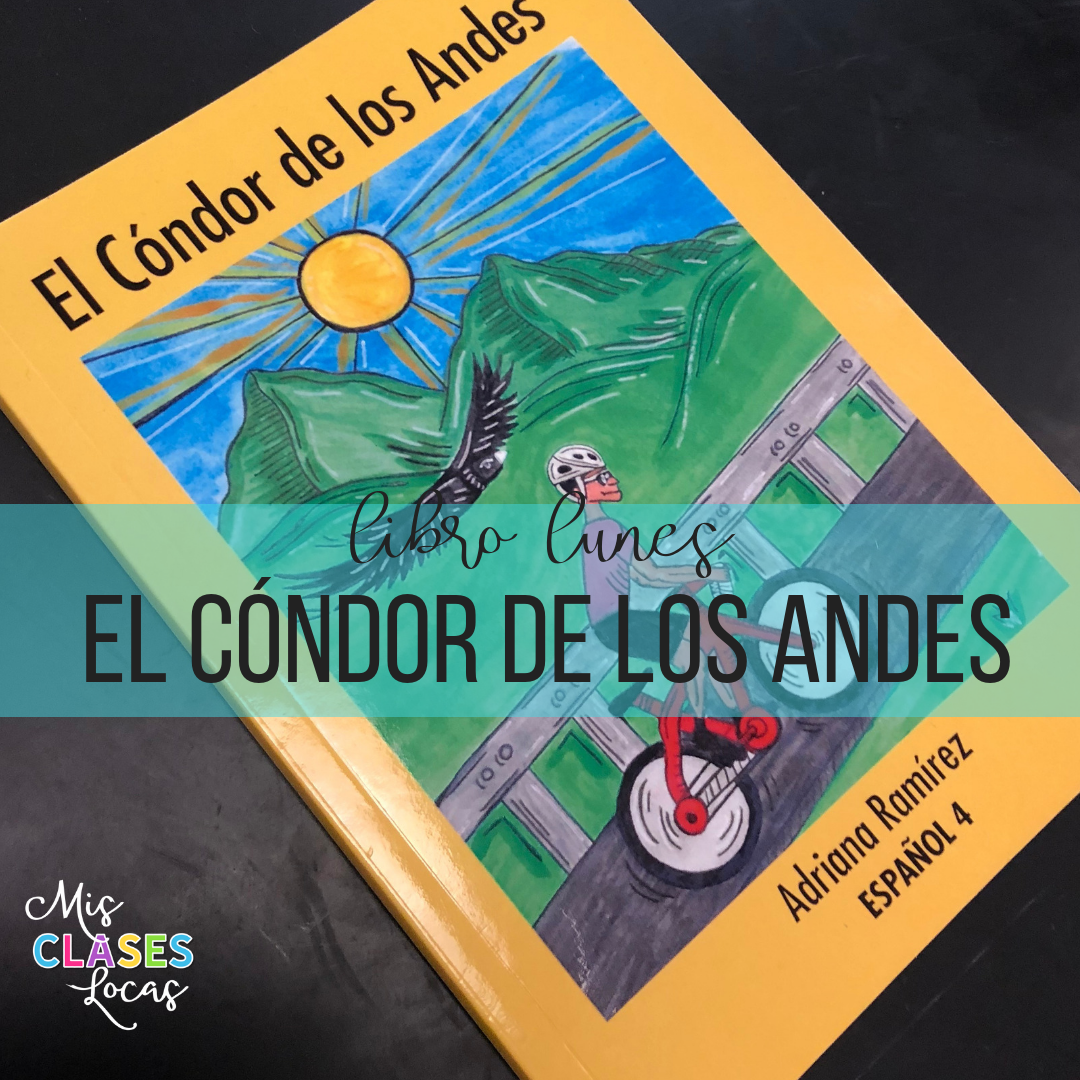 Today's 
libro lunes
 is a new novel from Adriana Ram
í
rez, 
El Cóndor de los Andes.
It was just published in 2018. It is a novel for upper level learners of Spanish. I personally think it would be great for my later Spanish 3, Spanish 4 or AP Spanish classes. You can buy this novel on Amazon.
To see many of my classroom library recommendations all in one place, you can visit My Amazon Store book list!
Here is the synopsis from the author on 
Amazon
.
El Cóndor de los Andes is an engaging and inspiring story written for Spanish 4 students. It is the perfect novel to read with your level 3-4 classes, AP Spanish classes as well as IB Spanish classes. It is based on real events, which makes it very appealing, but it's intertwined in a very compelling story that will touch your heart. It has a lot of cultural components, and since it tackles a relevant and current topic, you can find a lot of authentic support materials online (songs, news report, videos), that you could use along with the book. It has a glossary organized by chapters, which helps students find the words easier. Synopsis: "Muchas veces las cosas difíciles de la vida son las que nos ayudan a salir adelante. Esta es una historia inspiradora, basada en hechos reales, de un ciclista colombiano que llegó muy lejos, a pesar de las muchas dificultades que tuvo que enfrentar en el camino".
The novel  El Cóndor de los Andes is set in Colombia. I love when novels have a connection to a specific Spanish speaking region, so it is natural to make many cultural connections. It is also based on real events, so there are many possibilities for connection to authentic texts, geography, and the "escarabajo" bike riders. There are Colombia foods mentioned such as chocolate and arepas, and students would love expanding to experience those foods while reading the food. There are also a lot of connections that could be made for a medical unit. It could be used as a full class novel in a unit centered on Colombia. All of the dialogue and action, would make many scenes perfect for reader's theater. (Here are resources that I have for Colombia in the novice unit Peter va a Colombia).
I also think it would be a great literature circle option for my late Spanish 3 or Spanish 4 students. With the glossary by chapter and pictures, the novel is more comprehensible than some popular authentic novels. The book is written mostly in past tense, with natural present tense dialogue, and other tenses mixed in. The deep cultural connections to real events and people (Nairo Quintana) make it a great choice for upper level students. The growth mindset and perseverance displayed  is a great example for students as well.
Overall El Cóndor de los Andes is a must have book for your upper level Spanish classroom library (along with the other awesome book from Adriana Ramírez, El Entierro). It is upper level books, but a shorter read that could be squeezed in between other required upper level units if needed.
If you are looking for more resources from the author, check out her Youtube channel and connect on Twitter @veganadri.
Have you read it? What is your review?
As an Amazon affiliate, I might make a small amount if you chose to buy this book through my link. Thank you for your support!
More Libro Lunes Book Reviews from independent authors