Inside: Resources for Spanish class for the Netflix movie El camino de Xico or Xico's journey. Teach a cultural unit centered around the authentic Mexican movie El camino de Xico. El medio ambiente using El camino de Xico. 
If you are a Spanish teacher mom who uses the Kids account on Netflix, you might have seen the new Netflix film
El camino de Xico (Xico's journey). This cute animated movie is everything Spanish teachers want: culture-rich and appropriate! It takes place in Mexico and was originally released in November of 2020 in Spanish in Mexico. It follows the story of two young kids and a Xolo dog, with deep themes of the environment. You can see more in the trailer below. 
The film was created in Spanish, so Spanish audio is the original. On Netflix, you can change the audio &/or subtitles to English if you wanted. Personally, I would keep Spanish audio with all classes, but have English subtitles for novices and Spanish subtitles for intermediates. Even for upper levels having Spanish subtitles offers support, and also the chance to get both reading and listening input. 
Who would you use the film El camino de Xico for?
The film is rated TV-Y7, which means it would be appropriate for ages seven and up, and is very G rated. It is 84 minutes long. (This means it would be a great sub plan with this TPT guide
or  El camino de Xico  guide from my website shop) You can find more about level of appropriateness here, with mentions it does have some mild violence (between animals and humans, machines and mother nature), but is pro-nature. I personally think it would work with 2nd grade on up Spanish class or even an Exploratory class. 
At the same time, there are themes of the environment, including fracking, which would make for great high school or college level discussion with units on El medio ambiente, global challenges, and climate change. It is an authentic Spanish movie from Mexico, that is very appropriate, yet could go as deep as you want with relevant themes. 
If you want to make a whole film unit, there are so many cultural themes for exploration including the following:
Resources to save you time
El camino de Xico Guide – BRAND NEW! Includes options for English comprehension or Spanish comprehension, character description, and post-viewing activities. The directions are in English, so it would be a great sub-plan. Update you now also have the choice to get El camino de Xico  guide from my website shop.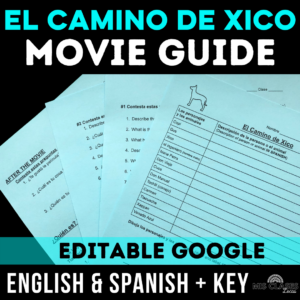 Authentic Video Resources
Use these #authres videos to introduce the film. For novice students, you could movie talk muted trailer. You could then do a deeper study of the authentic song in the film. 
This last #authres video would be great for upper-level students as it is the voices of actors talking about films, going to the movies, and El camino de Xico. You could watch it before or after the film. 
Authentic Reading Resources
Use these #authres readings in Spanish after the film as reading assessments or just extra reading practice for upper levels.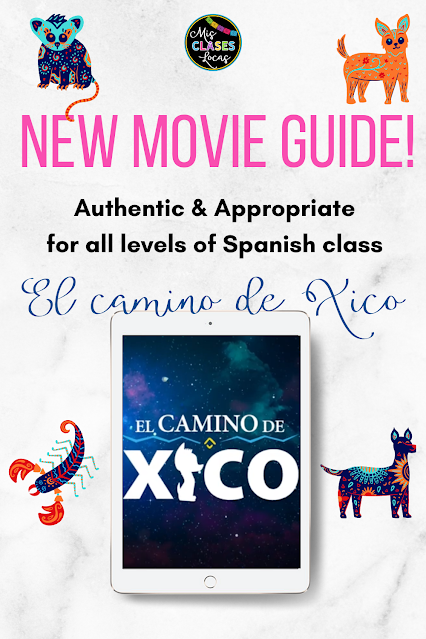 Also, the other guides I have available realgting to the environment are:
Finally, the other movie guides for Spanish class
Please let me know if there are more resources for El Camino de Xico I should add!