Inside: Pelotero (Ballplayer) documentary in Spanish class. Resources for teaching about peloteros dominicanos Miguel Angel Sanó and Jean Carlos Batista in the film Pelotero in Spanish class. Pelotero movie guide for Spanish class.
Engage Your Spanish Learners with the Movie Pelotero
Showing authentic movies in the Spanish classroom can be a great way to engage your students and help them learn about the diverse cultures of the Spanish-speaking world. If you are a long-time reader, you know I love using Appropriate movies for Spanish class. Many on that list happen to be animated and fictional. But, this appropriate documentary is a hidden gen that I have used with high school students for years, but never blogged about until now.
This documentary follows two teenage Dominican baseball players as they navigate the complexities of signing a professional baseball contract with the MLB. It is the perfect film for a sports unit or to complement the book Felipe Alou. It gives students an insider look into Dominican culture and life, focusing on Afro-Latinx people. If you are interested, the film also provides the chance to discuss important topics such as corruption, human rights, and poverty.
The Story of Pelotero
Pelotero tells the story of Miguel Angel Sanó and Jean Carlos Batista, two young peloteros from the Dominican Republic who dream of playing professional baseball in the U.S. The documentary follows their journey as they try to make it big while navigating through the corrupt system that controls who gets recruited by major league teams. It is an enjoyable story of hope, dreams, and heartbreak as both players struggle to stay afloat in a system that favors those with money and power.
Using Pelotero in Your Spanish Classroom
This movie is great for Spanish classes. It's full of slang words and expressions that are used by native speakers, which makes it a great resource for learning informal Spanish. Also, the focus on sports also engages some reluctant Spanish learners (cough sophomore boys). Also, it provides an excellent opportunity to discuss topics such as poverty, corruption, and human rights. These topics are relevant around the world today and can lead to some interesting conversations and debates in Spanish for upper-level students. You could pair the film with the Cardboard Gloves activity & Felipe Alou.
What ages is the film Pelotero for?
First, please know the documentary Pelotero is not rated, but I would rate it PG. It is a real story, that is overall very clean and family-friendly. There are a couple of curse words that could be skipped. Or cover up the translation of the subtitles when they come up, depending on your school culture.
I have personally shown the film Pelotero to students in grades 9-12. I would feel comfortable showing it in middle school, but I think older kids relate more to the 15 & 16 year olds in the movie. You could use the film Pelotero as the culmination of a textbook sports unit, as a part of Somos 1 deportes Unit 9, as well as introduce Dominican culture and the book Felipe Alou. (There is even a brief mention of Felipe & Matty Alou and the history of peloteros domincanos in the MLB).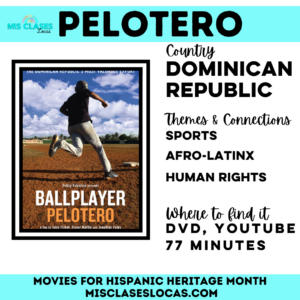 Where to get Pelotero (Ballplayer)?
Ballplayer is a shorter documentary than many films with a run time of 1 hour and 17 minutes. The movie can be purchased or rented through Amazon, Youtube, or on DVD for cheap. It is possible to find it at your public library to rent as well. Give yourself and your students a much-needed break and learn about sports, race, The Dominican Republic, and human rights, with a focus on Afro-Latinx culture.
What audio & subtitles to use for Pelotero in Spanish class?
First, it all depends on your goals and the level of students. For most versions, I have found of this film the audio is in a mix of Spanish & English with English subtitles already included. Even with upper levels, I would keep the subtitles with this particular film due to heavy accents and lots of slang. *If you buy a DVD or rent it online and want Spanish subtitles, check if they are included before paying. As always, do what works best for your classes and goals.
Pelotero movie guide
If you are in need of a break and looking for a ready-to-go movie guide for every level you teach, my Pelotero movie guide is for you. It includes two separate versions, 1 in Spanish and 1 in English. Each Pelotero film guide includes a character chart for Miguel Angel Sanó and Jean Carlos Batista, 15 questions in English OR Spanish to use while watching, and post-viewing questions. Plus there are multiple versions of character matching. These could be used for a post-film assessment. UPDATE! I now have 2 ways for you to get my film guide Pelotero Movie Guide on my website or TPT Pelotero Guide.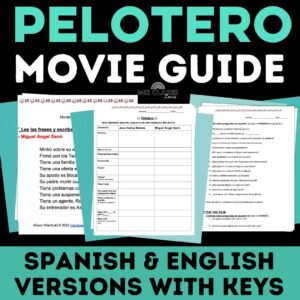 Below are other resources you can use to teach about Pelotero
(In addition to my movie guide & the Cardboard Gloves activity).
Pelotero Movie Trailer – English
Buy or Rent Pelotero on Youtube (or on Amazon*)
Video for AFTER watching the film Pelotero
You do not want to have spoilers before watching!
Miguel Sano's road to the Minnesota Twins
For those of you who have watched the film, Miguel comes out as a star and plays for years for the Twins. Jean Carlos never makes it out of the minors. If you Google where he is now, you get a mug shot for an arrest. So, if you want to read more about the players now, Miguel is the better option to learn more about!
Readings in English about Ballplater
Readings in Spanish for Pelotero
Real People Movie for Spanish class
If you want something besides Pelotero, here are some other options.
The World Cup 2022 in Spanish Class
If you are reading this post right when it comes up, you might also be interested in the blog post Copa Mundial in Spanish Class. Plus I have free Copa Mindiual Music Slides you can get below.

In conclusion, Pelotero is a great choice for any Spanish class looking for an engaging way to teach their students about sports. The powerful story will captivate your students while giving them insight into important topics such as poverty, corruption, and dreams deferred. Plus, you don't have to worry about understanding what's being said; this film is full of real-life dialogue spoken by native speakers—a perfect tool for introducing your learners to authentic Spanish conversation!
Pelotero in Spanish class was initially posted by Allison Wienhold on Mis Clases Locas
*Please note I may make a small commission from affiliate links used Affiliates & Disclaimer