Inside: Selena in Spanish class. Resources for teaching about Selena Quintanilla-Pérez to use in Spanish class. Selena movie guide, Selena songs, Selena readings, and more. Selena en la clase de español
Selena Quintanilla-Pérez in Spanish Class
The original Selena, that is Selena Quintanilla-Pérez, is an icon. She is still very popular today, 25 years after her tragic death at only 23 years old. Selena was a Mexican-American singer, songwriter, fashion designer, businesswoman and so much more. Her birthday April 16, is now known as Selena Day as well. She would be a perfect person to highlight during Hispanic Heritage Month. (Side note, there is still time to do a Hispanic Heritage Month Music Madness Bracket).
Selena Movie
How I really got interested in Selena was actually through the 1997 movie about her life. This film was a favorite of mine growing up and I actually owned the DVD way before becoming a Spanish teacher. Since the film was older I actually did not think to use it in class until a few years into teaching. But, once I showed it, the students were obsessed with her and they did not care that the film was a little dated.
The movie is clean and rated PG, with a run time of 2 hours and 7 minutes. It is one of the few "real people" movies that I have on my list of 15 appropriate movies for Spanish class. The movie can be purchased or rented through Amazon, YouTube, or on DVD for very cheap. It is likely at your public library to rent as well. Give yourself and your students a much-needed break and learn about an icon in Spanish class.
Selena movie guide for Spanish Class
If you are in need of a break and looking for a ready-to-go movie guide for every level you teach, my Selena movie is for you. It includes character identification, 20 questions in English OR Spanish to use while watching, and post-viewing questions and character matching. It is the same format as many of my other popular movie guides. Update! I now have two ways to get the Selena guide Selena Movie Guide or TPT Selena guide.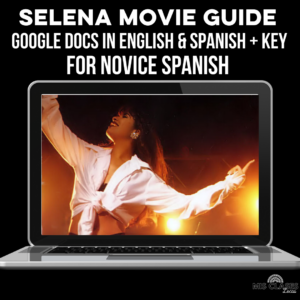 First, it all depends on your goals and the level of students. *If you buy a DVD or rent it online, make sure that the option for Spanish audio and subtitles is included before you pay. As always, do what works best for your classes. Here is what I personally do:
Spanish audio & Spanish subtitles – upper-level students
Spanish audio & English subtitles – novice-level students
English audio – exploratory Spanish or culture class
Below are other resources you can use to teach about Selena
(In addition to my Selena movie guide).
Selena Movie Trailer – English
¡TOP 10 VERDADES Y MENTIRAS EN "SELENA" (1997)!
(upper level for after the film)
Songs for Selena in Spanish class
Any of these songs would be a fun complement to a Selena unit.
Song – Como La Flor (Live From Astrodome)
Song – Bidi Bidi Bom Bom
Song – el chico del apartamento 512
Plus, there is a newer Netflix Selena series
Personally, I was not as into the Selena Netflix show since it did not have as much of a focus on Selena, but instead on her family. But, it would make a great choice extension for students who want to learn more about Selena on their own time.
Readings about Selena in English
Readings about Selena in Spanish (advanced)
The book Selena is an excellent comprehensible option to learn about her life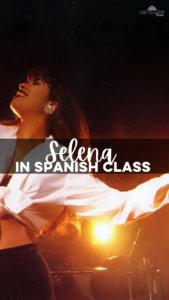 Other Film Resources
If you are looking for a new show to watch on Fridays with your Spanish classes, make sure to check out Tierra Incógnita!
If you are not interested in Selena, here are some other movie resources to save you time. My top appropriate movies for Spanish class Blog post
Movies with a lot of music
Other Real People Movies for Spanish class
If you have more resources for Selena in Spanish class, please share them in the comments and I will add them!
Selena in Spanish class was originally posted by Allison Wienhold on 9.27.21 and most recently updated on 9.26.22 on Mis Clases Locas.