Thanks to the the generous Fluency Matters 12 days of Christmas giveaway, I am going to once again adjust this year's curriculum plan. (One of my many perks as a #deptof1). I won a set of the newer El Ekeko e course by Katie Baker. This novel came out right after I made my big curriculum purchase a few years ago, and I am been wanting to teach it.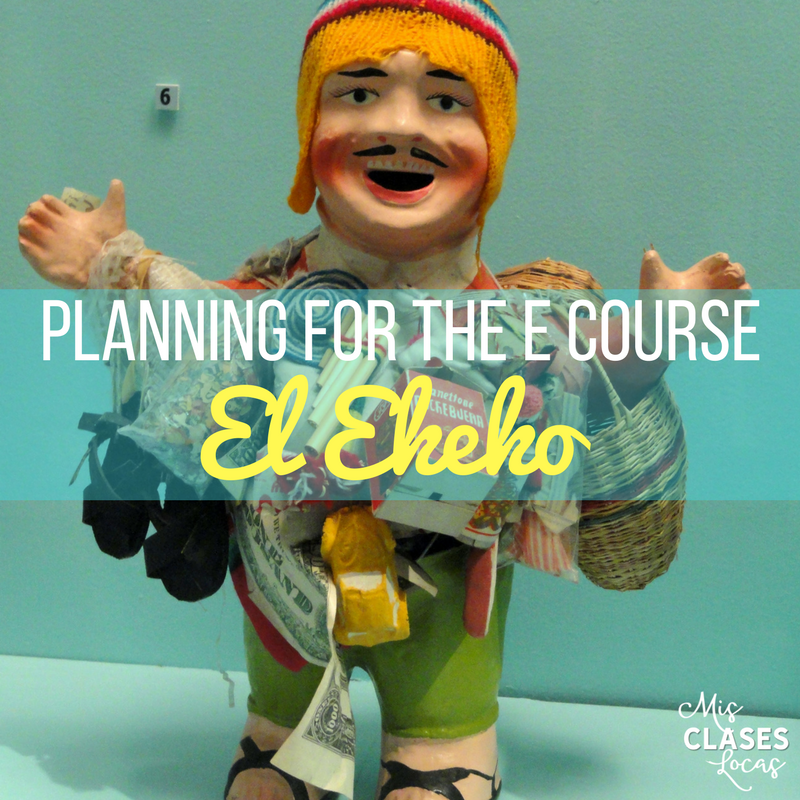 I am going to try it out right after Christmas break with my level 3 class. The novel is marked as level 1 in first person present tense, but with the deeper cultural connections, I know it will go great with this class. Additionally, this particular group is in need of something to mix it up. This is my third year with them and they have already read seven novels as a class. I think trying out the individual e course will be a fun way to help differentiate this wide range of abilities and mix up the winter blahs. We are one to one, but due to most students not having internet at home, I know we will be doing most in class. I have gathered some resources as I start to plan for this unit. 
The resources on the site helped me to set up my first e course. I will share along the way as well as I learn how to manage the course as in instructor. 
El Ekeko Resources
This is a newer novel and I have not seen a ton posted yet from teachers who have used it. Let me know if I have missed anything!
The bottom two resources were completed by this particular class in Spanish 1, but they would make a nice addition to round out a unit about Bolivia for others who are teaching the novel, especially in lower levels. 


Assessment – 
We did a writing assessment, along with a Fishbowl Interpersonal Speaking. 


What have I missed? Have you taught El Ekeko or taught a Fluency Matters E course? If so, please share your wisdom or resources in the comments!