Inside: Documentaries for Spanish class. Enhance Your Spanish Class with These Informative Documentaries on Disney Plus.

If you are a long-time reader, you know I LOVE using films in Spanish class. Most of the appropriate films I have shared before on the blog have been fictional in nature, with the exception of Pelotero & Selena. But I actually have used quite a few documentaries in my Spanish classes over the years, I just have not blogged about them. This post is actually an update of a 2017 post about (new at that time) documentaries for Spanish class. It now has a 2023 update, including specific movies on Disney+. Head to the end for the original documentaries, which are not getting harder to find online.
Movies in Spanish on Disney Plus
You know I have shared a lot about Spanish show on Netflix. But I have recently been on a kick of finding Spanish movies on Disney Plus. If you only have time for a short film check out my new post Top 7 Short Spanish Movies on Disney+.
Today in particular I will focus on Documentary movies on Disney Plus. From nature and science to history and culture, there are plenty of options to choose from. Here's a guide to some of the best Spanish-language documentaries available on the streaming platform.
Can you watch Disney Plus in Spanish?
Yes, you can watch most Disney Plus movies and shows in Spanish. *You will want to check what language and subtitles are available on the title in your region.* If you use Spanish or English all depends on the level of the students, if your goal is more focused on culture or language acquisition, and if this is a Sub Plan without the support of a Spanish teacher there. Unless you have very upper-level students I suggest either English audio or subtitles if a Spanish teacher is not there in the room to support students.
How to watch movies in Spanish on Disney Plus
Depending on your goals for any of the movies below, you might want to change the language and subtitles on Disney Plus to Spanish. *The audio & subtitle options for each film might vary depending on your region.
Open the Disney Plus app or website on your device of choice and log in to your account.
Select the movie you want to watch and press play.
Once the video begins to play, click on the "audio and subtitles" button. This icon is usually located on the far right and looks like a white keyboard.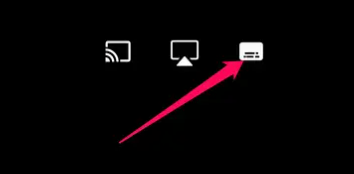 A new menu will appear, giving you the option to adjust the audio and subtitle settings. Here, you can select your preferred language option or choose to turn on/off subtitles.
Finally, click the play button to resume watching with the chosen language and subtitle
Documentaries on Disney Plus Spanish Culture & History
Buried Truth of the Maya
"Buried Truth of the Maya" is a 48-minute documentary that explores the ancient civilization of the Maya. It would work well if you have limited time, but want to introduce this ancient civilization. This documentary takes viewers on a journey through the history and culture of the Maya people. With stunning visuals and expert commentary, "Buried Truth of the Maya" would be great for a unit focusing on history and/ or archaeology.
The Lost City of Machu Picchu
The Lost City of Machu Picchu is a 44-minute National Geographic documentary about the history and culture of the Inca civilization. This documentary takes viewers on a journey through the Andes Mountains to uncover the secrets of the Inca people. You could pair this film with a unit about Peru or with the fictional films that take place in Peru Pachamama or Dora & the Lost City of Gold.
Lost Treasures of the Maya
Lost Treasures of the Maya is a Spanish-language documentary series. There are 4 45-minute episodes that delve into the mysteries of the ancient Maya civilization. You could pick one, or watch the whole series. From the towering pyramids of Chichen Itza to the intricate carvings of Palenque, this documentary takes viewers through the jungles of Central America to uncover the secrets of this fascinating culture. It has a focus on the area that is now Guatemala, so it would pair with the book Esperanza.
Movies on Disney Plus Spanish Environment & Nature
Mexico Untamed
Mexico Untamed is a National Geographic nature documentary series. The 3 45-minute episodes explore the country's diverse ecosystems and the animals that call them home. Depending on your goals, you could just pick one episode as a sub-plan. From the deserts of the north to the jungles of the south, viewers will be treated to breathtaking footage of jaguars, whales, and other wildlife in their natural habitats. The series also highlights the importance of conservation efforts to protect these fragile ecosystems, which would work well for Earth day or El medio ambiente unit. The focus on Mexico could also be used for Cinco de mayo or with the book Tumba.
Wild Chile
Wild Chile is a visually stunning documentary series that explores the diverse landscapes and wildlife of Chile. Similar to above it is a National Geographic series with 3 45-minute episodes. From the Atacama Desert to Patagonia there is breathtaking footage of animals like pumas, condors, and sea lions in their natural habitats. The series also delves into the cultural and historical significance of these landscapes, showcasing the indigenous communities that have lived in harmony with the land for centuries.
Disney Plus Spanish Movies about Sports
*The following Spanish sports documentaries on Disney Plus are for older students and you should preview them for the use of language and more mature themes. They are a part of the ESPN 30 for 30 series. Another sports option you might like (that is not on Disney+) is the film Pelotero.
The Dominican Dream
The Dominican Dream is a powerful documentary that tells the story of Dominican immigrants to the US. The 100-minute documentary in particular focuses on the family of Felipe López He grew up in poverty in the Dominican Republic and played professional basketball. It is a different twist since baseball is by far the most popular sport in the DR. The Dominican Dream includes the intersection of sports, race, and economic inequality. It highlights Afro-Latinos and could work well during Black History Month.
Fernando Nation (Mexico)
Fernando Nation is a documentary that tells the story of Fernando Valenzuela, a Mexican pitcher who became a sensation in the 1980s playing for the Los Angeles Dodgers. The shorter 51-minute film explores Valenzuela's rise to fame, his impact on the Latino community, and the cultural significance of his success. Through interviews with Valenzuela, his family, and other players, as well as archival footage and photos, Fernando Nation offers a compelling look at one of the most beloved figures in baseball history.
Brothers in Exile (Cuba)
Brothers in Exile tells the incredible story of baseball players Livan and Orlando "El Duque" Hernandez, who risked their lives to escape Cuba. This 78-minute ESPN documentary was released in 2014. Orlando left Cuba in a small boat and less than a year later he was helping pitch the New York Yankees to a world championship. The documentary shows the unlikely journey of two half-brothers. It would pair well with a unit on Cuba, immigration, sports, or the novel El Escape Cubano.
Spanish Movies on Disney Plus Music & Culture
A Celebration of the Music from Coco
This is a 48-minute live concert of the music from Coco that was filmed at the Hollywood Bowl. This Disney plus Music special would work well to have this playing in the background while students are working or during a lighter day at the end of the year or around Día de muertos. The concert is mostly in English but has some Spanish included. You could pair it with my Coco Movie Guide & Coco Freebie.
Just Love & 1000 songs (Solo Amor Y Mil Canciones) – Tini
This 29-minute concert special on Disney Plus is perfect for fans of Tini & the show Violetta. On the 10th anniversary of Violetta's release, Tini gets together with her former cast Jorge Blanco, Candelaria Molfese, and Mercedes to celebrate. This Disney+ original was created in Spanish. This concert would be another fun option to play in the background of a classwork session.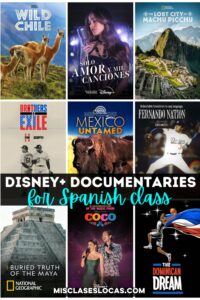 Activities for any Spanish Documentary
I know that most Spanish documentaries do not have ready-to-go activities (with the exception of Pelotero for me). So, to help you out, I put together a few activities designed to use with any one class period documentary or episode of a show of your choice.
Pick 1 or 2 of the activities for any episode as any easy no prep class period or sub plan.
For example, copy double-sided the vocab & either the events or 1 of the graphic organizers.
Or just pick 1 page to give to students to keep them on track while watching.
As an extension, you could always have them flip the paper over or use a free write paper and write how this film or episode relates to what they have been studying in Spanish class & what they learned.
Enter a non-school email below & get the free activities sent right to your email!
Original Spanish Class Documentary Post from March 17, 2017
I am always on the lookout for presentations at conferences that are actually given in Spanish on a cultural topic. I love showing authentic films, so I chose a session at #CSCTFL17 on Spanish film class from Israel Fernando Herrera. Most were documentaries with social justice or human rights themes.

Documentary Drawbacks
The group at CSCTFL actually got into a heated discussion about pushback from the administration and parents from showing movies with real themes. I liked the comment from the presenter, "Make your teaching the film about morals, not politics." I have been reprimanded in the past by parents who thought I was "pushing my political views" by having students discuss real issues, such as immigration in class. Using documents such as the Universal Declaration of Human Rights help guide to what is defined by the United Nations as human rights.

Here are a few films that were brought up in that CSCTFL session. As with anything I share, please make sure to preview it yourself and see if it would be appropriate and work for your particular school and students. If you are worried about content, here is more information about my favorite appropriate movies for Spanish class. I have not yet watched any of these films, but hope to watch them soon!

This was the first movie from Colombia to be nominated for an Academy Award. It was made in black and white and is about the indigenous living in the Amazon region. Israel actually interviewed the cast and producer of this film on a radio show. This film is available for purchase on Youtube & Amazon.
Of all the movies presented in that session, this is the one I would most likely show in class. It is about children of the dump who have created amazing, functional instruments from the trash that now perform all over the world. This film would be great to add to an environment unit, with a cross-curricular music connection. It also has deep themes of poverty and waste pollution. This film is available right now for purchase on Apple TV & Amazon.
2023 Update These Documentaries are harder to find online
During the Peruvian gold rush, an Andean woman communicates with water spirits to keep mining companies from destroying the lake she considers her mother. This film focuses on the themes of natural resources, a world without water, and justice. It would go great with Carrie Toth's Water is Life Unit.
In 1983 154 kids ages 3 to 17 traveled alone from Europe to Montevideo, Uruguay. Their parents could not come back to their home country due to political exile but wanted their children to know their homeland and relatives. This documentary would be great for the theme of human rights.

This documentary is about a traditional dance of Spain, la Jota. This lesser know folk dance and music of Aragon would be an interesting addition to the other widely known styles. It would make an interesting companion to the film Un tango más (2015) from Argentina.

Other movies to look into
Incorporating documentaries from Disney Plus or another source as part of your Spanish class can create a more interactive and authentic learning experience for your students. By watching these films, students can learn new vocabulary, develop cultural awareness, and appreciate various perspectives in a unique way. These documentaries are not only educational but also engaging and fun, making them perfect for a range of ages and language abilities.
This post was originally posted by Allison Wienhold on Mis Clases Locas 3.17.17 & most recently updated 5.22.23