Inside: Wish: El Poder de los Deseos in Spanish class. Resources for the Disney movie Wish: El Poder de los Deseos to use in Spanish class. Wish: El Poder de los Deseo en la clase de español.
Wish: El Poder de los Deseos is a new Disney movie set in Spain that is set to come to theaters in November of 2023. Here are some resources that you can use to discuss the film Wish in Spanish class today.
If you do not want all the extra resources & are here for wish movie guides.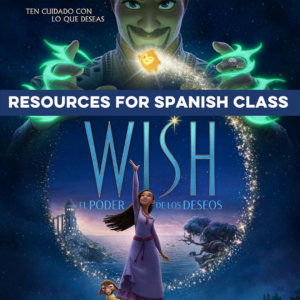 Where does the Wish movie take place?
The Disney film Wish is set in the fictional Kingdom of Rosas on the Iberian peninsula, where Spain & Portugal are now located. According to the filmmakers, the movie's fictional island of Rosas is located at the southern tip of the Iberian Peninsula, where people of all nationalities crossed and thrived in the Middle Ages.
There are a few words in Spanish used in the film Wish, including many of the names, such as King Magnifico. Wish does not have as many connections to the Spanish-speaking place as Encanto (set in Colombia) & Coco (set in Mexico). But, Wish has diverse representation, is super appropriate, and has positive messages and role models.
What ethnicity is the main character in the Wish movie?
Asha is the main protagonist in Disney's 2023 animated feature film Wish. Asha is a teen Afro-Hispanic girl with dark skin, light brown eyes, large lips, and long black-braided hair. She is of North African and South European descent according to the director. Academy Award-winner Ariana DeBose is the voice of the main character Asha, the first Afro-Latinx princess. I know many little girls are excited about the representation of a main character who actually looks like them.
What themes and positive messages does Wish have for class?
Diverse Representation
Wish celebrates and welcomes diverse people. There is a lead female with braids and dark skin. (Asha is voiced by voiced by Ariana DeBose, a queer actor of Black, Puerto Rican, and Italian descent). While the villain has light skin and blue eyes. Typically, villains have been stereotyped as darker, which is not the case in Wish.
Asha's friends and fellow citizens are a variety of ethnicities including Asian, Latino, Black, and White. The characters have a variety of body shapes and types. Her best friend has a normalized disability and uses a crutch to walk.
More positive messages in Wish
The movie Wish shows that true friends help one another. It also shows forgiveness when they make mistakes. Wish also stresses how it is important to do the right thing, even when it's difficult.
Wish Trailers to use in Spanish Class
Here are multiple trailers you could use to introduce the film, describing it in basic Spanish. Or take screenshots of the video and project them. Then have students write or discuss what they see and what they wonder. Finally, you could have students find cultural elements and then research to make predictions as well.
1st Teaser Trailer en español – 30 seconds
Wish: El Poder de los Deseos | Tráiler Oficial | Doblado – Disney Studios LA
Wish: El Poder de los Deseos Tráiler Oficial Español
Wish Trailer with English Audio & subtitles in español
Wish Trailer – English
Songs in Spanish from Wish
Mi deseo – de "Wish: El Poder de los Deseos" Lyric Video
¿Y así van a agradecer? Canción español latino y letra en español
More Videos for Wish in Spanish class
For upper-level classes, you could use some of these videos in Spanish. They would be great for authentic listening comprehension related to the film.
Reaction to Trailer in Spanish
TODO Sobre WISH: El Poder de los Deseos
Platicamos con Juan Pablo Reyes, productor mexicano de Wish
Wish Shorts for Discussion about Identity
Wish is set in a fantasy land on an island near the Iberian peninsula, where Spain & Portugal are located. The main character is voiced by Ariana DeBose, who is Afro-Latina and Puerto Rican. However, there is some controversy about whether the movie Wish will really represent the Spanish people &/or is a Latina process since it is not set in Latin America. These shorts could provide great discussion prompts for upper-level Spanish into the identity and representation of Hispanic people. Additionally, the main character's name Asha is an Indian name, so there are questions if there will be South Asian representation as well.
Las españolas no estamos representadas con see personaje
Short in English excited about Afro-Latina representation
Quick video in English about Ethnicity on Wish
Authentic Readings about Wish
Novice reading for Wish in Spanish class – Authentic Tweet
Cuando una persona valiente se une a la magia de las estrellas, pueden ocurrir cosas maravillosas ✨🤍#Wish: El Poder de los Deseos, 24 de noviembre solo en cines. pic.twitter.com/Uaybvu7wjc

— Disney España (@DisneySpain) October 19, 2023
Asha, Valentino y Star te esperan en #Wish: El Poder de los Deseos, la película que celebra los 100 años de Disney ✨ Muy pronto, solo en cines.#Disney100 pic.twitter.com/xTyaexdUAF

— Disney MX (@disneymxfan) October 19, 2023
More advanced authentic readings for Wish in Spanish class
Wish: El poder de los deseos
Fecha de lanzamiento: 24 de noviembre de 2023
Género: Acción y aventura, Animación, Fantasía, Familiar
"Wish: El poder de los deseos", de Walt Disney Animation Studios, es una comedia musical de animación que nos da la bienvenida al reino mágico de Rosas, donde Asha, una idealista e ingeniosa joven, pide un deseo tan poderoso que es respondido por una fuerza cósmica: una pequeña bola de energía ilimitada llamada Star. Juntas, Asha y Star se enfrentan a un poderoso enemigo, el rey Magnífico, soberano de Rosas, para salvar a su pueblo y demostrar que, cuando la voluntad de una persona valiente se une a la magia de las estrellas, pueden ocurrir cosas maravillosas." – Disney España
UPDATE! I now have a Spanish class movie guide for the film Wish!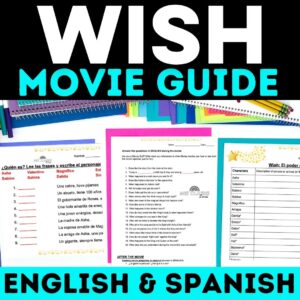 My own boys, ages 7 & 9 loved the movie Wish! It was fun, full of fantasy, and music, plus it had humor as well.
*Remember the movie Wish is only out in theaters at this time. Based on the last 2 Disney November release movies, Wish will likely be streaming on Disney+ around Christmas or in early 2024.
Other Spain resources
If you want to dig deeper and connect more with the beautiful culture of Spain, here are some resources.
Other Movie Resources for Spanish Class
If you want another film to use in your Spanish classes right now, here are some resources to save you time.
If you have more resources for Wish in Spanish class, please share them in the comments and I will add them!
Wish in Spanish class was originally published on 10.30.23 & most recently updated 11.24.23