Inside: How to create a CI curriculum. Curriculum planning for a year of comprehensible input Spanish 1, Spanish 2, Spanish 3 & Spanish 4, as well as weekly lesson plans.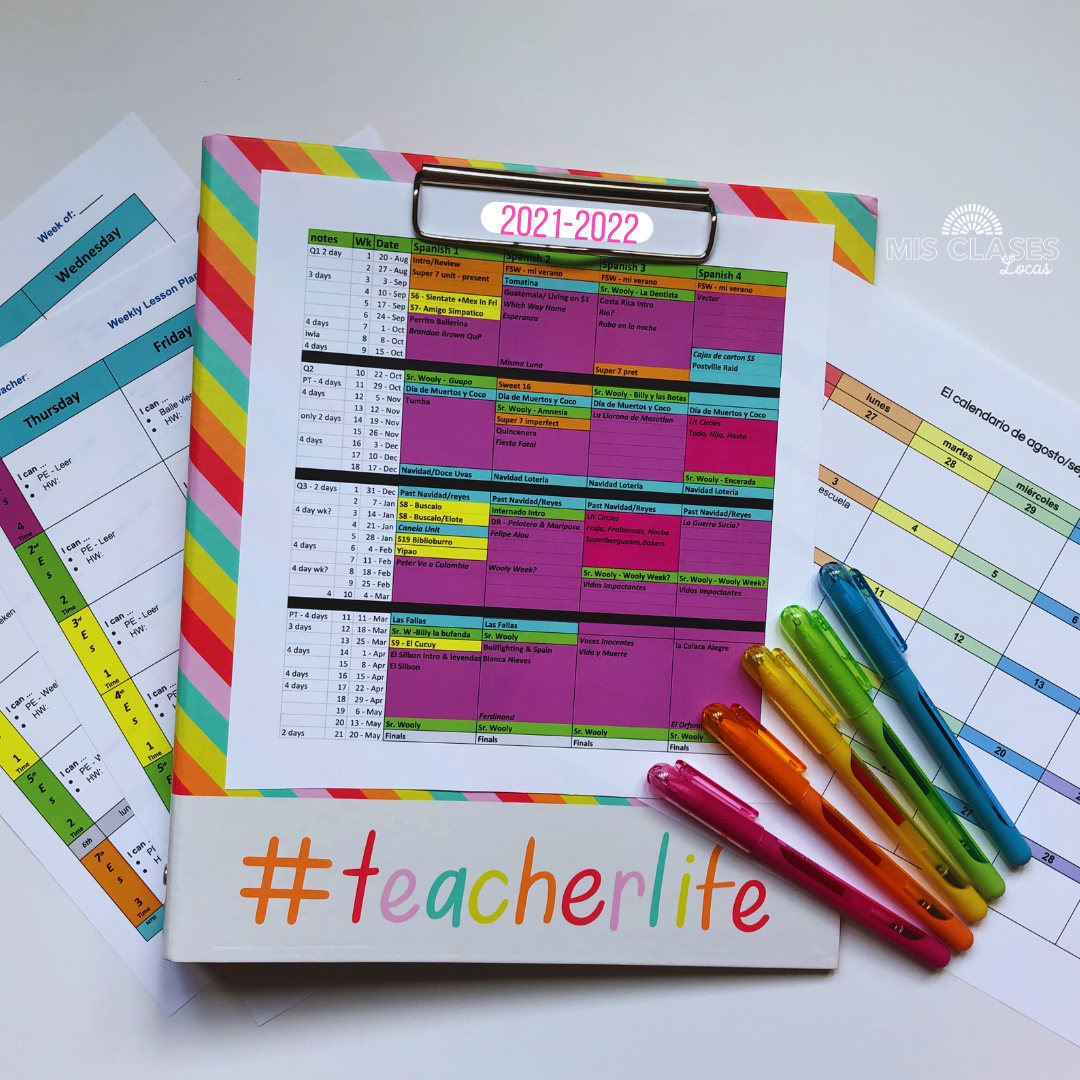 Teaching Spanish with Comprehensible Input
How do I create a CI curriculum for all levels?
I have been working on my next year's CI curriculum without a textbook and due to some requests, I thought I would do a pre-curriculum post explaining exactly how I planned it. As a disclaimer, remember I am the only World Language teacher in my entire district. A supportive administration trusts me as the Spanish expert and allows me complete freedom in my curriculum. I understand that this is rare, but hopefully, this will help you see some possibilities if you do get the chance to help create your own scope and sequence.
Also, please remember this has been a multi-year process and did not happen overnight. I just tried things out, failed on some attempts, had success with others. Then I tried again until I found what worked best for my students and me.
Here has been my curriculum journey.
year 1
– ancient textbook – I taught how I was taught
then year 2
– new textbook – I tried to spice it up with projects
& year 3
– CI baby steps – got 4 novels, some target="_blank" rel="noopener">SOMOS Units & El Internado in III & IV
Curriculum year 4
– Full CI at a new school, novels, SOMOS Units & El Internado (Sp1-4 + Explore)
As a department of one, I also have to have a sustainable program for me to implement with four+ separate preps. For me personally, this means I can not do story units or special person interviews at all levels at the same time. It is too exhausting for me and I am prone to losing my voice.
Novels are my bread and butter because I have gotten them down. Since I have done all the prep work upfront, once we get rolling, I know I have a couple of weeks of a well-oiled comprehensible input novel machine. But, once again this is after four years of teaching with novels. I did the math and I have taught 53 full class novel units using 16 different novels. You can find all posts for these novels
here
or using the label
novels
. If you want to get started, check out
Teaching a Novel 101
to help research, find funding, organize, plans teach, and assess your first novel.
Create a CI Curriculum – So where do you start if you are dabbling in comprehensible input and want to try something new?
Spanish 1 or 2 – create a CI curriculum
Super 7 Units
– Depending on the previous knowledge of your students, I would start with a
Super 7 Unit
either present, either as a review or to introduce important words. You could even keep going with the
Sweet 16
as well.
SOMOS 1/2 Units
– Then I would do units from Martina Bex's
SOMOS
curriculum. It was how I
figured out sk
ills like personalized questions, movie talk, story asking, and many other activities as well. She lays everything out great for a beginner.
Sr. Wooly
– These songs hook students in Spanish class and provide a nice break from always giving the input yourself.
Spanish 3 or 4
– create a CI curriculum
Super 7 Units –
I would start the year with upper-level classes
Super 7 Unit
either imperfect or preterite, depending on your goals. It is a great class community builder and helps solidify important past tense words for future novels.
If your upper level classes have not had much CI, I would do some of Martina Bex's Somos 2 curriculum units. They will help build your skills and lay a foundation as well.