Inside: Resources for teaching the movie Coco in Spanish class. Coco in Spanish class as a part of a Day of the Dead Unit.
Spanish teachers have been talking about Coco since the first trailer was released years ago. It has replaced The Book of Life as the movie many teachers use. Once it was in theaters the rave reviews started. Now that it is out on DVD and is Academy Award-winning, it is everywhere. Spanish teachers can not wait to use the beautiful stories, themes, images, and music that is a part of this wonderful movie. I watched the movie Friday night for family movie night, and by Sunday I had a Movie Guide for Coco. When I first created it, I had novice Spanish in mind, but then later added questions in Spanish as well.
The Coco guide I made is for actually watching the movie, with some additional character description, identification, and a post-viewing discussion and character matching, which could be used as an assessment. I created it with the intention that I could use variations for every level I teach. As a #deptof1 I created differentiated activities that work for all levels. UPDATE – there are two places to get this guide Coco guide from MCL Shop or Coco Guide on TPT.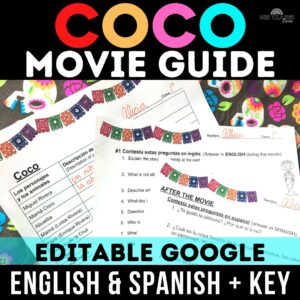 What audio, subtitles & guide should I use when watching Coco in Spanish class?

 
I bought the DVD from Target and it has options for both English and Spanish audio, as well as English and Spanish subtitles. (Be careful that many digital versions just have English). Here is how I typically used the movie in my Spanish classes. Please do whatever works best for you and your students to meet them where they are at. *Update it is on Disney+ right now as well. 
A whole Coco in Spanish class Unit
What we use for subtitles will also depend on if we are using the movie as a whole unit. Using the great materials below from others could easily create a full unit. 
Before Watching Coco Ideas for Spanish class
While Watching Coco – Coco Movie Guide
Post Watching Coco in Spanish class
More Day of the Dead resources for Spanish Class
To expand this movie into a deeper exploration of Día de los Muertos, check out the resources below.
As a recap get my Coco guide from MCL Shop or Coco Guide on TPT & get my FREE character introduction slideshow plus post-viewing reading, speaking, and writing activity by subscribing to my newsletter for Free Below.
Other Film Resources
If you are not interested in Coco, here are some other movie resources to save you time. My top appropriate movies for Spanish class Blog post
Movies for Spanish class with a connection to Mexico
What other great resources have you found for Coco? Please share in the comments so I can add them!
Coco in Spanish class was originally published by Allison Wienhold 3.12.18 on Mis Clases Locas – most recently updated 10.24.22