Are you a Spanish teacher of beginners looking to improve your student's Spanish skills? Watching short Spanish movies can be a fun and effective way to learn the language. Not only will you improve students' Spanish fluency, but to also get a glimpse into the diverse Spanish cultures and customs.
If you are a long-time reader, you know I have a popular list of Appropriate full length movies for Spanish class, as well as a post about Teaching TV Shows in Spanish Class. I know that sometimes a shorter film is a better option for a one day plan filler at the end of the year.
What to do with a short Spanish movie?
As with everything you can do as little or as much as you have the time and energy to do. I do not suggest doing all of these things, but here are some ideas.
BEFORE – Have students predict what will happen based on the title or a few screenshots of the video (or after watching the trailer of the longer short films)
Project the short film as a stand-alone bell ringer or brain break
Have more time? – Mute and narrate the video what you see similar to Movie Talk
You can break the film into shorter segments and pause between them to discuss the scenes, ask questions, or recap what has been covered so far.
DIGITAL OPTION – Add in questions on Edpuzzle (for videos available on Youtube)
After Watching Spanish Short Film Ideas
Have students draw with what they see or retell in writing or speaking
Have students read a summary of the story. (Or do this before watching)
Use a Classroom Game like 1,2,3 SALTA or the Marker Game to review what happened
Have students write a film review
Discuss the theme, &/ or conduct group discussions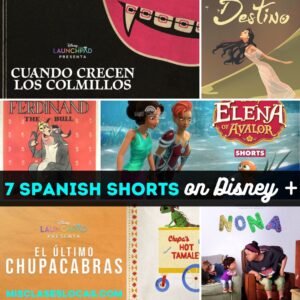 How to change the audio & subtitles on Disney Plus
Depending on your goals for any of the shorts below, you might want to changing the language and subtitles on Disney Plus to Spanish. *The audio & subtitle options for each film might vary depending on your region.
Open the Disney Plus app or website on your device of choice and log in to your account.
Select the movie you want to watch and press play.
Once the video begins to play, click on the "audio and subtitles" button. This icon is usually located on the far right and looks like a white keyboard.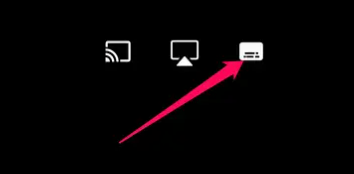 A new menu will appear, giving you the option to adjust the audio and subtitle settings. Here, you can select your preferred language option or choose to turn on/off subtitles.
Finally, click the play button to resume watching with the chosen language and subtitle
7 Short Films for Spanish Class on Disney Plus
If you are looking for shorter films to use in Spanish class, check out these recommended short Spanish movies for beginners available on Disney Plus. Note some of these films can also be sometimes found on Youtube, but the quality is not nearly as good.
Ferdinand
The 1936 Disney animated short Ferdinand is based on the classic children's book. It is an entertaining 8-minute short about a bull who prefers to smell flowers instead of fighting in bullfights. There is some dialogue if you want to show the version in upper-level Spanish. Or instead, you could use it like a Clip Chat or Movie Talk. I used this short to introduce the novel Bianca Nieves, as well as compared it to the full-length film Ferdinand, which can also be found on Disney+. Learn more in this Ferdinand Blog Post & Ferdinand Film Movie Guide.
El Materdor
Another short with the theme of bullfighting that is much more current is El Materdor. This short Spanish movie is perfect for beginners who are also fans of the popular Pixar movie franchise, Cars. This 3-minute film features the beloved character Mater as he takes on the role of a bullfighter in a small town in Spain. With its colorful animation and simple dialogue, El Materdor would be great for elementary Spanish language students. The familiar characters and setting make it easy to follow along with the story.
Destino
Destino is a surreal and visually stunning short film that was a collaboration between Walt Disney and Salvador Dali. The 6-minute short film Destino film features no dialogue, making it perfect for older beginner students who want to practice their Spanish comprehension skills without the added challenge of keeping up with spoken dialogue. The film tells the story of a young woman's journey through a dreamlike world. The visuals are stunning to captivate any viewer, but I think it would work best with high school-aged students and above due to the deeper natire. Destino would be perfect for an art unit or to pair with the novel Frida Kahlo.
Elena of Avalar Shorts
While not specifically designed for language learners, the Elena of Avalor shorts are a great resource for beginners looking to improve their Spanish skills. The animated series follows the adventures of Elena, a teenage princess who must learn to rule her kingdom after the death of her parents. The 15 shorts are only 3 minutes long and feature simple dialogue that is easy to follow. Plus, the colorful animation and engaging storylines make them fun to watch. This would especially be good for young learners with short attention spans who are familiar with the show. (Below is the theme song in Spanish, not one of the shorts).
Nona
Nona is a newer 6 minute short film on Disney+ written and directed by Louis Gonzales. Nona is a grandmother who plans to spend her day watching her favorite TV show, "E.W.W. Smashdown Wrestling." However, when her 5-year-old granddaughter is unexpectedly dropped off, Nona is caught between her two favorite things. Some fun trivia is the pictures on Nona's wall contain several pictures featured on The Rivera Family's ofrenda from Coco, particularly Tia Rosita, as well as a picture of the papaya from Frida Kahlo's performance. (The video below is a trailer for both Nona & another short Veintialgo)
The Last of the Chupacabras (El Último Chupacabras)
The Last of the Chupacabras is a 13-minute short film on Disney+. It tells the story of a young girl who discovers a mysterious creature in the woods. As she tries to uncover the truth about the creature, she learns about the importance of protecting endangered species and the environment. This short film is a great way for beginners to practice their Spanish listening skills, as it features clear and easy-to-understand dialogue. Plus, the engaging storyline makes it a fun short lesson. Last of the Chupacabras would pair great with the new full-length film Chupa on Netflix. Learn more in Chupa blog post & Chupa Movie Questions. Below is a one minute trailer in Spanish for the 13 minute film found on Disney+.
Growing Fangs (Cuando crecen los colmillos)
Growing Fangs is the longest on this list at 18 minutes. It is a short Spanish movie that follows the story of a teenage girl who discovers that she is a vampire. As she navigates her new identity and the challenges that come with it, she also learns about the importance of friendship and acceptance. This film is a great way for students to practice their Spanish listening skills, as it features clear and easy-to-understand dialogue. Plus, the supernatural storyline and relatable themes make it a fun and engaging way to learn Spanish. Below is a trailer in Spanish for the full short found on Disney Plus.
+ Free PD happening this week! – WLTS en español
Grab your Free Ticket to the (all in Spanish) Spanish World Language Teacher Summit If you want to learn about teaching Spanish in Spanish! It takes place May 15-19, so grab your ticket today*!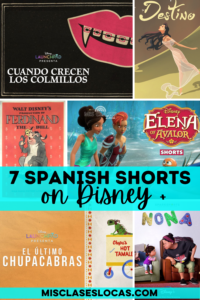 Want to show a longer show in Spanish on Disney+?
You could pair the above supernatural storyline with the show Tierra Incógnita also on Disney+. If you want more info, I have Tierra Incógnita Season 1 guide from my website or on TPT + get free character introductions slides below.
Spanish language learners of all levels can benefit from exploring the richness and diversity found in short Spanish movies. Additionally, short movies can be a great way to understand more about various cultures. Short Spanish movies on Disney Plus will surely capture everyone's attention in the classroom! With seven captivating short films to explore, students will undoubtedly be inspired to broaden their horizons and motivated to learn the language. Give these short Spanish movie options a watch for yourself. ¡Qué te diviertas!
*The conference is free to sign up for, but if you chose to upgrade with my link, I may make a small commission. Thank you for your support! Affiliates & Disclaimer