Inside: Netflix shows in Spanish that Spanish teachers will want to binge-watch.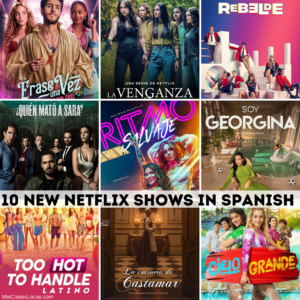 How many of you feel that your own language skills could use some work since you spend your day using novice or intermediate level Spanish with language learners? Or are you exhausted and just want to lay on your couch when you get home? I have the solution for you, binge-watching Netflix in Spanish!

In a post on Secondary Spanish Space, I shared my original 5 Binge-worthy Netflix Shows for Spanish Teachers (Siempre Bruja, Las Chicas de Cable, Ingobernable, Velvet & Elite). Since then, here are 10 more series in Spanish that I have personally watched on Netflix. I usually watch these shows while working out at home.
*Please note that most of these shows would NOT be appropriate for students and are for your personal enjoyment only. As with anything, if you are thinking of using it in class, I would recommend watching it first to see if it would work with your students and school culture.
Binge-worthy Netflix shows in Spanish

to watch in 2022.
The first few shows all have quite a bit of music involved.
Érase una vez… pero ya no
past & present fantasy land (made in Spain)
1 Season, 6 Episodes, 30 min
Series description "A tragically separated couple must find each other in another life to break a spell on their town, but the arrival of two tourists threaten their chance."
I was excited to see a new show staring Colombian singer Sebastián Yatra. To be honest I have really never seen anything like this short, fantasy, comedy musical. There are lots of fun costumes and music, and I binged most of it on a rainy Spring Break afternoon. If you are looking for a fun escape, this show is for you. (But beware it is still mature, so do not show your students!)
Rebelde
1 Season, 12 Episodes, 50 min
Series description "As Elite Way School starts a new term, a familiar enemy a secret society called the Lodge threatens to crash the musical hopes of the first-years."
Rebelde is a modern spin-off of the early 2000's classic show. I have never actually seen the original, but I enjoyed this teen musical dramedy. I was hoping it would be school appropriate, but the full boob and lots of teen drinking tanked that hope. The show is based on music, so you have to love big musical performances, like Glee.
Ritmo Salvaje
1 Season, 11 Episodes, 40 min
Series description "Two groups from opposite worlds walk their own paths until they come face to face in a dance battle."
I was excited to see a singer I really enjoy, Greeicy, in this new dance drama. As a former dancer, I really enjoyed hip-hop dancing, music, and out-there fashion. The storyline was meh, but the dance battles kept my interest.
Cielo Grande (Secrets of Summer)
1 Season, 11 Episodes, 35 min
Series description "A remote Argentine resort revives its wakeboarding competition, drawing in Mexican athlete Steffi, who is determined to uncover a family secret."
I had high hopes for Cielo Grande as a hopeful show to use in class, with the same leading lady as Go! It is squeaky clean and you could for sure use it in school. But, honestly, it was a super cheesy young drama, think Disney channel drama for 8-year-olds with lots of random songs as well. I had to force myself to finish it, and I think high schoolers would hate it more than Go!
The next few shows are very dramatic.
La Venganza de las Juanas (The 5 Juanas)
1 Season, 18 Episodes, 33-40 min
Series description "Five women with the same birthmark set out to unravel the truth about their pasts and discover a tragic web of lies spun by a powerful politician."
La Venganza de las Juanas was an enjoable show for me. It was predictable and cheesy at times, but what good telenovela isn't? I enjoyed the connected stories of the former strangers. As with many others, this earns the mature rating with nudity and violence, especially against women.
¿Quién mató a Sara?
2 Seasons, 18 Episodes, 40 min
Series description "Hell-bent on exacting revenge and proving he was framed for his sister's murder, Álex sets out to unearth much more than the crime's real culprit."
¿Quién mató a Sara? Was an entertaining thriller. It is pretty graphic with a lot of nudity and for sure earns its mature rating. If you like crime dramas with some mystery, this is for you. It is up there as one of the most popular Netflix originals made in another language than English.
La cocinera de Castamar
Historical Fiction, Romance, Period Piece
1 Season, 12 Episodes, 50 min
Series description "Set in early 18th-century Madrid, the plot follows the love story between an agoraphobic cook and a widowed nobleman."
La cocinera de Castamar is an entertaining and dramatic historical show. It reminds me of a cheesy romance novel, with all of the nakedness you would expect. If you like shows like Bridgerton, check this one out.
La Casa de papel (Money Heist)
5 Seasons, 41 Episodes, 50-60 min
Series description "To carry out the biggest heist in history, a mysterious man called The Professor recruits a band of eight robbers who have a single characteristic: none of them has anything to lose. Five months of seclusion memorizing every step, every detail, every probability culminate in eleven days locked up in the National Coinage and Stamp Factory of Spain, surrounded by police forces and with dozens of hostages in their power, to find out whether their suicide wager will lead to everything or nothing."
Since the last ever season came out in 2021, I figured I could also include my favorite Spanish TV series ever. I have now watched this whole series multiple times. It is a Nexflix original show from Spain and is now one of their most popular non-English shows to date. Once again, it is nowhere near school appropriate, but is a fun watch for teachers, with a lot more suspense and action than other shows on the list.
Here are a couple of reality shows to mix up the list.
Jugango con Fuego – (Too Hot Too Handle Latino)
Reality TV, Game Show, Romance
1 Season, 8 Episodes, 36 min
Series description "On this reality show, singles from Latin America and Spain are challenged to give up sex. But here, abstinence comes with a silver lining: US$100,000."
You might be questioning my taste now that I am including a trashy dating show, but it is what it is. If you like the original, why not branch out and get some Spanish authentic input from contestants from Mexico, Spain, Colombia, and more. It is fun to see how when they take pretty much the exact same formula of a show to a new place, how different people react. It is pretty people in swimsuits making poor choices, which can be a nice escape from actual reality.
Soy Georgina
1 Season, 6 Episodes, 40 min
Series description "Join Georgina Rodríguez – mom, influencer, businesswoman and Cristiano Ronaldo's partner – in this emotional and in-depth portrait of her daily life."
I enjoy reality TV following the lives of famous people, so I am Georgina, who was kind of like real housewives of Europe. This native of Spain reminds me of a more likable version of a Kardashian. Except she grew up normal and happened to meet Cristiano Ronaldo while working in high-end retail. This short and enjoyable show made me want more, and it was actually very appropriate.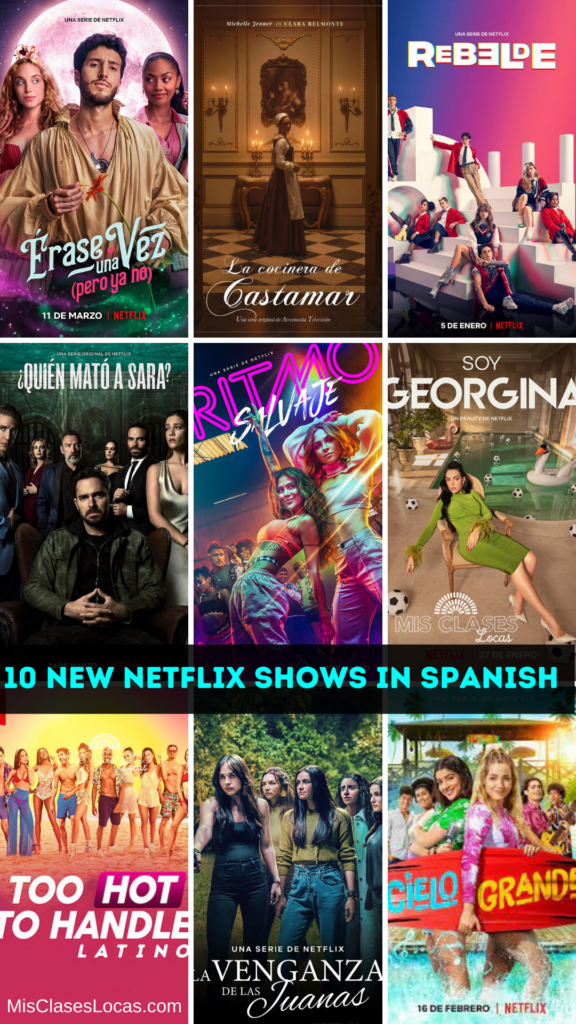 I know some of you are specifically looking for shows to actually use with your students. Here are shows I would suggest.
Or, if you prefer movies for your students, check out 10 Appropriate movies for Spanish class.
On a side note, for those of you who have been patiently waiting, the newest year of Para Empezar 2022 is finally ready! Get classroom routines to start every day of class & save you all the time!
What other new shows in Spanish would you add to this list of binge-worthy shows in Spanish? Please let me know!
Originally posted 3.19.18 by Allison Wienhold with the 5 titles: El tiempo entre costuras, El Barco, Gran Hotel, El ministerio del tiempo & Tiempos de guerra (all of which are no longer on Netflix) Most recently updated 3.28.22.