Inside: New Digital Spanish Resources to save you time from Mis Clases Locas. From Afro-Latinx music, Valentine's day, Spanish class March Music Madness, movie guides, to routines to save your sanity!
As a teacher mom, your time is so precious. Getting ready-made, teacher-trusted activities or units, as opposed to spending hours of my own time outside of school to make it myself saved me the last few years. Digital Spanish resources in particular have been crucial for me. This year especially, self-care can mean buying great resources from others, so you actually have some time for yourself.
You are in luck since Everything in my store will be 20% off this Tuesday & Wednesday, February 7-8, PLUS use the code FEBSALE23 at checkout to save an additional 5% on everything!
To try and save you time, I have created some new digital Spanish resources since the last sale that I think you will love. Here they are:
NEW & Relevant Digital Spanish Resources
Brand New Spanish Class Routine Resources
If you missed it, in 2023 I have been busy working on a new year of bell ringers for Spanish class. This is a great time to get these new time-saving resources for Spanish class at a deal!
Weekend Chat 2023
Jaja jueves 2023
Baile viernes 2023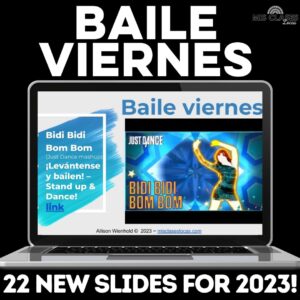 Afro-Latinx Music Resources
Celebrate Black History Month and beyond by highlighting diverse voices in your Spanish classes. Include diverse music all year, but especially focus on it in February with the newest Afro-latino del día – Song of the day 4.
This is the perfect time to get your Spanish class March music bracket resources. You can get your bracket up and ready to go. I have my BRAND NEW Mania Musical 2023 Spanish Class Music Bracket which includes my bracket of 16 current songs from the past year, including a slideshow, Google Forms to vote, and a bulletin board.
Or if you want to plan ahead and have more options, this Growing Music Bracket Bundle has resources for 9 separate brackets. Plus it gets a new bracket each spring when I add a new one at no extra charge. Plus I added a free voting form as well. 
BRAND NEW Mania Musical 2023 Spanish Class Music Bracket all current songs! – If you like doing a bracket at your own pace with a diverse selection of music, and ready-to-go Google forms for voting, this is the bracket for you! FYI this is not the same as some other brackets like Locura de Marzo. (I have been posting my own Spanish bracket resources since 2015). For those of you who have enjoyed my past Hispanic Heritage Music Bracket as well as March brackets, you will for sure enjoy this year's version!
Brand New YOUNG Mania Musical 2023 – for Younger students! It has options of full 16 songs or a 1/2 8 song bracket for classes that do not meet as often. Also, the bracket contains songs from a variety of years, as recommended by elementary Spanish teachers. If you are worried about the content of the songs shared by the bog bracket groups, this is the bracket for you!
If you know you want lots of options or plan to make this a yearly tradition with younger students, get all young music brackets together here in this Young Music Bracket Bundle
Chat about Music in Spanish Class
Want to get more out of your Afro-Latinx music or Mania Musical Bracket? Get students to communicate about music with these two new music chat resources. Break these out as a no-prep one-day activity for Música miércoles or to speak about your music bracket. The question cards work great to support students in a speaking assessment as well. Both have multiple levels of differentiation to make them work in every level of Spanish you teach. 
Valentine's Day in Spanish Class
Also, I do have some older, no-prep resources for Valentine's Day you might be interested in for this or next week. See this blog post for lots of Valentine's ideas.
This novice speaking activity was designed as a communicative way for students to practice the Super 7 high-frequency words in the present tense to talk about Valentine's Day. It is a great way to keep spiral reviewing those important verbs all year. This speaking activity has multiple versions to differentiate for your classes, all the way down to exploratory. See how to use digital and socially distanced variations in this Find Someone Who blog post.
If you only have a short amount of time to talk about the holiday, this quick authentic interpretive reading task would be great for novice Spanish students. It is made to support super novice Exploratory or Spanish 1 as a one-day in-class plan. It includes a printable or digital interpretive reading over an infographic, as well as editable Google Slides for the teacher to project directions, discussion, end extension ideas
If you are looking for various activities to spice up the dreary winter, this is for you. This has 3 weeks of daily activities that could be used to start a class as brain breaks or as a one-day cultural WebQuest or sub plan. 
Get all three of the activities above for the best possible deal and a variety of activities using all modes of communication around Valentine's Day in this Valentine Bundle.
Deals – Bundle
25% off is a fantastic deal for those larger, digital resource bundles that will save you a ton of time planning for the rest of the year.
MOST POPULAR BUNDLE – Year of Para Empezar 2022
Other Top Bundles I suggest that will save you all the time at the best deal possible
Don't forget, everything in my store will be 20% off Tuesday & Wednesday. PLUS use the code FEBSALE23 at checkout to save an additional 5% on everything!