Inside: Música miércoles in Spanish class. What is música miércoles, why to do música miércoles, and ready to go música miércoles resources for Spanish class.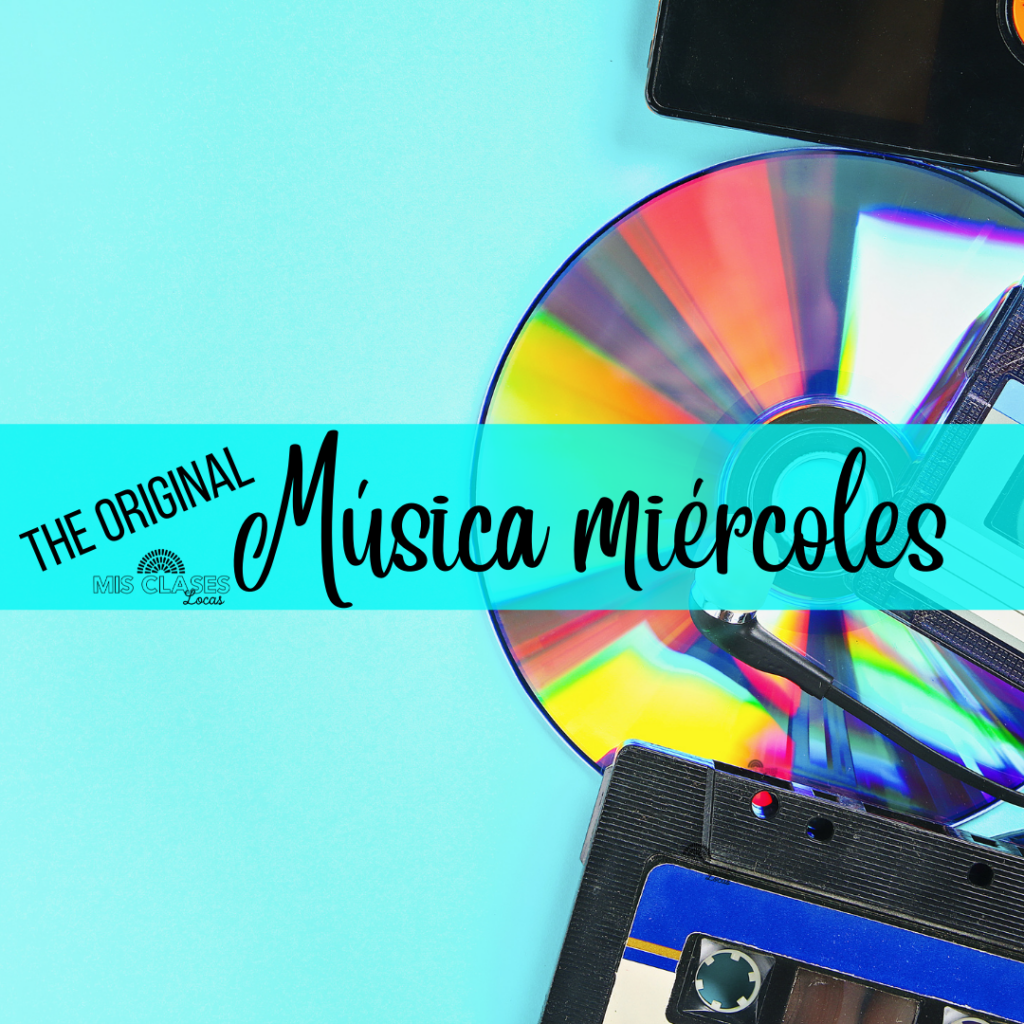 My first popular post on this blog was about baile viernes, our routine of starting every Friday dancing to a Spanish song. So, I decided to go into more detail with baile viernes' older sister – música miércoles. This is a routine that I created during my first year of teaching in 2012-2013. Yes, I know the name is not correct, but it was created by my students that year and stuck. 

Get a year of Spanish class starters in editable Google Slides. Para Empezar 2022
What is Música miércoles?
Música miércoles (music Wednesday) is starting class by watching a music video (or lyrics video for those with inappropriate videos) of a current or classic song in Spanish. It can then include answering questions or talking about the song in Spanish. Years ago I started a Youtube playlist to keep class favorites organized, and it is now huge! There are many other playlists on my Youtube now as well. 
First, each week I picked either a favorite song of mine or one from Billboard Latino Top 100. I am always on the lookout for new music on Pinterest and Twitter as well, especially current and relevant, such as an upcoming World Cup or film. Then these videos get inserted into an editable Google Slideshow, along with the artist, title, and a couple of discussion questions.
I used to scramble each Wednesday morning trying to find a new song to add to my slides, but over the years I started putting together many at the start of the semester, to you know be a little more prepared. 🙂 The first paid resource I actually ever posted was the OG Música miércoles. Now you can see I have dozens of ready to go music resources. If I was starting this year I would get 2023 Música miércoles or if you want TONS of options Música miércoles Growing BUNDLE.
Why do Música miércoles?
In my first year of teaching, one of my biggest successes was música miércoles. Because of this tradition, many students' favorite day of the week became Wednesday, as shared in their friday feedback. Week after week students would enter saying "Yeah, we get to listen to music today!" "Whooo, música miércoles!" I think this is because many students enjoy listening to music, and think they get to "waste" class time doing so. What they do not realize is this "waste" has the following benefits to them.
Benefits of Música miércoles
Listening to the Spanish language through song

Exposing them to new genres and artists of Spanish-speaking music
Learning the geography of where the artists are from
Hearing different accents and slang from various parts of the world

Getting catchy music stuck in their head 

Cultivating an interest in new music, enough to start their own Spanish Pandora station at home
Bringing up cultural similarities and differences
Making learning Spanish fun
Having students excited to come to Spanish class
The students enjoyed doing activities surrounding music so much during my first year that sometimes the entire class period was dedicated to music on Wednesday. (Especially since due to Wednesday's short class period that year due to Mass, homeroom, and early release all fall on this day meaning around 27-minute class periods. After watching a video and talking about a little, there would barely be any time to do anything else anyway, so why not go deeper into the music?)
If you are going to spend the whole class period on a song each week, work to plan songs that would go with each level's unit of study. Typically, I pick one song each week (for ease & planning's sake) to show all levels and vary the questions I ask each class. Also, check out What to do with a song in Spanish class & 15 Ways to Use Authentic Music in Spanish Class


Chat about the music!
*Update – now have music question cards to help support students chatting about music. It includes 56 different questions related to music. The music task cards include the following types of questions.
General personalized questions chatting about music.
Basic questions to discuss any song in Spanish.
Questions to compare songs for a music bracket. (See below for links)
Intermediate-level questions to discuss any song in Spanish.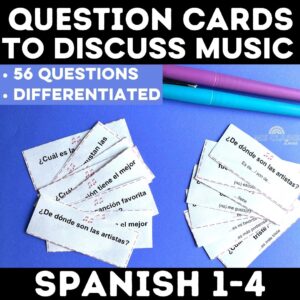 More ways to Mix it up with Music
Music Brackets
Intentionally diversify your representation
Dance!
Other Music resources from Mis Clases Locas you might enjoy
Video 1 – Music in Spanish Class – Why Use Music & How to Find it
Video 2 Music Weekly Routines – How to do música miércoles & baile viernes
Want to try out free Spanish music slides?
Let me know if you try música miércoles!
– Allison
Música miércoles was originally posted June 25, 2014, by Allison Wienhold