Inside: Spanish resources for distance learning. Resources for Spanish class digital distance learning, hybrid instruction, and socially distanced face-to-face Spanish class from Mis Clases Locas.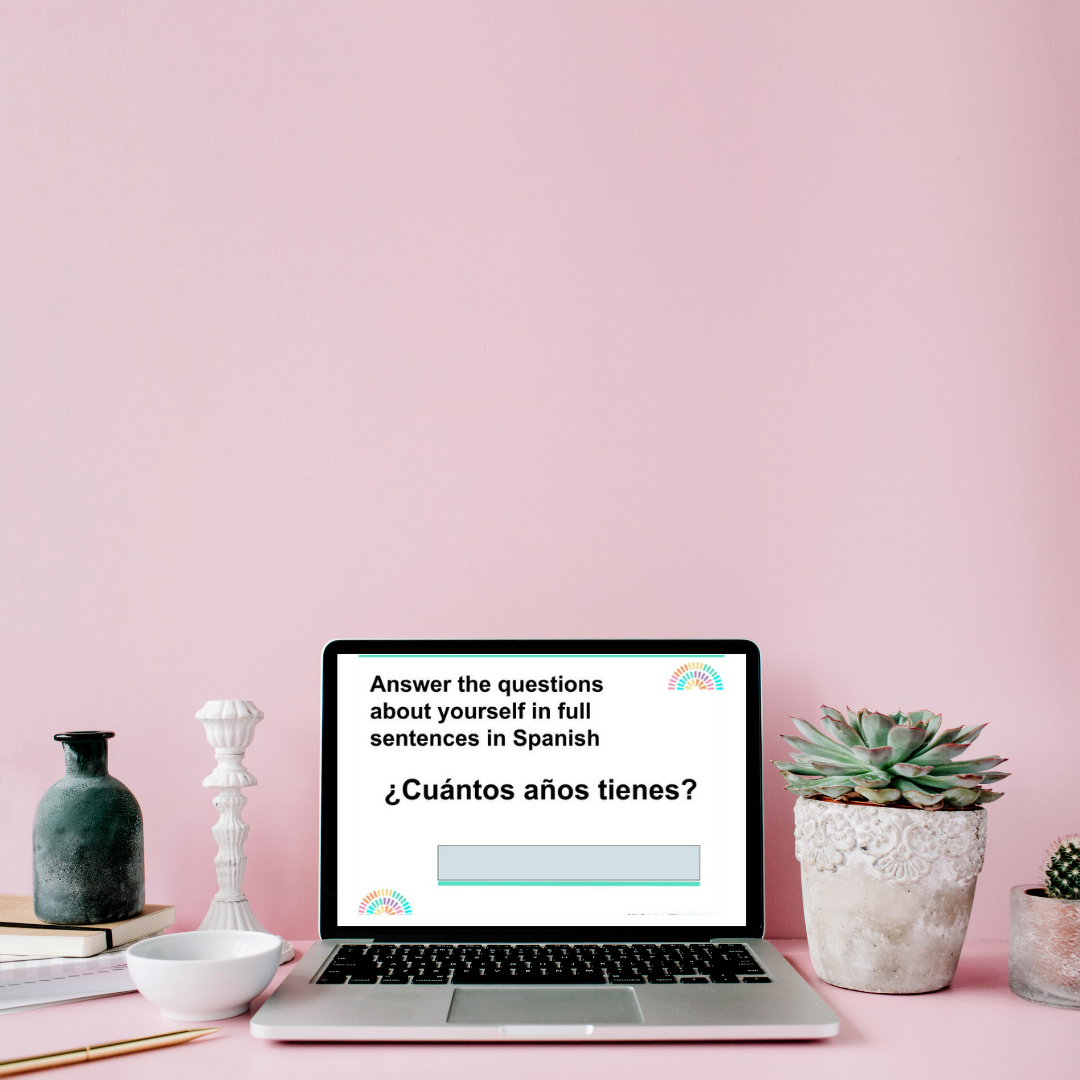 Spanish resources for distance learning
How are you doing friends? I know this is a tough, tough school year for everyone and I hope you are finding time for things that bring you JOY. One way I have found I can help is by providing Spanish resources for distance learning. 
All of the memes right now about trying to juggle work with increased burnout and the end of the year far off are spot on. Buying ready-made, teacher-tested resources to save my sanity and time is more important to me right now than ever. I am so glad that this is my 7th year using Google Classroom, and that pretty much everything I have created in the last few years is Google-based, so transitioning to everything posted online this year has been a little easier with those resources. (You can read more about my year doing mostly Hybrid in 
this blog post 
)
If you are in need of more digital resources, you are in luck, as it is time for the Suprise 
Spring TPT sale
! These rare site-wide sales mean that my entire store will be 25% off if you 
use the code FORYOU21 on Tuesday, April 6th, and Wednesday, April 7th. 
Some of my favorite digital resources to save you time ending out the year are below.
 Spanish resources for Distance Learning
I have many resources that are created in Google docs and Slides and can be uploaded and assigned on Google Classroom. I will go into more detail into some categories

 below. 
My newest 2021 Para Empezar has Google Slides class starters or brain breaks for every day of the year. Start it this year & use it all next school year as well! Or if you just want parts, you can get the individual slides as well.
Activity options to start each Monday of class with options of things people could actually do this year. 
A weekly routine, or use one each day as an SEL check-in in Spanish.
Keep the positive traditions and the love of music alive!
Start each class with a novice level joke in Spanish or assign the whole Google slideshow as authentic reading options. 
A fun, weekly movement activity in Google Slides.
Digital High-Frequency Units
The number one unit resource that teachers have told me has saved them hours of planning this school year are these newer Digital High-Frequency Verb Units. They work great for Roomies, Zoomies & everyone in between with ready-to-do Google Slides. If you have been thinking about them, now is the time to get the Growing Bundle. 
If you have the above units but need a Spring review, I have some BRAND NEW resources for you!
**For more high-frequency activities, check out 
This unit is perfect for upper levels to give students more ownership in the Spring. It could fill a full month or more of remote/hybrid or in-person learning in Spanish 3 or 4. If needed, instead of chatting in person they could have ongoing Flipgrid conversations or meet once in a while with Google hangouts or zoom to chat with the teacher listening. If you can not get paper novels to students, you could use one of the many sources of online readers now. 
Provide options of movies with digital guides for students. This is a great option

 for a sub or a week-long plan when you just can't. 
New to hybrid? Check out this blog post on my top tips from months of Hybrid teaching. 
Connect on social media if you need more support or just want to see me keep it real 🙂 
For extra deals this Tuesday & Wednesday, search #teachmorespanish for special $2 deals!
I have the following included, plus there are lots more!
Do not miss out on the 
Spring TPT sale
! Us
e the code FORYOU21 on Tuesday, April 6th, and Wednesday, April 7th. 
originally posted 4.5.20 – updated 4.5.21