Inside: Exploratory Spanish for Middle School plans. What to do with one-quarter of novice Spanish class.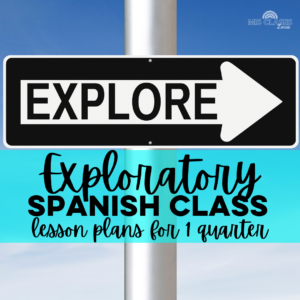 What is Exploratory Spanish?
I have always been a #deptof1, the only World Language teacher in my district, with all levels Spanish 1-4. In addition, for three years I also had the chance to teach Exploratory Spanish to 7th and 8th grades. These were true novice students who had 0 previous Spanish and had my class for one nine-week quarter, rotating over the year with other specials such as industrial technology, art, business, etc. 
Exploratory Spanish was a unique opportunity to reach ALL junior high students with Spanish. This included those who had no desire to take Spanish in the future and students with 504 plans and IEPs who are pulled out for many general education classes. It was my personal goal to hook every student by showing them Spanish is fun and to make them feel successful. In my first year I posted 6 Week Plans for Exploratory Spanish, while we were on trimesters. While I still use some of what I did then, after having eight sections of absolute beginner Spanish, I have refined my exploratory plans even more. 
Middle School Exploratory Spanish – class starters
To start class each day, exploratory followed my daily NEW Para Empezar class starters. Since I was teaching Spanish 1-4 in the same day, I usually just went along with what other classes were doing to make it easier on myself. But, if you are just teaching middle school all day, I would suggest my most basic Exploratory Para Empezar format. If you happen to have your middle school students all year, you might want my year of música miércoles & baile viernes bundle for music to use every week all year. 
Depending on the time of year they vote in the Hispanic Heritage Month Bracket or March Madness Bracket too with the other classes. I would suggest the following most appropriate brackets to use with middle school. 
>>> Young Hispanic Heritage – 1 song from each Spanish-speaking country.
We also do daily brain break, since middle schoolers right after lunch need to MOVE. 
Middle School Exploratory Spanish – lesson plans
Depending on the school calendar, some of the little units were in a different order each time. I like to have a full week of school for Martina Bex Somos resources, while I find Sr. Wooly units work well on strange weeks with early outs or fewer days due to the flexibility. (I used Sr. Wooly Pro & you can see what I do with it here). **I have now changed what I would personally do if I taught a quarter again & this updated post reflects my ideal plan for 2022-2023. 
Here is my ideal plan for a quarter of IN PERSON Exploratory Spanish. (45-50 minute class every day for 9 weeks) 
On day 1, students learn to introduce themselves, while I secretly learn all names on the first day of class. 
The huge focus for Exploratory is the Super 7 Verbs (es, tiene, le gusta, hay, está, va a, quiere)
>> Special Person Interviews with the original Super 7 unit
> Song & joke expansion with the digital Super 7 unit (or sub plans or digital plans for absent students)
>> Review activities that can be used at the end of the unit, or sprinkled in over the quarter to spiral review
>Digital Review Slides (great sub plan any time during the quarter!)
When I originally did this unit with just the original Super 7 unit, it typically took me about 2 weeks. But, now with the expansion of the activities in the digital Super 7 unit I would make the unit 4 weeks if I did it right now. I would take two days on each verb, instead of just one. On the first day we would do the interview, and the second would be all of the expansion of song introduction, reading comprehension with jokes, free writing, plus Quizlet & Blooket vocabulary review. Plus, I would add in all of the review activities as well. We could do question cards daily as a fast finisher to practice the verbs used that week, and then the Find Someone Who to review for assessment.
Super 7 Vocab but in a new way
If you wanted to break up the Super 7 unit, here are a couple Sr. Wooly songs that you could use as supplemental, or as their own mini song unit for a week.
>Sr. Wooly

– Es una ganga (basic shopping)
great for a shorter week
If your class is ready for it, and you are not expanding with units from others, after the Super 7 I would do the Sweet 16 Unit in a very similar way. It focuses on the following verbs (all those not yet foind in the SUper 7 above) le da, le dice, hace, puede, pone, sabe, sale, trae, ve, oye, viene.
>> Song & joke expansion with the
digital Sweet 16 unit
(or sub plans or digital plans for absent students)
Additional Units from others you could use instead of going on to the Sweet 16
>SOMOS Unit 2

 (camina, corre, ve)
Film to end the quarter or as a break
Pick any movie from my list 10 Appropriate movies for Spanish class. This film could be stretched to a one week mini unit if you want or just used quickly for a few days.
El libro de vida film is what I personally used when I taught exploratory on the dedicated finals days since junior high did not have to take one. 
What about if you have a 2nd quarter?
My Spring group of 8th graders was different since they did all of the above the year before in my exploratory class. The 8th graders basically completed what my Spanish 1 did first quarter that year. (Special Person Interviews with Super 7 Unit with Find Someone Who, SOMOS Unit 5 & El Capibara con botas with Ecuador reading & Stations). It was the earliest I have ever tried a novel, but it actually went well considering (some of) my Spanish 1 said it was too easy!
If you do not have funds for a novels, I would focus a lot on the Sweet 16 using Sweet 16 Bundle.
Even if you went through it before, you can always use the unit again with new students, since the special person interviews will always be different.
If you know you want to use many of the resources above, plus have a variety of mini cultural activities as well. I would highly suggest
Do you teach exploratory Spanish? What do you do?
Originally posted 1.29.18 by Allison Wienhold – most recently updated 3.27.23