Inside: Vivo in Spanish class. Resources for the movie on Netflix Vivo to use in Spanish class, including a Vivo movie worksheet. Vivo en la clase de español.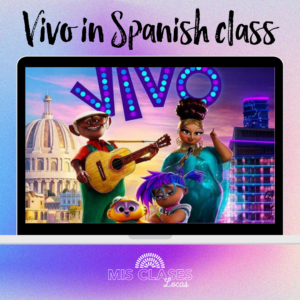 All the Spanish teachers are excited to see a new appropriate Netflix movie set in a Spanish-speaking country. My little boys actually found this animated musical on Netflix. As soon as I saw it I knew it would be perfect for any level of Spanish class. The film is set in Cuba and South Florida and has a positive Afro-Latinx representation. It has great music, including Lin-Manuel Miranda and Gloria Estefan. It is rumored the film is based on the life of Celia Cruz. (So that could be a fun cultural exploration and comparison for upper levels).
I think this film would work well with elementary Spanish all the way to high school. It is PG with a run time of 1 hour and 35 minutes & can be found on Netflix. It would be a perfect film for Hispanic Heritage Month.
What audio and subtitles to use?
First, it all depends on your goals and level of students. The great thing about Netflix is you can easily change the language of the audio and subtitles. See how to change the audio and subtitles HERE
As always, do what works best for your classes. Here is what I personally do:
Spanish audio & Spanish subtitles – upper-level students
Spanish audio & English subtitles – novice level students
English audio – exploratory Spanish or culture class
Below are resources you can use to teach the film. (In addition to my Vivo movie guide worksheets).
*Update You now have the option to get this Vivo guide in my website shop.
Trailers to use for Vivo in Spanish class
First, play these videos to build interest. For lower-level classes, you could use them movie talk style, pausing, and describing in basic Spanish. Or take screenshots of the video and project them. Then have students write or discuss what they see and what they wonder. Finally, you could have students find cultural elements and then research to make predictions as well.
1st Teaser Trailer – English with Spanish Subtitles
Trailer – español
Trailer – English
More Videos for Vivo in Spanish class
Also, for upper-level classes, you could use some of these videos in Spanish. They would be great for authentic listening comprehension related to the film.
Song – Inside your Heart – Gloria Estefan – Spanglish
VIVO (NETFLIX) Reseña y Opinión – Musical Animada
Vivo Resumen (Netflix) spoliers save for after
Authentic Readings about Vivo
Novice reading for Encanto in Spanish class – Authentic Tweet
More advanced authentic readings for Vivo in Spanish class
If you are looking for a ready-to-go guide for every level you teach, this is Vivo movie guide for you. It includes character identification, 15 questions in English OR Spanish to use while watching, and post-viewing questions and character matching. It is the same format as many of my other popular movie guides.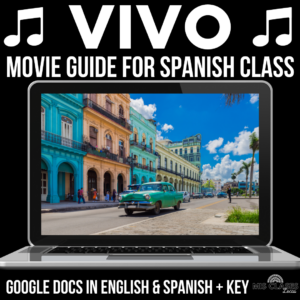 NEW – Vivo personajes Slideshow
My friend Landon Wood created this character introduction slideshow specifically to go with my Vivo movie guide. It is being shared here with his written permission. Thank you, Señor Wood!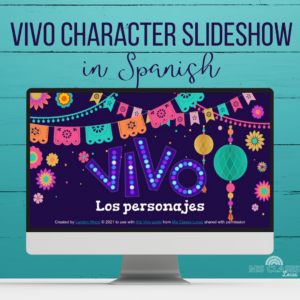 Other Film Resources
If you are not interested in Vivo, here are some other movie resources to save you time.
Other Films with Afro-Latinx Representation
More Movies for Spanish Class
If you have more resources for Vivo in Spanish class, please share in the comments and I will add them!