Inside: Valentine's Day in Spanish class. 15+ Ideas from around the web for Valentine's Day in Spanish class. Día de San Valentín en la clase de español. 
Valentine's Day in Spanish class
So, for many years we do not even acknowledge Valentine's Day in Spanish classes at my school. Honestly, it depends on when it falls during the week and what else we have going on. This year it falls on a Monday, so if you want a fun Friday activity the week before, or to start out your week, here are some ideas. 
If you are looking for a variety of activities to spice up the dreary winter, then this is for you. This has 3 weeks of daily activities that could be used to start a class or as brain breaks. You could start February 1st to bring a little culture to class each day leading up to February 14th. 
Or it could also be used all together for a couple-day mini-unit around Valentine's Day. You could assign the editable Google Slides on Google Clasroom as an easy cultural exploration sub plan.
You can get it as a part of
this Valentine bundle
as well.
This activity
was designed as a communicative way for students to practice the Super 7 high-frequency words in the present tense. (es, tiene, hay, le gusta, está, va, quiere) It focuses on those commonly used verbs to talk about Valentine's Day. It is a great way to keep spiral reviewing those imporant verbs all year. This speaking activity has multiple versions to differentiate for your classes, all the way down to
exploratory
. See how to use is digitally and social distanced variations in this
Find Someone Who
 blog post. You can get it as a part of
this Valentine bundle
as well.
If you only have a short amount of time to talk about the holiday, this quick authentic interpretive reading task would be great for novice Spanish students. It is made to support super novice Exploratory or Spanish 1 as a one day in class plan. It includes a printabvle or digital interpretive reading over an infographic, as well as editable Google Slides for the teacher to project directions, discussion, end extension ideas. You can get it as a part of this Valentine bundle as well.
Get all three of the activities above for the best possible deal and a variety of activities using all modes of communication around Valentine's Day in this
Valentine Bundle.
Young Novice Students Valentine's Day in Spanish class
Refranes y citas para el Día de San Valentin
El Mundo de Pepita always has such adorable stuff, such as these refranes y citas for Valentine's Day.
Let your young novice students play a game while still learning Spanish. Or check out these posts with more ideas from Carolina, including resources for the movie

 

"El Día de San Valentín, Charlie Brown."
Resources for Intermediate Students
Free Printable Valentine's Cards – Spanish Mama
Valentine Poetry in Spanish – shared by Kim Huegerich
Terms of Endearment in Spanish speaking countries
Spanish Mama Elisabeth has two awesome images in terms of endearment, one for children and another for romantic couples. The romantic one would be great to post in your room during February or a project for students to use when making cards in Spanish. This is the kind of slang middle and high schoolers eat up! Also, check out this very comprehensive post with TON MORE activities for the holiday.
Decorations for Valentine's Day in Spanish class
Bulletin Board Ideas
The conversation Hearts on the board above were created by my HS student assistant Carley on a Cricut.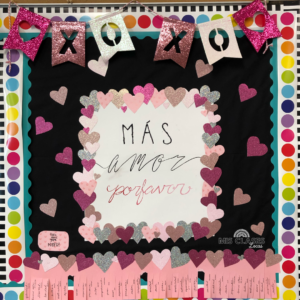 This board above was all created by my student teacher Profe Sierra.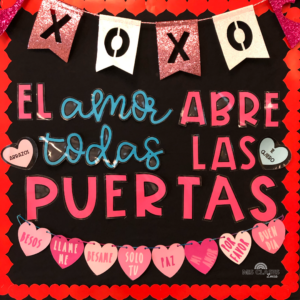 The letters from the abre las puertas board come from the door decoration from SraDavilaMadwid.
What other ideas do you havbe for Valentine's Day? Please share!
Remember you can get all of my resources all together in this Valentine bundle.
If you are not into Valentines Day, here are other ideas for this time of year
What are your plans for Valentine's day? Please share in the comments!
Originally posted 1.16.17 by Allison Wienhold – most reecntly updated 1.17.22