Inside: Maya y los tres in Spanish class. Resources for the Netflix original show Maya y los tres to use in Spanish class. Maya y los tres en la clase de español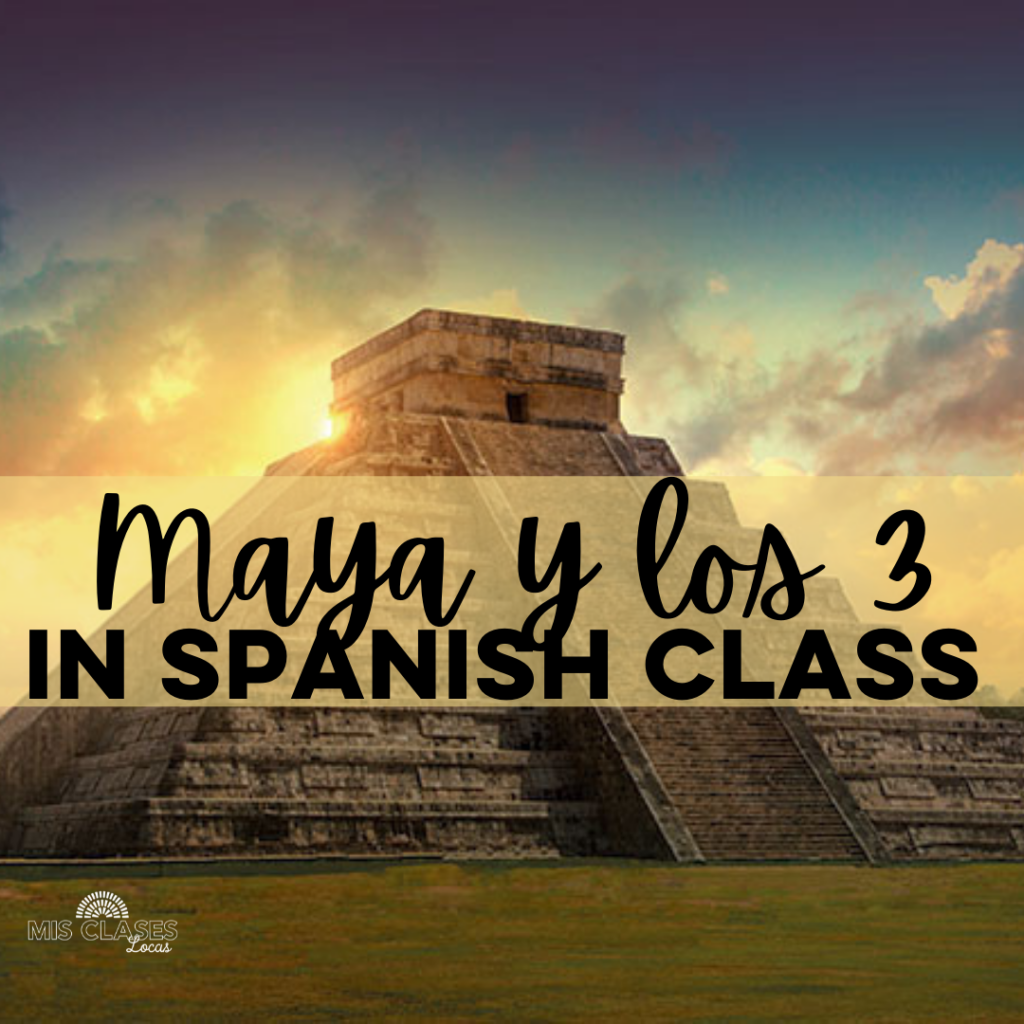 If you have not seen it, there is a new popular animated listed series on Netflix. Maya and the Three is the original title in English. But, do not let the name fool you. This limited series is full of A-list Latinx celebrities set in pre-colonial Mesoamerica. It is written and directed by the man who brought us The Book of Life. This is why the style, animation, and even voice actors seem so familiar.
While there are many elements of the show taken from multiple indigenous groups, the show is full of fantasy. I know there are people who have been upset that it is not historically accurate. Yet, it is a fantasy show and never claims to be an authentic documentary.
The indigenous connections would make it great to show an episode in November for Native American Heritage Month. (For more Indigenous resources, read Indigenous Peoples in Spanish class).
If you need more basics of using a show, check out Teaching TV Shows in Spanish Class & the video below.
How can you use Maya y los Tres in Spanish class?
Maya & the 3 is rated TV Y7 for fear and fantasy violence. It would be appropriate for any level of Spanish student. There are nine total episodes that are each about 30-35 minutes long. So, if you were looking for a series that you could show each Friday in middle school Spanish, this could be the answer. Or, one episode could be a great sub plan, treat, or teaser before Thanksgiving break to get students to go home and watch more on their own.
Maya y los 3 Character Introduction
I have found that introducing characters in Spanish makes watching a new show a lot more enjoyable. It is especially true with this show since a lot of characters get introduced in a short amount of time in the first episode. If you want to introduce the characters of the show in novice Spanish, I have an editable Slideshow all ready to go. You can get the Maya y los 3 bonus slides here by signing up for my email list below.
Episode 1 Guide for Maya & the Three
I created this Episode 1 guide that is all ready to go. It would be a perfect one-day sub plan or a fun 1 class period reward before a break. The guide has also been added to my movie guide bundle if you happen to already have that. Update there is now the option to get episode 1 guide of Maya y los 3 in my website shop.
I have not decided if I will make anything for the other episodes, so if you try it out, let me know if you are hoping for more!
What Language & Subtitles for Maya y los Tres in Spanish class?
On Netflix, you can change the language & subtitles to Spanish if you would like. Learn how in Watching Netflix with Spanish Subtitles. As always, do what is best for your students and situation. Here is my go-to way.
Upper level classes – Spanish audio & Spanish subtitles
Lower level classes – Spanish audio & English subtitles
Exploratory or Culture class – English audio (& maybe Spanish subtitles for fun)
Trailers to use for Maya y los tres in Spanish class
First, before watching you could play some of these videos to build interest. For lower-level classes, you could use clip chat style, pausing and describing in basic Spanish. Or take screenshots of the video and project them. Then have students write or discuss what they see and what they wonder. Finally, you could have students find cultural elements and then research to make predictions as well.
Trailer – español
Avance- español
More Videos for Maya y los 3 in Spanish class
Also, for upper-level classes, you could use some of these videos in Spanish. They would be great for authentic listening comprehension related to the series.
Todo lo que tienes que saber sobre 'Maya y los tres'- advanced
37 Míticos datos que debes saber – long & advanced
Song from Maya y los tres – Si Debe Ser, Es Mi Deber" 🦅 Kali Uchis
Authentic Readings about Maya y los Tres
Also, you could use these resources for additional interpretive practice.
Authentic Tweet
More advanced authentic readings for Maya y los 3 in Spanish class
Other Program & Film Resources
*NEW! TIERRA INCÓGNITA
If you are looking for older students, here is a new Spanish language PG thriller from Argentina on Disney +. The eight episodes so far, are only about 30-35 minutes each. If you want to show one or more episodes, check out many resources in this new blog post. There is a guide here for episode 1 if you want to try it out. The 34-minute first episode would be a great one-day sub-plan around Halloween.
Similar animated stories, but in movie form
Finally, if you want a different series or film to use in your Spanish classes right now, here are some resources to save you time.
Other shows and films
So, if you want to try out Maya y los 3, get my Episode 1 TPT guide or Maya y los tres Spanish Episode 1 Guide + bonus slides here by signing up for my email list. & let me know how it goes!
If you have more resources for Maya y los tres in Spanish class, please share in the comments and I will add them!