Inside: Get your students moving and speaking Spanish with Find Someone Who people hunts. These interpersonal speaking activities are no prep and easy to use. Mix up how you Find Someone Who includes distance learning and socially distanced options. Instructions on how to use the new TPT Digital tool are also included!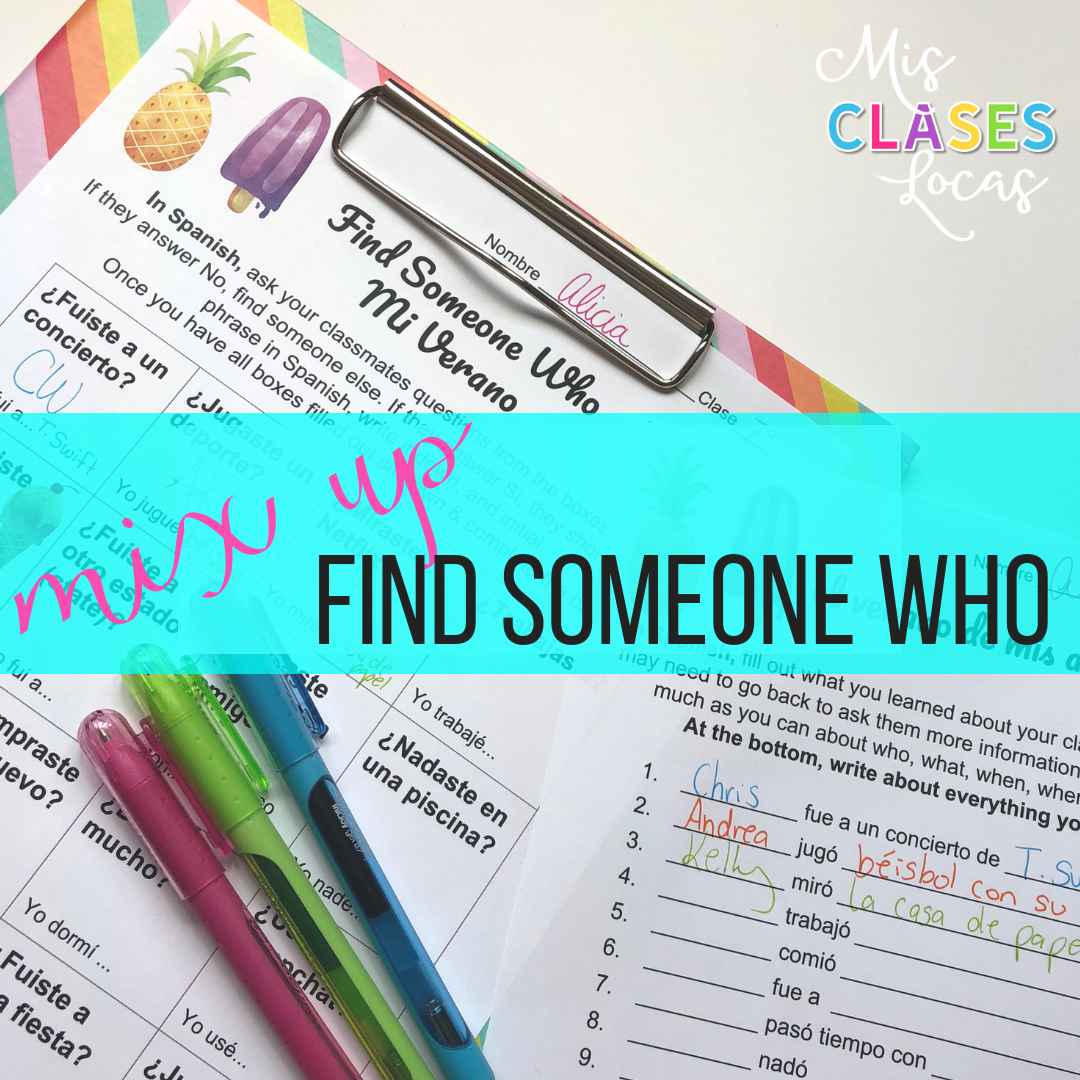 What is a Find Someone Who?

A find someone who, or seek & sign is a form of interactive get-to-know-you activity or Ice Breaker. I learned about them and enjoyed using Find Someone Who people hunt during my days as a Camp Adventure counselor. They force you to move around, talk to everyone and build a community that knows more about each other.
The first time I created a Find Someone Who for my class was with my plans for the 1st day of Spanish 2-4 a couple of years ago. Then suddenly I fell in love and started creating versions for no-prep Weekend Chat, the 1st day back from Winter Break, my high-frequency verb units, French class, and more.
Most of my ready to go Find Someone Who activities are print & go PDFs. But, I know teachers often need and want to modify for their unique situation or unit. So now there is a fully editable Find Someone Who Google template. Get it here!
How to use a Find Someone Who
For all versions, start by having all students look at the questions to make sure they know what they all mean before starting. Instruct students to stay in the target language and to try to answer in complete sentences for the duration of the activity. Once they are done asking questions on the front, there is an extension to write when they learned about their class on the back. I have found the extension really helps to differentiate fast finishers.
I started creating so many of them, that as with anything, I needed to make sure that I was mixing up HOW I was using them, so as to not let them get dull. Here are some ways to mix up using a Find Someone Who.
The Classic Find Someone Who in Spanish Class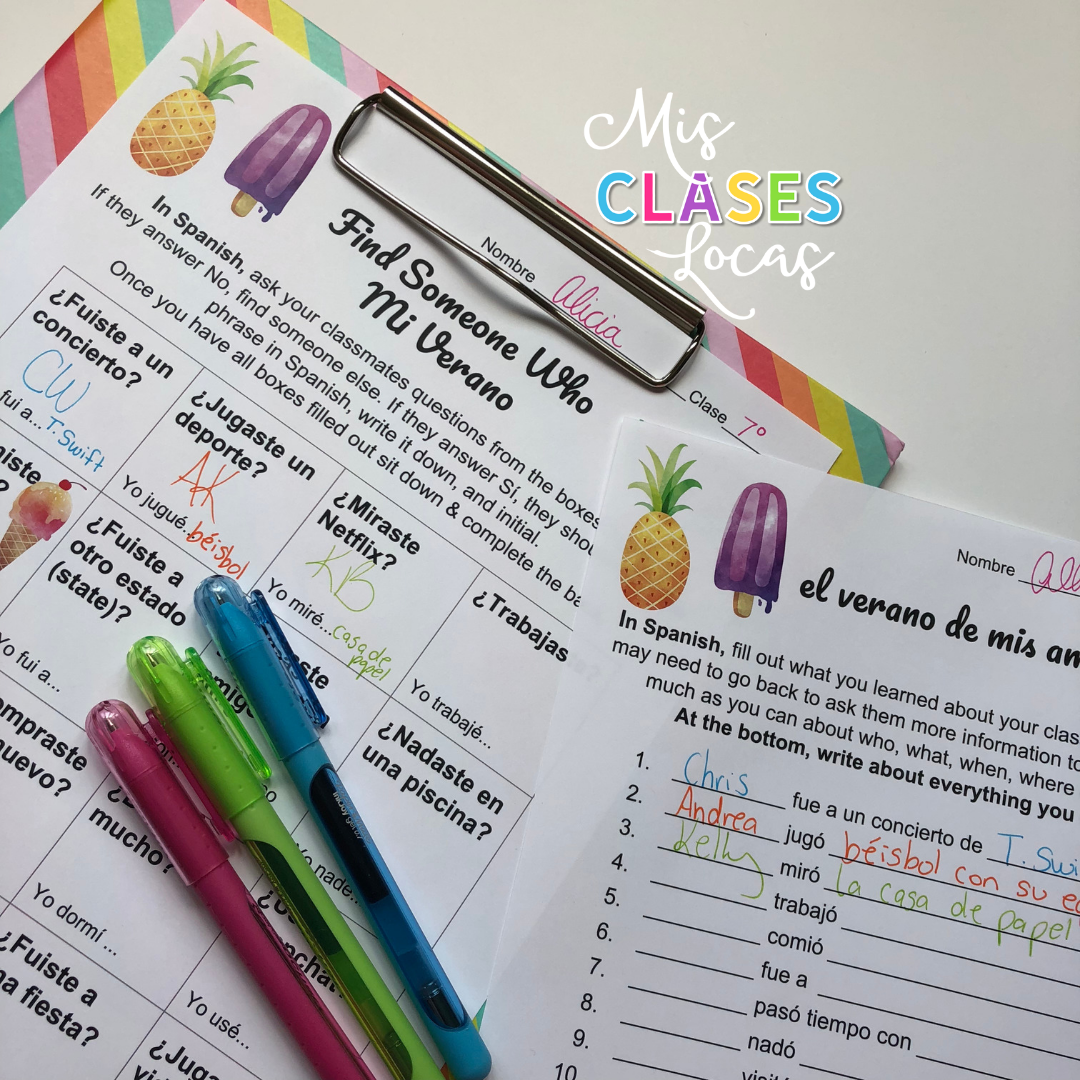 Set everyone loose to ask and answer questions from anyone in the room. Have students try to get a different person to answer each question, or at least get everyone to answer one before you go back to ask again. This is by far the most chaotic of the options, but it is great if you can give students this freedom and movement, especially when they are just returning from a break and have a lot of energy.
The Structured Full Class Find Someone Who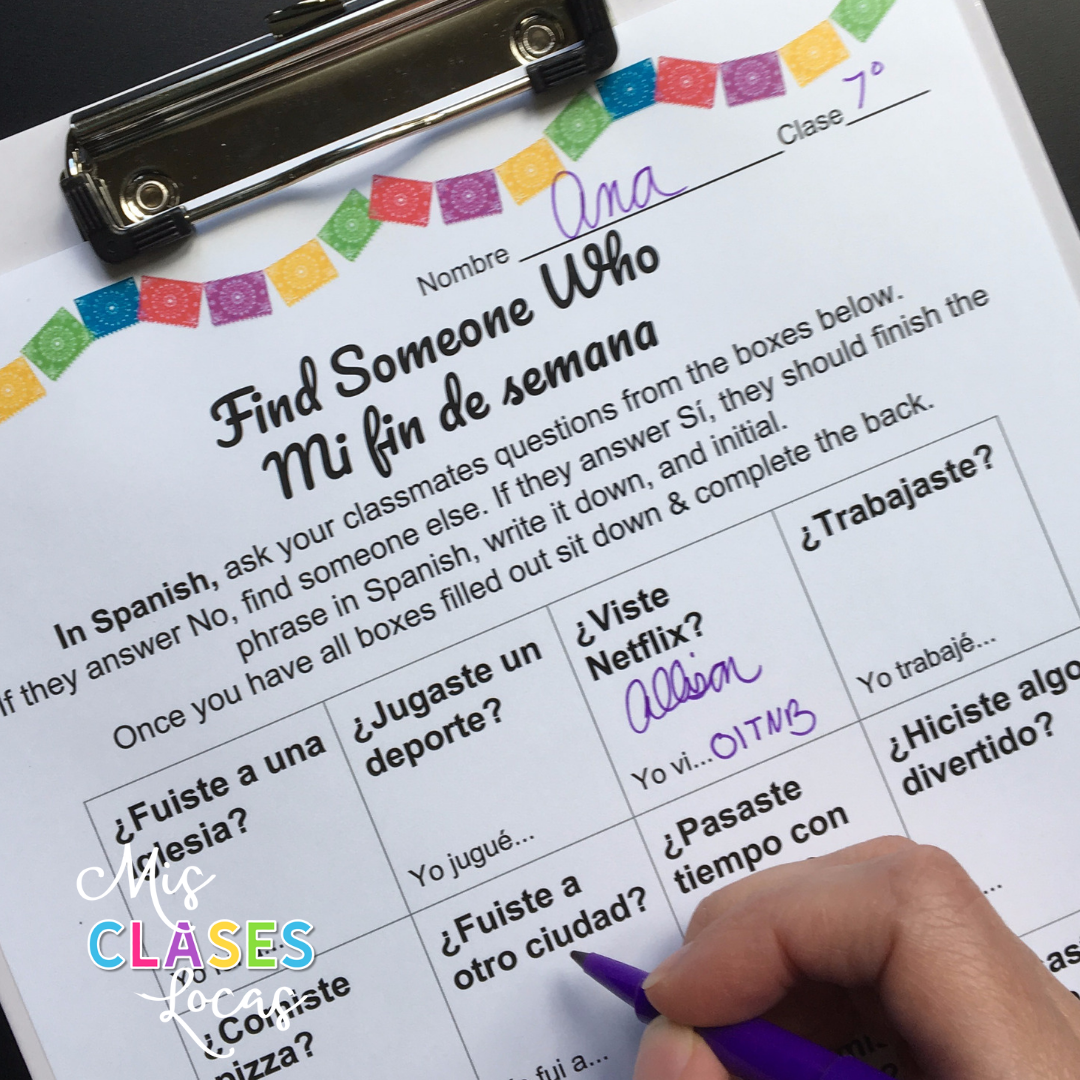 If you want the entire class to be involved and to make sure that everyone is included, a structured version might work best. Set students up in an inside/outside circle (the inner circle that faces outward to a partner in the bigger circle facing inward). Have students ask their partner and then move a step to the right at the ding of a timer. Depending on your space, this could also work in two lines facing each other, where one end student walks to the other end after everyone shifts. This could be moved to the hallway as well for a new environment. These structured options help to make sure everyone is involved.
The Interview Find Someone Who
Have students sit with a partner to do a personal interview. This works especially well with the high frequency verb unit options (Super 7 present, Sweet 16 present, imperfect, preterite, or Super 7 French). Learn how to use High-Frequency Verb units in this blog post. This is a great way to do a one on one special person interview for students who do not want to go in front of the class or to make sure that everyone is interviewed. It allows students to learn a lot about one of their classmates, and then to write about them using the expansion on the back to practice the third person as well.
The Small Group Find Someone Who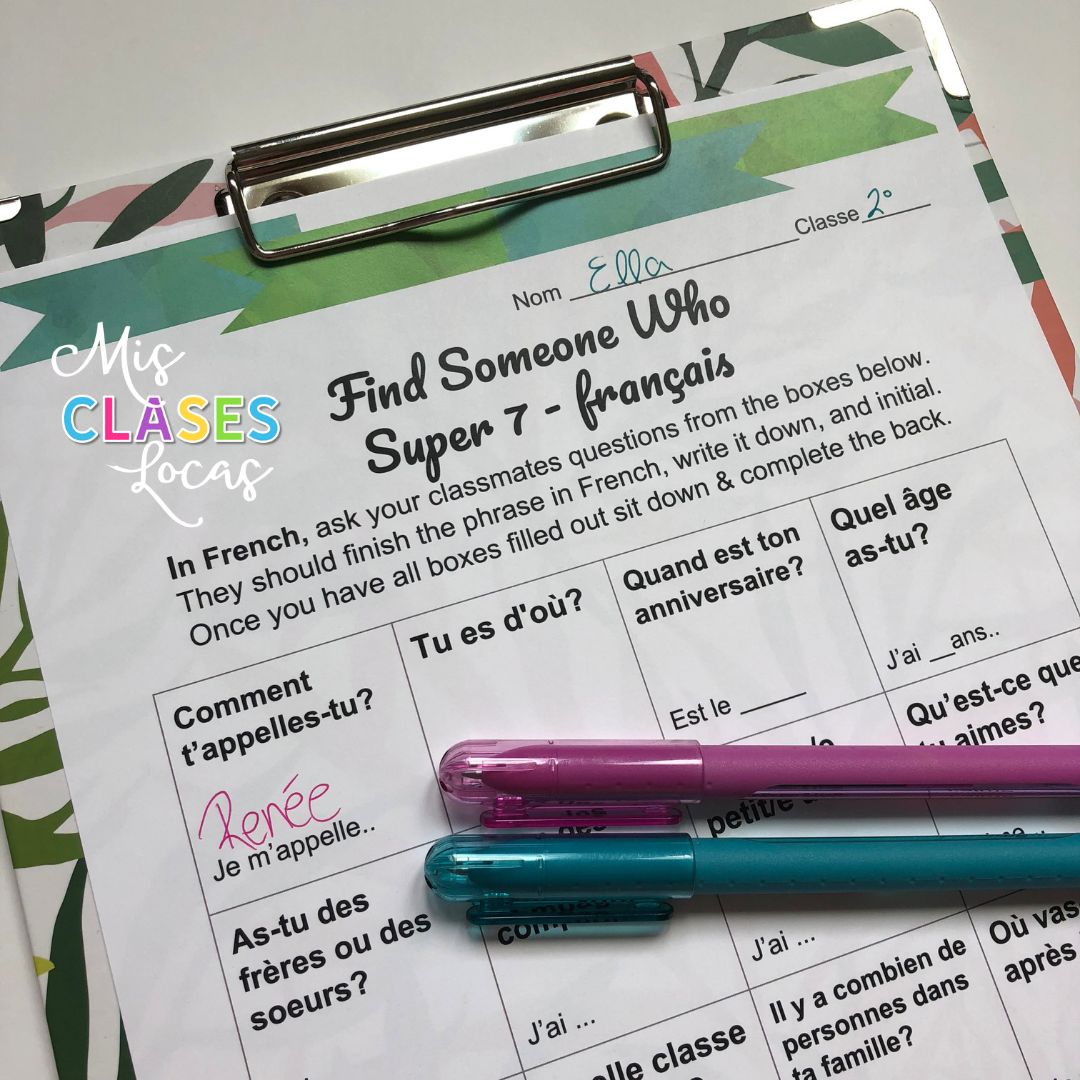 If your room is set up in table groupings, small group Find Someone Who interviews might be the best option. Just have a group of about 4 students ask each other the questions in the target language. This allows students to ask a few people questions but keeps students a little more contained if you can not have them all up at once, especially if you do not have the space for a ton of movement.
The Novice Spanish Class Find Someone Who
I wanted to be able to have my novice Spanish students complete a Find Someone Who right away in the school year. So I created a Find Someone Who focusing on Tiene, or has. My Spanish 1 students (who had some exploratory middle school Spanish), completed this activity on day two of school this year. I gave them the version with the most support, including the I form on the front and the sentence starters on the back as well. You can get this activity for Free too!
Where can I get your Find Someone Who Activities?
Below are the Spanish-speaking activities so far in my Mis Clases Locas website store. (There will be more to come, fo now you can always get them on TPT too).
Super 7 & Sweet 16 Spanish-Speaking Activities
Seasonal Spanish Find Someone Who Activities
**In 2020-2021 I added the following socially distanced & digital versions. I kept them in case you want even more ideas of how to mix up using Find Someone Who
The Socially Distanced in Person Find Someone Who
Since a go-to activity for me to start the year in Spanish 2-4 is a "mi verano" Find Someone Who, I came up with some variations for that activity to socially distance. (For reference in the 20-21 school year I was in the classroom full time with smaller groups rotating on A/B days & the others online on alternating days). 
Do the paper FSW activity outside. 

If you do not have 1:1 technology and are in person, this is your best option. 

Have everyone wearing masks, with the FWS on their own clipboard & standing at a distance to talk. Instead of having other people sign the form, have each student just write the name of the person who said yes instead. Or students could ask the question cards outside at a distance.
Interview partner using Plexiglas. I know some schools have Plexiglas dividers or plastic shower curtains hanging in their classrooms. Have students use their masks, in addition to these dividers to interview a partner or small group using the FSW sheet and writing their own answers or using the new TPT Digital Add on their Chromebooks. (This is what I personally did in class & see more about that below).
The Paperless Find Someone Who
For those of you wanting to use this conversation tool paperless. This has students working electronically. I have a new TPT feature that might be just what you need!
The TPT EASEL Digital Annotation Tool (compatible with Google Classroom!) Now on most PDFs I can add an overlay of digital text boxes, pick the pages I want to include & click assign to Google Classroom. Then with a connection to Google, I can directly assign these now digital activities for students to complete and turn in online. I have already created the digital text boxes for you in Mi verano (I used in Spanish 3/4 day 1), ¿Fuiste…? ( I used in Spanish 2 day 1) & the ¿Tienes…? Freebie ( I plan to use this week in Spanish 1). All you need to do is go to the link click the "Create Digital Activity" button below the download & follow the instructions below.
Edit the pages you want to use
(Notice here I already created some text boxes as a starting point. You can also add your own from scratch for other resources if you would like).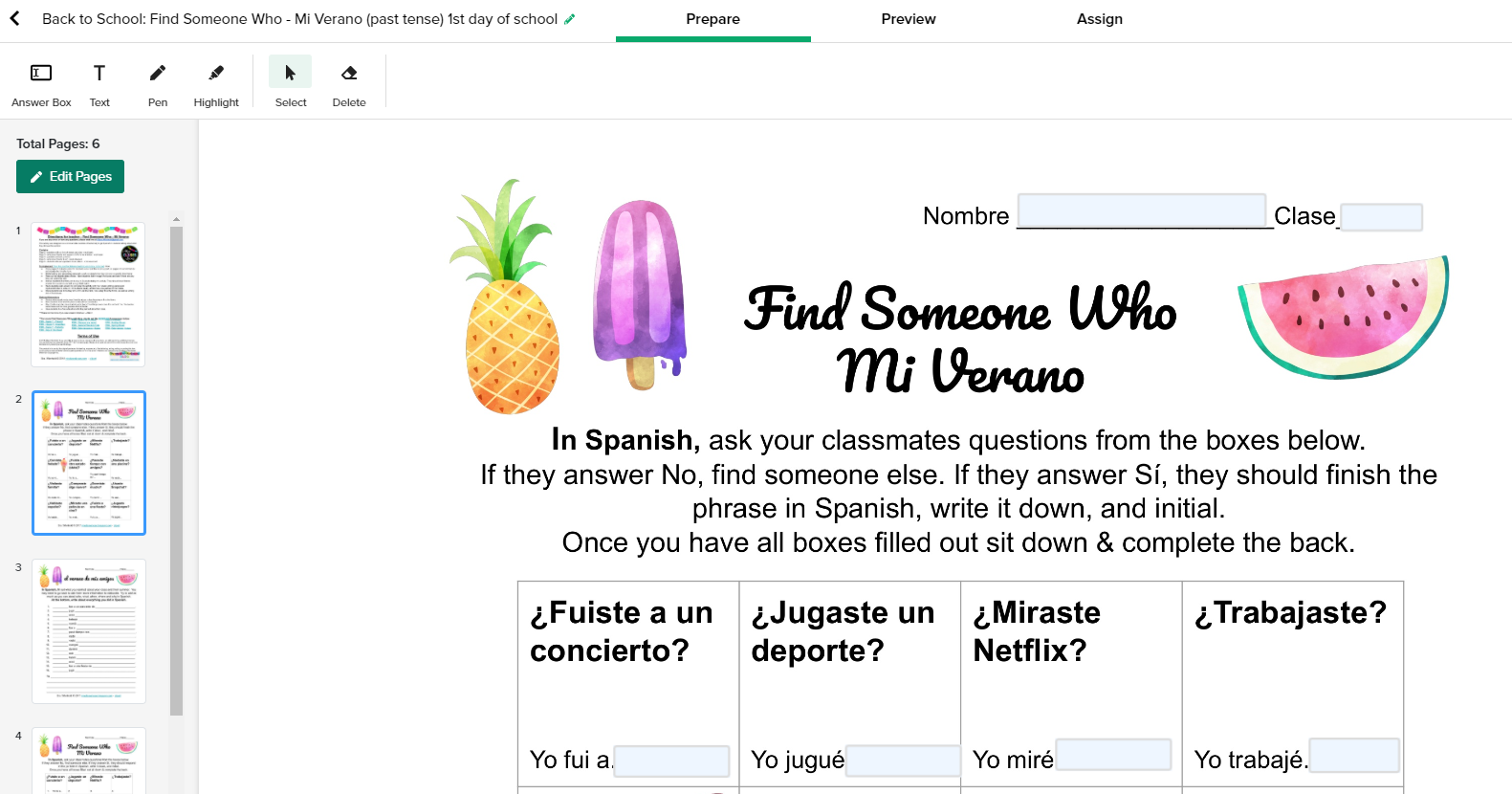 Pick the pages you want to use
(Make sure to click and DELETE instructions for teachers or pages you do not want to use. You want to make sure only pages you want students to see are shown here before you click assign).


Share Right on Google Classroom
(Students will click turn in on the TPT access. Once they turn it in they can not go back and edit!)

I tried this digital version out in Spanish 2-4 in class as a way to avoid paper. Students wrote about themselves on the first page and then interviewed a partner from their seats. They wrote about the partner on the 3rd person page. If you want to try it out, I have already created the digital text boxes for you in Mi verano , ¿Fuiste…? & the ¿Tienes…? Freebie ( I plan to use this week in Spanish 1). All you need to do is go to the link click the "Create Digital Activity" button below the download & follow the instructions above.
If you are fully digital you can assign the document online and then decide how you want them to talk to someone. Maybe they get to meet in Zoom break out rooms to chat, or maybe you assign them, someone, to call, or they can interview someone they know who speaks Spanish. Make it work for your unique situation, and please let me know how you use them!
Where can you get Find Someone Who activities to try these versions out? Click below
Find Someone Who Versions in Spanish from my TPT Store
If you are looking for more ideas, check out 10 awesome speaking activities.
Abrazos!
Allison
More Interpersonal Speaking Ideas
Originally posted 10.1.18 – updated 9.2.20