Inside: Resources for 
Hispanic Heritage Month or Latinx Heritage Month in Spanish class.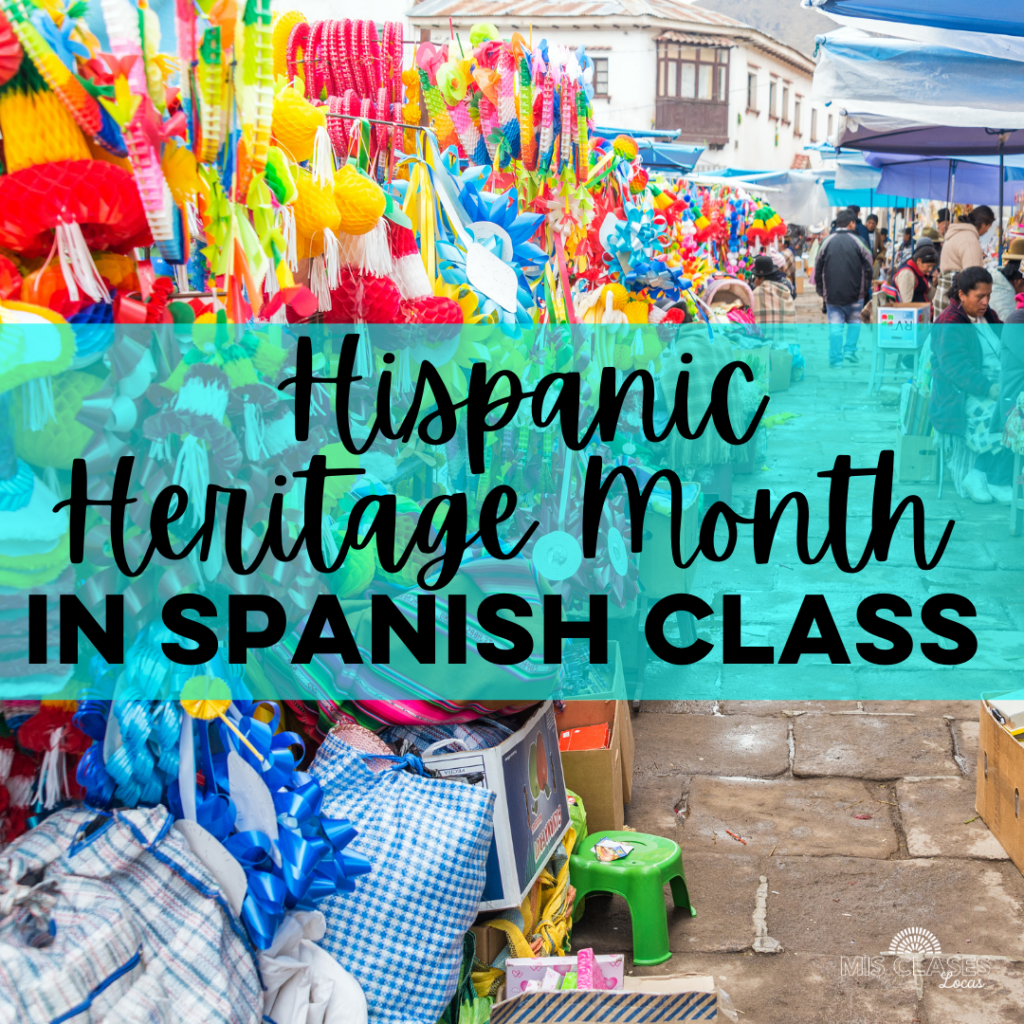 Every year Hispanic Heritage Month or Latinx Heritage Month is celebrated from September 15 – October 15. It is the perfect opportunity to infuse your Spanish class with culture. It is especially a great time to support Authentic resources from Hispanic creators. For example, here are 10 books by Latinx authors to read.
Here are some resources from around the web to help plan you plan for Hispanic Heritage Month. 
For the past 6 years I have used music as my main vehicle for showing representiation of the diverse Spanish speaking world furing Hispanic Heritage month.
Each year I I have created a collection of 22 songs, each representing a Spanish speaking country. This means there is one song for every school day of Hispanic Heritage month. It is a great way to introduce where in the world speaks Spanish, nationalities, geography, pop culture, music genres, and novelty. They could be used as a Para Empezar class starter each day, or as a Brain Break. The videos are embedded in the editable Google slides for easy teaching. 
If you do not want to spread it through the whole month, it could be a stand alone lesson for a couple of days, perfect for a substitute. You could post the slideshow for students to go through and watch the videos at their own pace, having them rank the songs, color a map where their favorites are from, or create their own music bracket playoff with a winner at the end. I found a lot of new artists and groups from the Spanish speaking world while creating this that I hope you enjoy as much as I do!
Over the years, many teachers have used it as a fun, competitve music bracket. Learn more about how to do that
in this blog post.
Over the years I have created a bracket each year. The newest version with the most diverse and up to date music is
HHM6 for 2021.  
Or you can get the growing bundle that currently has 6 sets of 1 song per country.
Get it here.
If you participate, please post and share your bracket and tag @mis.claseslocas so I can see them all!
Films for Hispanic Heritage Month
Everyone could use and deserves a little break and authentic films for Spanish class do just that. In this uncertain school year you deserve ALL the Breaks! Input in Spanish, while learning about the diverse cultures of the Spanish world is a win-win.
It all depends on your goals as to what audio and subtitles you use. For upper-level classes, I like to use Spanish audio and Spanish subtitles. For novice classes, I prefer Spanish audio and English subtitles. The only times I use English audio is for culture or maybe early Exploratory class, but with using a culture-rich film. If you are looking for documentaries, check out these 5. 
You can find all of my movie guides HERE or my movie guide bundle here. Here are a few of my favorite appropriate films for Spanish class.
This post 

has many ideas for the whole month organized by music, art,

culture

, reading and more. 




Spanish Mama shares a post with a freebie for South America geography games. have your students g
et to know South America better with printable cards for students to practice South American Geography: countries, capitals, flags, and quick facts about the country. These could be used to play memory, Go Fish, spoons, etc.
Spanish Mama also has an adorable printable mini book in both Spanish and English for learning about Peru. 
La Profesora Frida has a great culture project for beginning Spanish students. Also, here is a free brainstorming list of 50+ cultural topics to explore. This would be a perfect activity for students to complete with a substitute while you are at your local fall language teacher conference. 
How do you use Hispanic Heritage Month in your Spanish class? Share in the comments!
Originally

posted 9.12.16 – updated 9.16.19 & 8.25.21