Inside: Asian Pacific Heritage Month in Spanish class focusing on Asian-Latinx. Resources and lesson plans were shared by Sien Park and Christina Toro. Asian in Latin America, AAPI Heritage Month Ideas for Spanish class, and AAPI Heritage Month celebration ideas in Spanish class.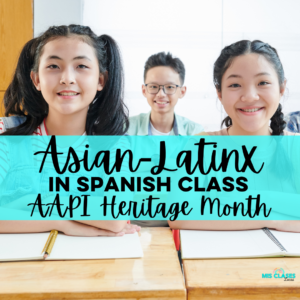 When is AAPI Heritage Month & what is AAPI?
May is Asian American and Pacific Islander Month (AAPI Heritage Month) in the United States. AAPI Heritage Month celebrates the diverse cultures of people originally from the entire Asian continent and the Pacific Islands. Additionally, Asian Americans are the fastest-growing racial or ethnic group in the United States.
Asian Pacific Heritage Month Celebration Ideas
First, it is important to recognize and celebrate all diverse groups including Asian and Pacific Islanders in any classroom, including your Spanish class. You probably already include a lot of culture, learn about Spanish-speaking countries, and celebrate Hispanic Heritage Month & Black History Month. But, it is also important to recognize Indigenous Peoples, LGBTQIA, and AAPI. Here are some AAPI Heritage Month Ideas, including the connection to people of Asian-Latinx descent, as well as Asian-Latinx lesson plan ideas from Sien Park and Christina Toro.
What does it mean to be Asian-Latinx?
Asian-Latinx or Asian-Latin Americans could be those of Asian descent living in Latin America. Also, Americans of Asian ancestry that speak Spanish may identify as Asian-Latinx. Like any identity, there are nuances and each person might prefer one description over the next. So it is important to ask, not assume how someone identifies. For example, a person adopted from Korea, and growing up in a Spanish-speaking, Puerto Rican household in New York might identify as Asian-Latinx. Also, a person living in Peru, with parents who immigrated from Japan, may also say they are both Asian and Latino.
Asians in Latin America is a part of the cultural richness and diversity of the Americas. One way to incorporate AAPI Heritage Month in your lessons in Spanish class could be to teach about Asian-Latinx people or Latinos with Asian roots. Below you will find Asian-Latinx celebrities, AAPI Heritage Month Music, AAPI Heritage Month Videos, Activities for Asian Heritage Month using Street Food from Latin America, Asian America Month Resources, lesson plan ideas to incorporate Asian-Latinx all year, and more.
Who are Asian-Latinx people you might know?
Here are a few entertainers with Asian-Latinx roots that you and/or your students might recognize and what to learn more about.
Tatyana Ali – Panamanian/Indo-Trinidadian
Enrique Iglesias – Spanish/Filipino
Bruno Mars – Puertorican/Filipino
Ana Gabriel – Mexican/Chinese 
Farina – Peruvian/Chinese
Cassie Ventura – African-American, Mexican, and West Indian
Harry Shum Jr – Chinese, born in Costa Rica
Asian Pacific Heritage Month Music – featuring Asian-Latinx artists
Enrique Iglesias – Bailando
Ana Gabriel – Cielito Lindo
Bruno Mars – Spanglish – Just the Way You Are
Asian Pacific Heritage Month Videos – featuring nonfamous Afro-Latinx people
Additionally, you could use these videos below as Para Empezar bell ringers during May for Asian Pacific Islanders Month. Or use them as a part of an entire lesson on Asian-Latinos. These are videos I would use with high schoolers, but as always preview them to make sure it fits your school and level of students. You could use these AAPI videos as a part of activities for Asian Heritage Month, or at any time to show the diversity of the Spanish-speaking world.
Ren Fernàndez-Kim is a non-binary Koruvian (Korean-Peruvian).
AAPI Heritage Month Activities – Street Food Latin America – Peru
Next, I highly recommend the full 30-ish minute episode of Street Food Latinamerica, Peru from Netflix. It centers on the Asian influence in Lima. The main character is a person who is a decedent of Japanese immigrants to Peru or nikkei. Nikkei is a term used for Japanese immigrants in Peru and their children. Finally, there is a great guide for the Peru episode from Bethanie Drew here.
Chemist Turned Street Food King of Peru
Asian-Latinx Lesson Plans – Sein Park & Christina Toro
Last fall Sein Park @Profe_Park & Christina Toro @Srtaberry did a presentation at MaFLa on integrating Asian-Latinx culture in Spanish class. Knowing their expertise in the area, I reached out to see if they would want to contribute to this blog post. They went above and beyond. Here are clear examples of how to incorporate Asian-Latinx people and culture all year long. The following are examples provided by Sein and Christina that are shared with their permission. Please make sure to check out their linked handout for much more information on teaching these Asian-Latinx topics in Spanish class.
Words in Spanish from Japanese
First, novice students use resources from this article to learn about the Asian origins of some words in Spanish.
Asian-Latinx Fusion Cuisine
Next, here are some resources used in requests to discuss Asian influences in food in Latin America. (They would go well with the Street Food Peru episode mentioned above).
Social Responsability
Also, their AP classes discussed social responsibility. They compared the Japanese practice of "souji" cleaning schools with the role of domestic workers in the Spanish-speaking world and their communities.
Finally, I know you want to learn more after seeing their great examples. Sein and Christina generously provided these Asian-Latinx Resources for Spanish Class Handout. It contains more information on the authors, lesson plan examples, resources, and more. I highly suggest you follow Sein Park @Profe_Park & Christina Toro @Srtaberry and connect with their expertise if you have more questions.
More Asian-Latinx Resources to Explore
More Resources for May in Spanish Class
I personally spent a summer living in Seoul, South Korea, as well as a summer living in Okinawa, Japan. I have great respect for the rich and diverse cultures of Asia and the Pacific Islands. Also, I had some of the best food of my life in Seoul. Exposing students to the diversity of the world is beyond just the countries that speak the language you teach. Hopefully, you found some resources for AAPI Heritage Month. If you have Asian-Latinx resources for Spanish class I missed, please let me know!
If you need another activity for May, trt out the popular new show Tierra Incógnita. You can grab a freebie below as well.
Originally posted on Mis Clases Locas on 5.9.22 by Alison Wienhold with contributions by Sien Park & Christina Toro.