Inside: The movie Chupa in Spanish class. Chupa en la clase de español. Authentic resources and movie questions to teach the movie Chupa in Spanish class.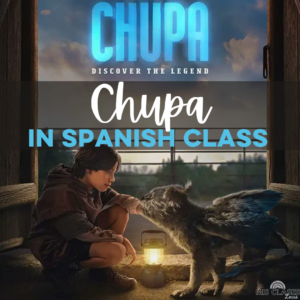 The Movie Chupa in Spanish class
Showing movies in Spanish class can be a great way to engage your students and help them learn about the diverse cultures of the Spanish-speaking world. If you are a long-time reader, you know I love using Appropriate movies for Spanish class.
The newest movie that I think Spanish teachers will love is Chupa, a 2023 film found on Netflix starting on April 7th, 2023. Chupa is rated PG for mild action and some scary fantasy elements and has a run time of 95 minutes.
My elementary-aged boys have been excited about this film for a while since they love mythical creatures. Chupa is set in Mexico in 1996. The PG film Chupa would work well for elementary-high school Spanish students. (& Teachers will appreciate the 1996 throwbacks to a simpler time:)
Summary of the movie Chupa on Netflix
According to Netflix, the 2023 film Chupa is a family-friendly twist on the classic legend (which is often depicted as very scary). The whole film is set in 1996, which gives it a nostalgic vibe for adults. Shy 13-year-old Alex travels from Kansas City to Mexico to meet his extended family for the first time. He meets his grandfather, former lucha libre champion Chava (Demián Bichir). He meets his energetic, wrestling-obsessed cousin Memo and fearless, hip cousin Luna.
While in Mexico, Alex discovers a mythical creature living under his grandfather's shed: a young, cute chupacabra cub. The Mexican director said his goal was to make "an incredibly cute creature based on a terrifying legend". Alex recognizes the creature from stories of the feared, full-grown chupacabra, fabled to feed on farmers' livestock.
Alex soon learns that his new friend Chupa has a secret history with his family. Also, a dangerous scientist Richard Quinn (Christian Slater) is hunting the misunderstood creature to try and harness his powers. To protect Chupa from future danger, Alex sets off on the adventure of a lifetime.
Using Chupa in Your Spanish Class
The movie Chupa would be great for Spanish classes. It is set in Mexico about a Mexican legend with Latinx actors. Even though the film was made in English, you can change the audio and subtitles on Netflix to Spanish to meet your needs. See this post to learn more Netflix with Spanish Subtitles. It would be a great authentic film for Cinco de mayo in Spanish class.
Chupa would pair well with a legends unit (such as Somos 1 unit 9 about El Cucuy). Or use the film as a complement to the books La Llorona de Mazatlan or El Silbón de Venezuela. Watch the film after one of the books and compare and contrast the legends. Or for the future, it would be a great film to use in the fall around Halloween in Spanish class.
There is a lot of authentic culture of Mexico in the film Chupa that you could discuss. The film takes place in San Javier, Sonora, Mexico in Northern Mexico in 1996. Besides the legend, there is a big focus on lucha libre. They visit a market that includes alebrijes (you could connect to Coco). Many authentic Mexican foods are seen in the film including tacos de sesos, barbacoa, chapulines, picadillo, and more.
Is the movie Chupa appropriate for me to use in school?
Chupa is rated PG for mild action and some scary fantasy elements. I watched the film at home with my own 9 and 6 year old kids. In my opinion, the PG film Chupa would work well for upper elementary up to high school Spanish students. Besides a couple of kind of scary moments, it is super appropriate. But, FYI Abuelo says the H word at minute 19 if that matters to you.
Where can I stream the movie Chupa?
Chupa is a live-action fantasy film with a run time of 1 hour and 35 minutes. (Without credit it is 1 hour & 29 minutes). The movie Chupa is a Netflix original, so it will be exclusively streaming on Netflix starting April 7th, 2023. Typically Netflix originals are not available on other platforms or DVDs.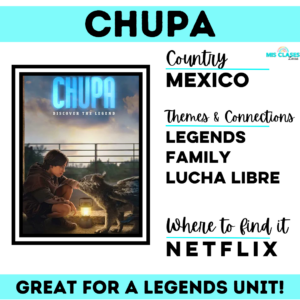 What audio & subtitles to use for Chupa in Spanish class?
First, it all depends on your goals and the level of students. The film was created in English, but there is actually a ton of Spansh used in the film, especially since the young cousin Memo exclusively speaks Spanish. An interesting note is if you pick Spanish audio & Spanish subtitles, there are not any subtitles when someone speaks in Spanish & that was the original audio.
Also, Netflix always does a great job of having tons of audio and subtitle options, including Mexican Spanish. See this post about changing the audio & subtitles on Netflix.
Typically I do the following regarding audio & subtitles in Spanish class
Upper Level Spanish – Spanish audio & Spanish subtitles
Novice Level Spanish – Spanish audio & English subtitles
Exploratory Spanish/Culture Class – English audio (point out Spanish used & discuss culture)
Chupa movie questions worksheet and Chupa movie guide
If you need a break and looking for a ready-to-go movie guide worksheet for every level you teach, my Chupa movie guide is for you. It includes 2 separate guides, one in Spanish & one in English. Each version has a character chart, 20 questions in English OR Spanish to use while watching, and post-viewing questions in Spanish. Plus there are 4 total versions of character matching in Spanish and English. These could be used for a post-film assessment.
UPDATE! I now have 2 ways for you to get my Chupa Film Guide on my website or TPT Movie Guide for Chupa. The same guide, just 2 options for you!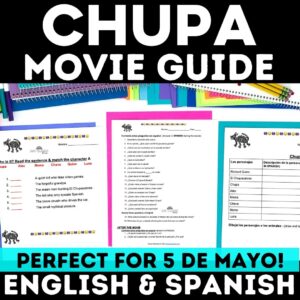 Youtube Videos – Chupa movie trailers
Here are movie trailers for Chupa in Spanish and English. Show one or multiple before watching the film Chupa to introduce the movie. Depending on your goals, you could first watch a trailer without sound describing it in Spanish, or have students predict what will happen.
CHUPA | Official Trailer | Netflix – English
Chupa (EN ESPAÑOL) | Tráiler oficial | Netflix – English audio – Spanish subtitles
CHUPA (2023) | Tráiler Oficial Doblado Español Latino – Spanish audio
Youtube Videos – songs in Spanish from the movie Chupa
Siempre Volaré (En Tus Sueños) – Julieta Venegas
Maldita Vecindad y los Hijos del 5to Patio – Pachuco
Luna plays this cassette tape in the car. Luna & Memo sing along.
Videos in Spanish of more versions of El Chupababras to compare
La Leyenda Del Chupacabras – Official Trailer (from an older film)
El Chupacabras – Mito – Kidsinco.com – a different version of the legend
EL CHUPACABRAS | Draw My Life (FYI Scarier version)
Reading/Video in English about El Chupacabras
Readings about El Chupacabras for Spanish class
Other versions of El Chupacabras can be found in the books below in a mix of Spanish & English. Use to compare to the film. Or project the different versions of the creature to compare and contrast.
Other Movies & Shows for Spanish class
If you want something besides Chupa, here are some other options.
Tierra Incógnita – Spooky TV Program (30-40 min episodes) Get Free character intro slides for Tierra Incógnita below

In conclusion, Chupa is an entertaining film for Spanish classes. Save time & use my Chupa film Guide on my website or TPT Chupa Movie Questions for Chupa. If you like real people films with fantasy, action, adventure, with a new twist on a popular legend, check out Chupa.
Chupa in Spanish class was initially posted by Allison Wienhold on Mis Clases Locas
*Please note I may make a small commission from affiliate links used Affiliates & Disclaimer