Inside: What to do in the 1st week of Spanish class. First day of Spanish class plans, the first day of French class plans, and ideas to get organized for the first week of school. Everything you need for the first weeks of Spanish (& French) class activities. 
Back to school is always a time of so many emotions. It means a fresh start to a new school year as a teacher. This might mean new students, a new teaching assignment, or even a new school. Teachers always want to "get it right" in the first weeks of school to hopefully set a positive tone for the school year. It used to be every year, I would do a complete overhaul of my first day and the first week of Spanish class activities, trying to find the perfect back-to-school formula. 
Well, what I have realized is that the ideal back-to-school plans for Spanish classes vary depending on your specific situation. So, in this back-to-school Spanish class round-up, I have put together all of my back-to-school blog posts and resources to save your precious time. So bookmark this post & get back to reading for fun by the pool!
Traditional In-Person 1st Week of Spanish Class Activities
My #1 activity for the 1st day with new students of all ages is the name game speedball. This blog post now includes a free slideshow to introduce the game. if I could only pick one first week of class activity, I would pick this one!
My #1 suggestion for a 1st unit for Spanish 1/Exploratory Spanish, &/or as a review to start Spanish 2 is my present tense Super 7 unit. This is my absolute favorite unit I have created. I have personally used it a dozen times.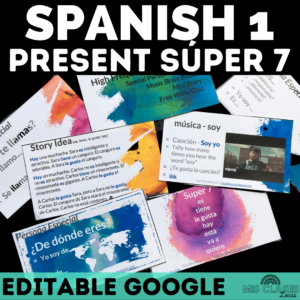 This blog post has my go-to plans for the 1st day of Spanish 2, Spanish 3 & Spanish 4. It started with just my very popular Mi Verano Find Someone Who, but now I have so many variations to mix it up & go beyond day one as well with first week of class activities for Spanish.
(Let your French teacher friends know!)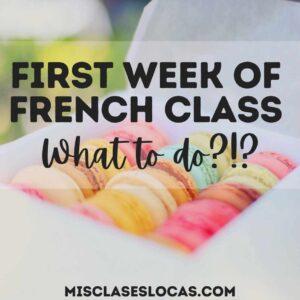 More General 1st Week of Spanish Class Plans
1st Week of Spanish class Using Distance/Hybrid Learning
1st Week of Spanish Class Ready to Go Resources
Top BTS Resources for Spanish Teachers with many preps
Resources for every level you teach for the 1st month of school using comprehensible input. The ultimate time-saving bundle for teachers who have many levels of Spanish is the BTS Mega Bundle.
Bell ringers for every single day of the school year. This is my newest set of Para Empezar which includes the newest songs including the fall HHM7 Bracket. Classroom routines that will save your sanity this year.
Top BTS Resource for 1st Week of Spanish 1
If you want to start Spanish 1 with comprehensible input and acquisition of the Spanish Super 7, this unit is for you. Even better, get the Present tense Super 7 bundle for a month's worth of activities focusing on these foundational verbs in Spanish.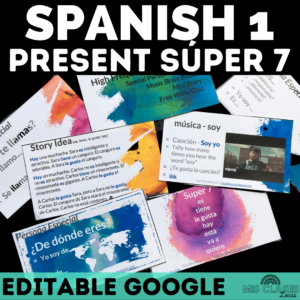 The Spanish BTS Bundle is the perfect resource for a new teacher. It has classroom forms including the syllabus, proficiency puzzle, newsletter, lesson plan templates, and more. At a new school, I started every single level with the resources in this back-to-school bundle. In later years, I used versions of these forms in all levels, but the 1st-week plans here are for just new to me level 1 students.
Top BTS Resource for 1st week of Spanish 2
For the first day of Spanish 2, I would now use this fue Find Someone Who. It only has one verb, went (fue), so it would be much better for a group that had an interesting Spanish 1 last year. All you need to introduce or review is fui, fuiste and fue. Instead of or in addition you can use the same questions again in small groups using the fue Question Cards for more repetitions.
Top BTS Resource for Upper-Level Spanish Teachers
Thousands of teachers have adapted this differentiated Mi Verano activity for a successful first day of Spanish class in Spanish 3 & 4. See below how you build and expand of this activity to be a mini mi verano unit over a few days.
Extend the preterite review of mi Verano with similar questions but in printable task cards. There are differentiated versions of multiple sizes to meet every student where they are at and to get many repetitions.
If you want to have every preterite tense Mi Verano resource I have the Mi verano bundle is perfect for upper-level Spanish. There is a mix of digital editable Google Slides, as well as print Find Someone Who and Question cards, to be able to do something new each day the first week with repeated preterite review and practice.
Resource for any World Language Teachers
Communicate with parents about the importance of learning a language, as well as get a student/parent contract and video permission slip. All new for 2022 & now completely editable in Google Slides.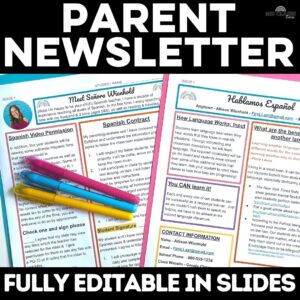 Newly updated for 2022 and fully editable for Spanish 1-4. Learn more in the syllabus blog post.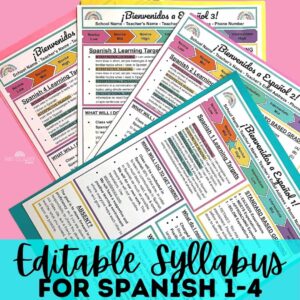 Classroom Set-Up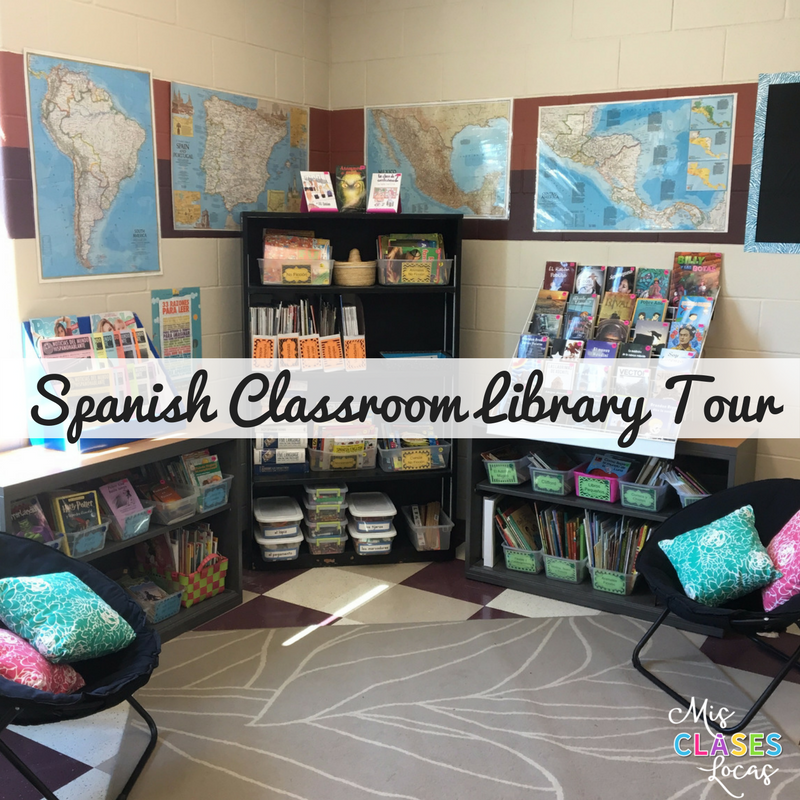 Planning for the Year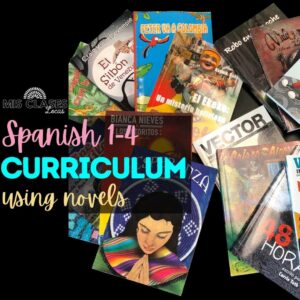 All the info about how I use digital lesson templates to plan for the year, month and week in every single level of Spanish.
Interpersonal Communication Skills
Getting to Know Your Students
Back to School Sale! 
You do not want to miss the big TPT Sale this Tuesday-Wednesday August 2nd-3rd. Save 25% on everything listed above & in my store. Make sure to use the code BTS22 at checkout! Shop Back to school now!
I hope there is something here that you can find useful as you plan for the 1st week of Spanish class and the new school year!
originally posted 7.30.18 by Allison Wienhold, most recently updated 5.19.22