Inside: Resources for the first week of French class. 1st Week of French Class Lesson Plans.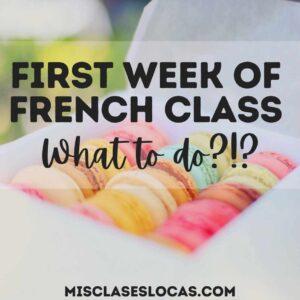 If you follow me on social media, you may have seen that I have dipped my toes into a few resources for French class. I have novice low French but have worked with many awesome French teachers who just want to get more resources out there for French class. They have done an excellent job translating and editing to make sure that these resources are just as accurate as of the ones in Spanish.
I know that figuring out what to do in the first week of class can be a challenge, so I am here to help you out with some resources for French class.
If I was teaching novice French students in French 1, middle school exploratory, or another beginner class, I would
start the year with high frequency words.
Even if I was teaching the next level of French, I would still start with a
Super 7 unit
to reinforce the basics and make sure everyone is on the same page. In a beginning French class, the unit would take about 2 weeks, but it could be done much quicker in a French 2 or higher class as a review. This
bundle
has the unit & review activity.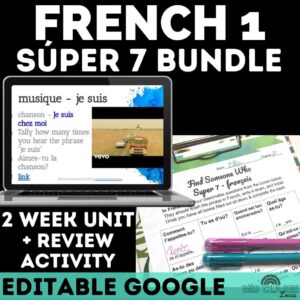 A
Super 7 based Find Someone Who
 (present tense) or
My Summer – Find Someone Who
(past tense) in French would be the perfect 1st-day activity for French 2 and above. It would help students get to know each other while staying in French. They could walk around asking many people different questions, or work with a partner or small group to interview them. There is even an extension to then write about what you learned about your friends. It is an easy and no-prep way to start your year on the right foot.
If your classes are moving to understand proficiency levels,
the proficiency puzzle
 is the perfect way to get everyone on the same page regarding terms like "novice low" and "interpersonal" speaking. It is a great activity as a part of 
1st week stations
and sets the tone for the year that the focus will be on growing language proficiency. Students could work individually or in small groups to complete it, and then check and discuss it as a class. If you want to use them from class to class or year to year, you could laminate them in advance to make them last.
If you want to start a fun Friday tradition to build a positive classroom community, try out
la danse de vendredi
. Use a Just dance or another video in French as students enter the room, to start a class, or as a brain break to mix up class. You can see
5 ways to use dance in any class here
. Start the first Friday of the year to start the year on a great foot!
Resources for any World Language Teacher
Get all of my French resources for the 1st week & beyond in my French Bundle!
Other resources for your French class during the year