Inside: How to teach a Spanish TV show to help acquire the language in Spanish class. Help students learn Spanish by watching authentic TV shows in Spanish. How teachers can use authentic TV shows to teach Spanish.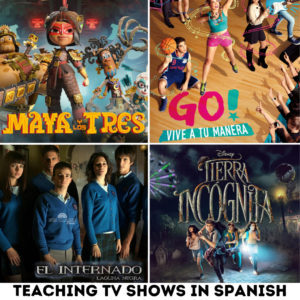 It can be difficult to come up with engaging lesson plans for Spanish classes. However, one way to make learning Spanish more fun for your students (& yourself) is by incorporating authentic Spanish TV shows into your curriculum. Not only will this help students learn the language, but they will also be able to appreciate the authentic culture. Here are a few tips on how you can use a TV show to teach Spanish in your classroom.
How to pick an appropriate TV show for Spanish class?
Choose a show that is appropriate for your student's age group and level of Spanish comprehension. It is important to choose a show that will not be too difficult or too juvenile for your students. You want them to be challenged but still be able to understand what is going on. A good way to gauge this is by watching an episode yourself and taking note of any words or phrases that you think would be new to your students. Here are my favorite appropriate shows for Spanish class listed from youngest I would use them to oldest.
Maya & the 3 is an animated show on Netflix set in fictional pre-colonial Latin America. I have not shown it to students, but my own 1st & 3rd-grade boys enjoy the show. Maya y los 3 would be appropriate for any level of Spanish student, but I think upper elementary-middle school Spanish would enjoy it the most, as it would be pretty juvenile for high school. There are nine total episodes that are each about 30-35 minutes long. If you want to try it out I have an Episode 1 guide in my MCL shop, Episode 1 guide on TPT, bonus Character introduction slides & more resources in this Maya y los tres blog post.
For a couple of years, I taught the cheesy show from Argentina found on Netflix Go! Vive a tu Manera. I used the show starting 2nd semester of Spanish 2. It is a very similar vibe to High School Musical, with high school-aged kids, a lot of singing, and a basketball team. It was hit or miss with some kids loving it and others who could not get over the cringy musical numbers. I would be appropriate for middle-high school, but it really depends on the interest level of your students if they would buy into the telenovela style. There are 30 episodes each about 40 minutes, plus a special spin-off movie.
A new popular thriller series on Disney Plus was originally created in Spanish from Argentina. Tierra Incógnita is a PG-appropriate show, created in Spanish, that is engaging. In my opinion, Tierra Incógnita would work well in a Spanish classroom for grades 7-12. So far there are 8 episodes that are 30-35 minutes long. If you want ready-to-go plans, check out my character intro slides later in this post, Tierra Incógnita blog post & Season 1 Guide in the MCL Shop or Season 1 guide on TPT.
The 1st show I ever used in class during my 3rd year of teaching was El Internado: Laguna Negra. It is an authentic show from Spain that is now a little dated since it is from the early 2000s and can be hard to find. (I bought the whole series on DVD from eBay in 2014). Depending on the year I used it with high schoolers (with a permission slip) as early as 2nd semester of Spanish 2-Spanish 4. It has some spooky elements, mature themes, and curse words. It is by far the most engaging show I ever used with students, but it is more PG-13 in nature, similar to Riverdale or Pretty Little Liars. A smart teacher would preview and skip certain things 🙂
Street Food Latin America
Another show I personally used during the 20-21 school year when I taught on a Hybrid Block with a combined Spanish 3 & 4 class was Street Food Latin America. With our wonky schedule, it worked that each episode is its own 30-40 minute documentary set in a different Spanish-speaking place. There are 5 I used Argentina, Peru, Bolivia, Mexico & Colombia. You can find lesson plans for those episodes here. They were a great cultural addition to prepare upper-level students for the AAPPL test.
How to Introduce a Spanish TV Show?
First, before watching you could play a trailer in Spanish from Youtube to build interest. For lower-level classes, you could use a clip chat style, pausing and describing in basic Spanish. Or take screenshots of the video and project them. Then have students write or discuss what they see and what they wonder about. Finally, you could have students find cultural elements and then research to make predictions as well.
Character Introduction Slides in Spanish to Intro a TV Show
I have found that before starting a new show both watching the trailer and introducing characters in Spanish makes watching a new show a lot more enjoyable. It is especially true if a lot of characters get introduced in a short amount of time in the first episode. If you want to introduce the characters of the show Tierra Incógnita in novice Spanish, I have an editable Slideshow all ready to go. Just enter your email below and they will be sent to you.
What Language & Subtitles for TV shows in Spanish class?
On Netflix and Disney+, you can change the language & subtitles to Spanish if you would like. As always, do what is best for your students and situation. Here is my go-to way.
Heritage & Upper-level classes – Spanish audio & Spanish subtitles
Lower-level classes – Spanish audio & English subtitles
Exploratory or Culture class – English audio (& maybe Spanish subtitles for fun)
It is always important to check before you buy since for example my El Internado DVDs only had Spanish audio & Spanish subtitles. If you are doing all Spanish, you need to stop and discuss a lot for comprehension checks. Otherwise, students will likely zone out & fall asleep.
Lesson Plan for watching a show in Spanish class
It really depends on your goals for watching a Spanish TV show as to what kind of watching activities you do. I have typically reserved Fridays as our days to do activities for our show. I created the lesson plan for every Friday around the episode. Especially at the start, it might take multiple class periods to finish an episode.
A typical day of watching a show in Spanish class would include
Pre-watching introduction, discussion, and pre-teaching of important vocab as needed.
Watch a portion of the show – pausing as needed for comprehension checks. Depending on how squirrely the class is and how much support they needed while watching could include having students write down new vocabulary words, answer questions about the plot, or discuss the cultural aspects of the show.
Post-viewing discussion or tasks – related to the culture &/or content. This is an opportunity for students to ask questions and share their opinions on the TV program. It is also a chance for you to answer any questions they may have about the Spanish used or the culture portrayed in the episode.
Repeat as needed (especially on a block, we could watch a whole episode of a show with all of the activities in one 100-minute block)
What I would NOT suggest (unless you have heritage or AP Spanish students) is to assign homework to watch the next episode on their own time & write a summary. I always think watching TV programs is great Choice Homework or an extension. But, watching authentic Spanish TV can be hard for me sometimes with thick accents and slang, so expecting students to do so outside of class without support is just asking for student frustration that leads to cheating and copying. If a student is absent and misses a day, yes I would ask them to watch what they miss so they understand the continuous story. But, overall we would watch the Spanish TV show as a class to acquire authentic Spanish together.
Don't have time for a full TV show in Spanish Class? Try a Short
Top 7 Short Spanish Movies on Disney+
How to Teach a TV Show in Spanish Class – PD Video
What about Spanish TV Shows NOT for students?
If you are looking for TV programs for adults or to keep up your own Spanish, check out Best Netflix Shows in Spanish 2022. Or I have an older post too Binge-Worthy Netflix shows in Spanish. Please note the shows in those blog posts are not to show in school.
Movies for Spanish Class
If you are not able to pull off showing a continuous Spanish TV show, one-time movies are always a great option.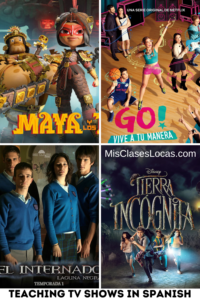 Incorporating a Spanish TV show into your Spanish lesson plans is a great way to engage your students and help them learn the language in a fun and authentic way. With these suggestions, you can ensure that your students get the most out of using class time to watch a TV show in Spanish and take their Spanish skills to the next level.