Inside: Teaching La Copa Mundial in Spanish class. Resources to teach the 2022 World Cup in Spanish class. La Copa Mundial en la clase de español.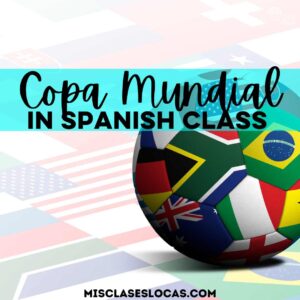 Why Teach La Copa Mundial in Spanish Class?
The FIFA World Cup is an international soccer tournament that takes place every four years. The World Cup or La Copa Mundial is a great opportunity to teach your students about many cultures and to get them interested in learning about something that is very popular around the world. The 2022 World Cup is especially great since it is the first to occur during the school year. Here are some ideas on how to use La Copa Mundial to teach your students about diverse cultures around the world.
Ideas of How To Incorporate Copa Mundial in Spanish class
The World Cup 2022 takes place in Qatar from November 20 to December 18. Depending on how much flexibility you have in your curriculum, there are a variety of ideas. I would not suggest doing them all, but rather maybe pick one or two that work well with your situation and student interest.
For example, when I taught in small-town Iowa where I had one total student who played and watched soccer, I actually did a World Cup unit for the 2016 Copa Mundial. Most students were not super into the soccer aspect, but they did enjoy the competition and the music of the World Cup. (Many of the songs were in my early Música miércoles slides!) I think if the competition was actually taking place at that time, they would have been much more into it. So here are some Copa Mundial ideas.
Copa Mundial Authentic Resources
Use authentic resources from Latin America to teach your students about the World Cup. There are tons of great blog posts, articles, and even YouTube videos about the World Cup that are written in Spanish. Once the tournament starts, you can look for social media posts from Spanish speakers about the games. By using these authentic resources, your students will be exposed to real-world Spanish and learn about the World Cup from an authentic perspective.
Copa Mundial Authentic Interpretive Reading Practice
FIFA Copa Mundial Official Website in Spanish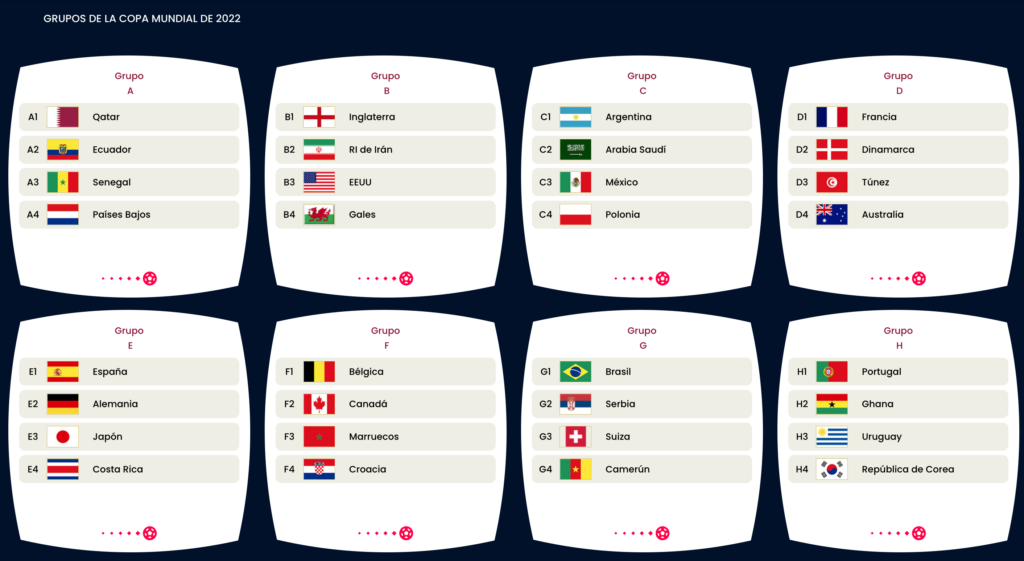 Cinco cosas imperdibles de Qatar – Intermediate Spanish reading practice to learn about the host
Official Schedule in Spanish – great novice practice of dates, days, months & numbers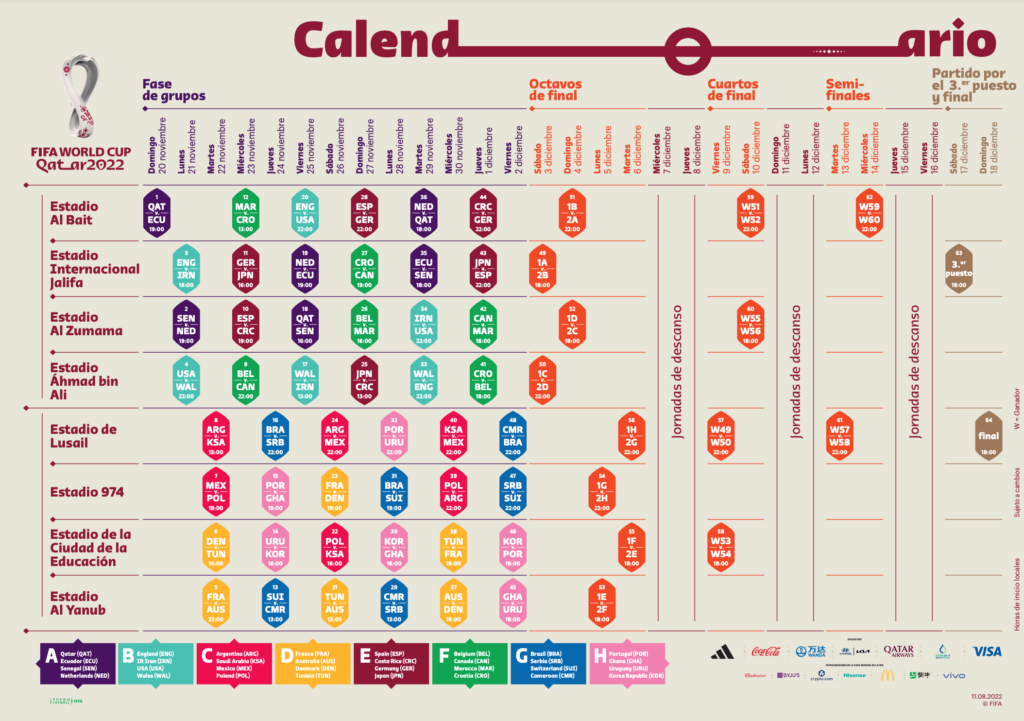 Copa Mundial Equipos – Novice Reading Practice (from Spanish Plans, who has a whole unit & Copa Mundial group if you are interested)
Copa Mundial Authentic Interpretive Listening Practice
La'eeb | La mascota oficial de la Copa Mundial de la FIFA Qatar 2022 | Español latino – short video
Intro Oficial de la Copa Mundial de la FIFA Qatar 2022 ™ 🇶🇦 ⚽ 🏆 – no dialogue – Movie Talk
ARHBO FEATURING OZUNA & GIMS | FIFA World Cup 2022™ CANCIÓN DEL MUNDIAL QATAR 2022
The song above is in multiple languages, including Spanish. (I will share some of my past fav World Cup songs in Spanish at the bottom of this post too!) Arhbo above is not the official song. Hayya, Hayya is the official song below.
Hayya Hayya (Better Together) | FIFA World Cup 2022™ Official Soundtrack – In English
Other Copa Mundial Spanish Class ideas
World Cup Country Research
Another idea if you have more time is to have students research the countries that are playing in the World Cup. Unless you are proving explicit resources, this will most likely end up being a lot in English and would work well for an exploratory class that is not using Spanish as much. They can create slides or a poster with information about the country, language, flag, location, currency, the national dish, interesting facts, etc. This would be a great cross-curricular activity with a Social Studies class.
La Copa Mundial Bracket in class
You know I love a competitive bracket in Spanish class. (See mania musical – March Music Madness & Hispanic Heritage Month Music Bracket to learn more). So, another way to get your students engaged in La Copa Mundial in Spanish class is to create some friendly competition with a bracket. You can do this by dividing your class into specific teams in the World Cup. Then they could track the progress of their specific countries in the tournament. Here is a free printable 2022 World Cup printable bracket you could use. Or a printable one in Spanish from Spanish Plans.
Watch a Spanish language broadcast of La Copa Mundial
If you teach upper-level Spanish or heritage students, you could watch a portion of a Spanish broadcast of the World Cup. This is a great way to get them interested in watching Spanish-language TV, as well as to see authentic language in context. Telemundo is the exclusive U.S. Spanish-language home of the FIFA World Cup. It looks to me that you can find Telemundo with Hulu Live or Youtube TV.
Use Past Copa Mundial Songs in Spanish
If you do not have much extra time, a small way to incorporate The World Cup 22 in Spanish class is to Copa Mundial theme your weekly routines of Música miércoles & Baile viernes! Dance. Below are a few past favorite songs in Spanish relating to the World Cup. They are not always the official song, and most include many languages.
La Copa De La Vida (La Canción Oficial De La Copa Mundial, Francia '98) – Ricky Martin
Waka Waka (Esto es Africa) (Cancion Oficial de la Copa Mundial de la FIFA Sudafrica 2010) – Shakira
Waka Waka – Soccer Theme Dance for baile viernes
Wavin' Flag – K`naan & David Bisbal Mundial 2010
We Are One (La canción official del Brasil 2014) – Pitbull & Shakira – FYI many small Carneval outfits
Live It Up – (Sub Español) – Canción Oficial Russia 2018 – Nicky Jam feat. Will Smith & Era Istrefi
Just Dance 2020: The World Cup Girls – Futebol Crazy (preview dance for your group)
Copa Mundial Music in Spanish Class Freebie
If you want editable Google Slides ready to use in class with 10 songs, sign up below to get them sent to your email.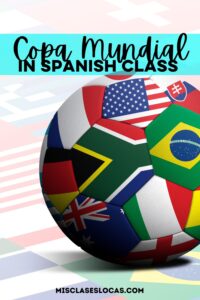 Want a Sports Documentary to show in class? Try Pelotero!
Copa Mundial 2022 in Spanish class
The World Cup is a great opportunity to teach your students about many cultures, beyond just the Spanish speaking world. These are just a few ideas on how you can use Copa Mundial to engage your students with a culturally relevant event in 2022.