Inside: Top Spanish love songs for Spanish class Valentine's day activities. Spanish songs of love, beautiful Spanish love songs, and great Spanish love songs for Valentine's day in Spanish class.
Love songs in Spanish class
It can be a challenge to find the right songs to use in Spanish class. I want something that is appropriate for the classroom, but also fun and engaging for students. Luckily, there are plenty of great love songs in Spanish to use in class.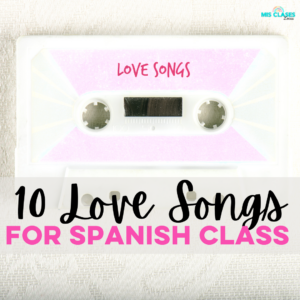 Top Spanish love songs
There are many great Spanish songs for around Valentine's Day that can be used to teach in the classroom for Música miércoles. As always, please preview to ensure any song you use works with your school culture and student ages. If you are wondering what to do with these songs, check out the new blog post Talk About Music in Spanish Class.
Índigo – Camilo y Evaluna Montaner
If you want a sappy, romantic love song story in Spanish, real-life couple Camilo & Evaluna is it. They have multiple videos in Spanish documenting their love story. This video shows them finding out they are pregnant and telling their family. The chorus includes the line "Porque llego a mi vida, el amor, de mi vida."
"Tan Enamorados" – CNCO
A classic boy band love songs in Spanish is Tan Enamorados from CNCO explaining they are so in love. My students loved the classic boy band feel of this video when it was in our mania musical – March Music Madness bracket a couple of years ago.
"Mi Persona Favorita" – Río Roma
This older pop song from Mexican duo Río Roma is appropriate and more about liking someone than super romantic love, which makes it middle school Spanish relatable. The chorus is: "y ya eres mi persona favorite, cada minuto a tu lado es genial, y no hay nada en el mundo mundial, que ame mas que estar contigo, cada momento lo haces especial." It is fun and danceable with an enjoyable video too.
"Chocolate" by Jesse y Joy
This Valentine-themed video is sticky and sweet and a perfectly appropriate Spanish love song. Who does not love chocolate?! Also, it is sung by Mexican siblings Jesse y Joy. This Spanish love song is used in my Valentine's themed 3 weeks of Para Empezar Bell Ringers if you are interested in activities for every day.
"Amor Prohibido" by Selena
A classic romantic song in Spanish is Amor Prohibido by Mexican-American singer Selena. The song tells the story of forbidden love between two people who must keep their relationship secret. It touches on issues such as gender roles, social expectations, and forbidden relationships, making it an ideal topic for discussion in Spanish class. See Selena in Spanish Class for a lot more resources to teach about her.
"La Vida Es Un Carnaval" – Celia Cruz
This upbeat tune from one of my favs, Cuban Celia Cruz, is a little bit of a different type of love song. It is perfect for those dreary winter days when everyone just needs a little pick-me-up. The song describes how life is like a carnival, sometimes filled with joyous highs but also some sorrowful lows too. The song is more about self-love and encourages you to make the most out of every moment despite life's ups and downs.
Best Break-up Songs in Spanish
OK, I know not everyone wants to use romantic songs in Spanish, so if you want a twist here are some of my favorite Spanish break-up songs to use instead.
"Amor con hielo" by Morat
If you want a different twist on Spanish songs of love this song from Colombia group Morat is actually a breakup song. It is a very catchy pop/rock song with an entertaining video story as well.
Prince Royce – El Amor Que Perdimos
For another sad song in Spanish, Dominican-American Prince Royce sings about the love we lost, looking so young! Students might enjoy seeing him when he was a baby singer. There is a fun bachata beat, that keeps the sappy song from actually feeling that sad.
"11 Razones" by Aitana
Finally, I absolutely love this song, so it has to be included in break-up Spanish songs for Valentine's day. I was crushed when it did not win in our mania musical – March Music Madness bracket in 2021. 11 Razones is a danceable angry chick punk break-up song. It is fun and works well for anti-Valentine Música miércoles.
Are you wondering, What to do with a song in Spanish class?
Want music & more to start Spanish class for 3 weeks?
More February resources for Spanish Class
Get Ready for Mania Musical – March Music Bracket!
Plus, if you want bonus Spanish class Music – sign up below