Inside: Resources to teach about Las Fallas in Spanish class. Las Fallas, a mini cultural unit for March in Spanish class. 
Six years ago, I had a one-trimester Spanish I expansion class. It was called Culture & Civilization and was an optional bridge between Spanish I & II. It included students who needed extra support before being ready for Spanish II the next year. Additionally, it was an extension for those who could not get enough Spanish classes. Basically, it was a filler as we moved from trimesters one year, to semesters the next. But the class is something I wish always existed. 
I actually loved teaching the class. It had endless possibilities for incorporating current cultural events. I created the curriculum from scratch and based most of it on student interest.  This is how this mini-unit on the Spanish festival Las Fallas was born. 
I was given the idea by another teacher in my local Spanish department-of-one monthly CVNE meetings. She mentioned how the year before one of her small classes celebrated Las Fallas, by creating cardboard "ninots," and then went outside to light them on fire. While I never actually did the fire part at school,  students have enjoyed the cultural celebration, which takes place March 15-19 in Valencia, Spain. 
Las Fallas in Spanish class
When to do the Las Fallas unit & with what students?
This mini-cultural unit has become a regular part of my Spanish 1 (or 2 if we miss a year like last year) in March. It is a great short unit to do around Spring Break, state testing, a short conference week, or just any time you need a little break from your regular curriculum grind. Depending on how much time you have, it could be as short as just a one-day cultural exploration, or as long as a few-day mini-unit. 
Since we did not get to the unit before schools closed last year, this year my Spanish 2 will be using the resources as a one-block (100 min) sub-plan. I will post the Google Slideshow and newly updated digital graphic organizer, as well as an Edpuzzle of a video below, and they will complete it all with a non-Spanish-speaking sub. (If you got this resource in previous years, make sure to go back and download the new updates!) 
In contrast, my Spanish 1 that year did it as a few-day Las Fallas mini-unit with me, more similar to how I have it listed below. 
What does the Las Fallas novice Spanish unit consist of?
Unit hook – @HolaDMSSpanish shared a great "hook" for this unit. It is perfect to have this cute video & song playing as students enter the first day. 
NEW – 2023 Las Fallas Youtube Trailer
This short video shows great images of the festival with key individual vocab words projected. Play this video & discuss the words included for students to make predictions of what the festival consists of. Then you could play the video again later & see what all elements of the celebration the students notice.
Personalized Discussion – We then do a PQA discussion in Spanish talking about our local festivals to bring up some vocab such as a parade, fireworks, food, celebration, etc.  You could also play a game to introduce vocab that you know will be new to students, like a Blooket. (Read this blog post to learn more about Blooket)
Input – Typically then I introduce the basics of Las Fallas using my prepared slides. This could be done in person, hybrid, or digitally, using even screen recording. With level 2 or above, it could all be left as a sub-plan for students to read and complete on their own if needed. 
We watch The Fallas of Valencia,- Tio Spanish Video pausing for discussion. There are also many already prepared Edpuzzles using this video if you want or need to assign it virtually to students. 
Student Exploration of #Authres – Then students get to explore choice authentic resources with their Chromebooks. These include resources & more. They will fill out their Graphic Organizer to report their findings. *I also added a digital graphic organizer, so all of this can be done digitally. 
Discussion of Las Fallas – We then come together and share our resources, discuss in Spanish, as well as go through the rest of the Google Slideshow, focusing on the specific parts of the events. We also watch some authentic videos of the event parts as well. 
Optional Extension – Depending on time some years we have created mini cardboard or paper mache "ninots." These could either be ceremoniously burned at school (with permission) or at home. 
Optional Assessments – For assessments, I have done two different things depending on time.  We have done a basic free write, where students share as much as they can about Las Fallas. Or I also have a short authentic reading that students read and answer comprehension questions about. *Update there now are two versions of that reading comprehension assessment, plus two Google forms, and self-checking quiz options too.
Want to save yourself time?
If you are interested, you can download the full, ready-to-go LAS FALLAS Unit in two different places. 
NEW in 2023! You can also get the Las Fallas unit directly from the Mis Clases Locas Website shop!
What other great resources do you have to share about this event? Please share!
More Ideas for Spring in Spanish Class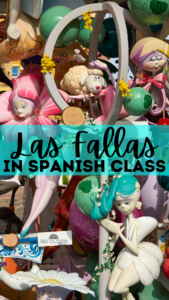 Las Fallas in Spanish class was originally posted 3.10.16 – most recently updated 3.6.23 by Allison Wienhnold