Inside: What to do the day before Spring Break or the day after Spring Break in Spanish class. Spring Break in Spanish Class, Pre-Spring Break Chat & Post-Spring Break Chat ideas for in-person and digital.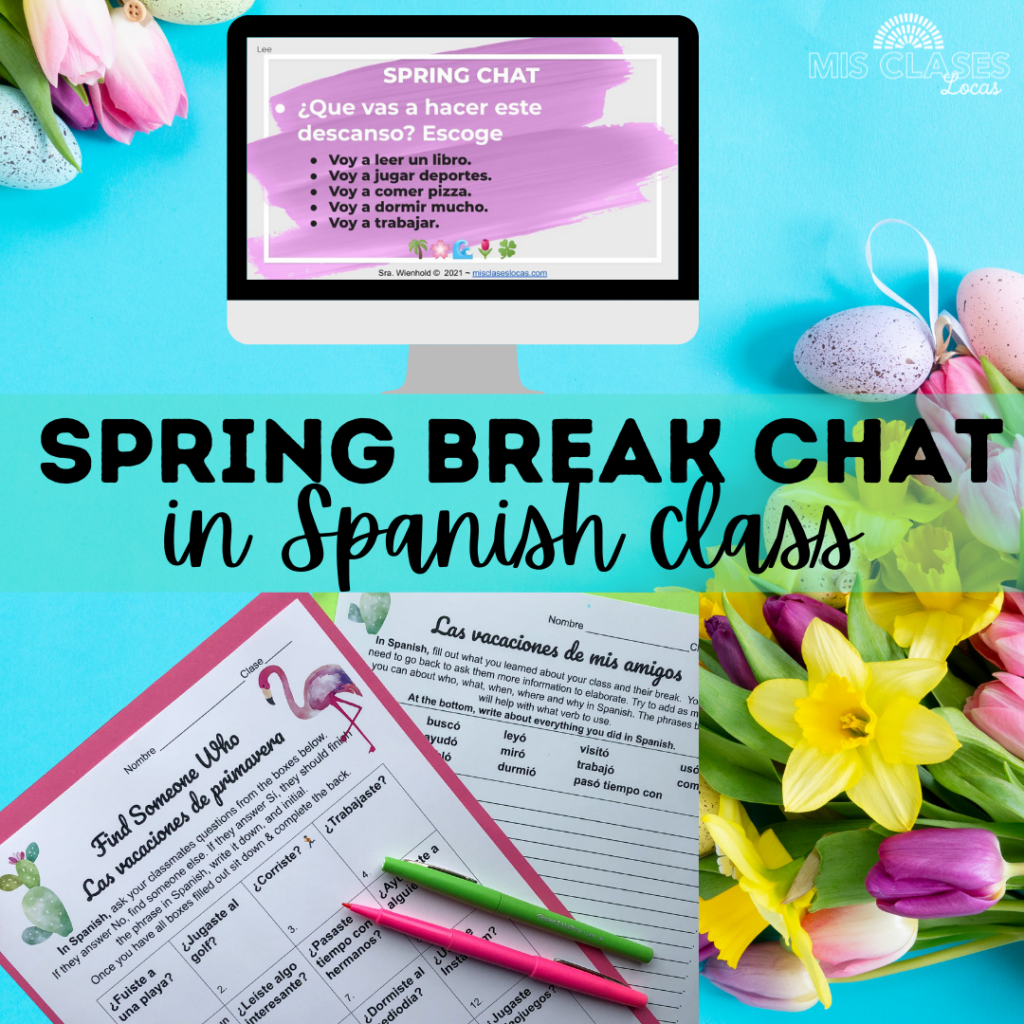 Spring Break in Spanish Class
Build classroom community while getting in many focused repetitions of the preterite tense. 
Typically I never got a real Spring Break and instead just have a long weekend for Easter. Either way, I love having activities like this ready to go, which means not as much stress right before and after a break. I have versions that will work in person, hybrid, distance, or a combination of all of the above.
I would traditionally do all of the following ideas with Spanish 2 and above, but you could do them with late Spanish 1, especially just focusing on not much vocabulary, like just using "went."
Idea #1 – Google Slides 
– Reading, Chatting & Writing for a whole class period
– Distance, Hybrid or paperless in person
Post the Slideshow of activities on Google Classroom (make a copy for each student) or your LMS of choice, forcing a copy of the slides.
Start by proving input about what you plan to do or did over the break. You can use pictures for more engagement.
Reading – Instruct students to read through the reading slides of I form preterite statments & highlight everything plan to do or did over break. (reading input of 1st person)
Speaking – In pairs, small groups, or break-out rooms, have students chat in Spanish using the speaking questions. To support students if needed, you could let them first type out possible answers before asking and answering so they feel more prepared. This could also be on Flipgrid if you would like.
Writing – Let students know which of the writing prompts listed you want them to type about. This could be writing about their own break, or what they learned about their classmates.
With extra time students could continue to chat using the 15 Discussion slides at the end, or do a creative activity such as a create a Tik Tok or video about what they did.
Idea #2 – Google Slides 
– Discussion prompts over many days as class starters leading up to or after a break
– Distance, Hybrid or paperless in person
Project discuss questions in Spanish or share your screen with the questions if you are doing distance learning. You could do three questions per day the week before or after a break as a class starter or brain break. 
Use the last 15 slides in each ready-to-go Slideshow, which are general questions to click through and discuss. Depending on your goals you could have students w
rite down their answers or discuss answers out loud with a partner or small group. 
Or if you are short on time, you could pick a few to focus on and discuss before or after the break. 
For distance learning, you could go through the slides together or maybe have students answer the questions using Flipgrid and respond to each other, or have students go through them in small groups in breakout rooms. 
Idea #3 – Find Someone Who – Digital – Spring Break in Spanish Class
– One-day activity before or after a break
– Distance, Hybrid or paperless in person
If you already have these Find Someone Who activities, you actually also have the new TPT digital add-on, now called EASEL. If you go to the resource you own under "My purchases" and click on it, under "download now" there is a link to click on that says EASEL.
Here you can delete pages to decide what you are going to assign your students. You can add more text boxes or edit as needed and then assign it directly to your students to complete digitally. I have more instructions on how to use this digital add-on here. 
Typically you pick one question page and one page to write about others. Pick the variation that best fits your students. 
To modify for less in-person interaction, I personally had students answer about themselves on page one, then ask a partner and report about that person in 3rd person on the other page. This could be done in person or in break-out rooms on zoom. 
Idea #4 – Find Someone Who – Paper
– One-day activity before or after a break
Print out a double-sided sheet with questions on one side, and the extension to write about classmates on the back. There are differentiated options depending on how much support you want to provide students. More info about Find Someone Who in this blog post. 
Extra social distancing options in person.
Do the paper FSW activity outside. Have everyone wearing masks, with the FWS on their own clipboard & standing at a distance to talk. Instead of having other people sign the form, have each student just write the name of the person who said yes instead. 
Interview partner using Plexiglas. I know some schools have Plexiglas dividers or plastic shower curtains hanging in their classrooms. Have students use their masks, in addition to these dividers to interview a partner or small group using the FSW sheet and writing their own answers. 
I love that I can print this out before leaving for break, do nothing related to school over break, and show up and just talk about what we did when we get back. To get a more detailed idea of how I use this activity after a break, check out this post.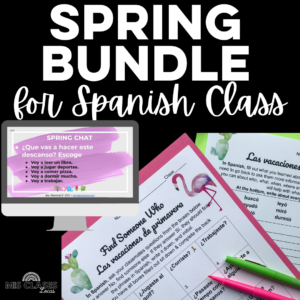 What are your favorite ways to chat about Spring Break? Please share!
Originally posted 3.23.21 by Allison Wienhold on Mis Clases Locas. Most recently updated 3.14.22