Inside: Block Schedule in Spanish class while teaching hybrid. Breaking up a block schedule in Spanish class in 2020.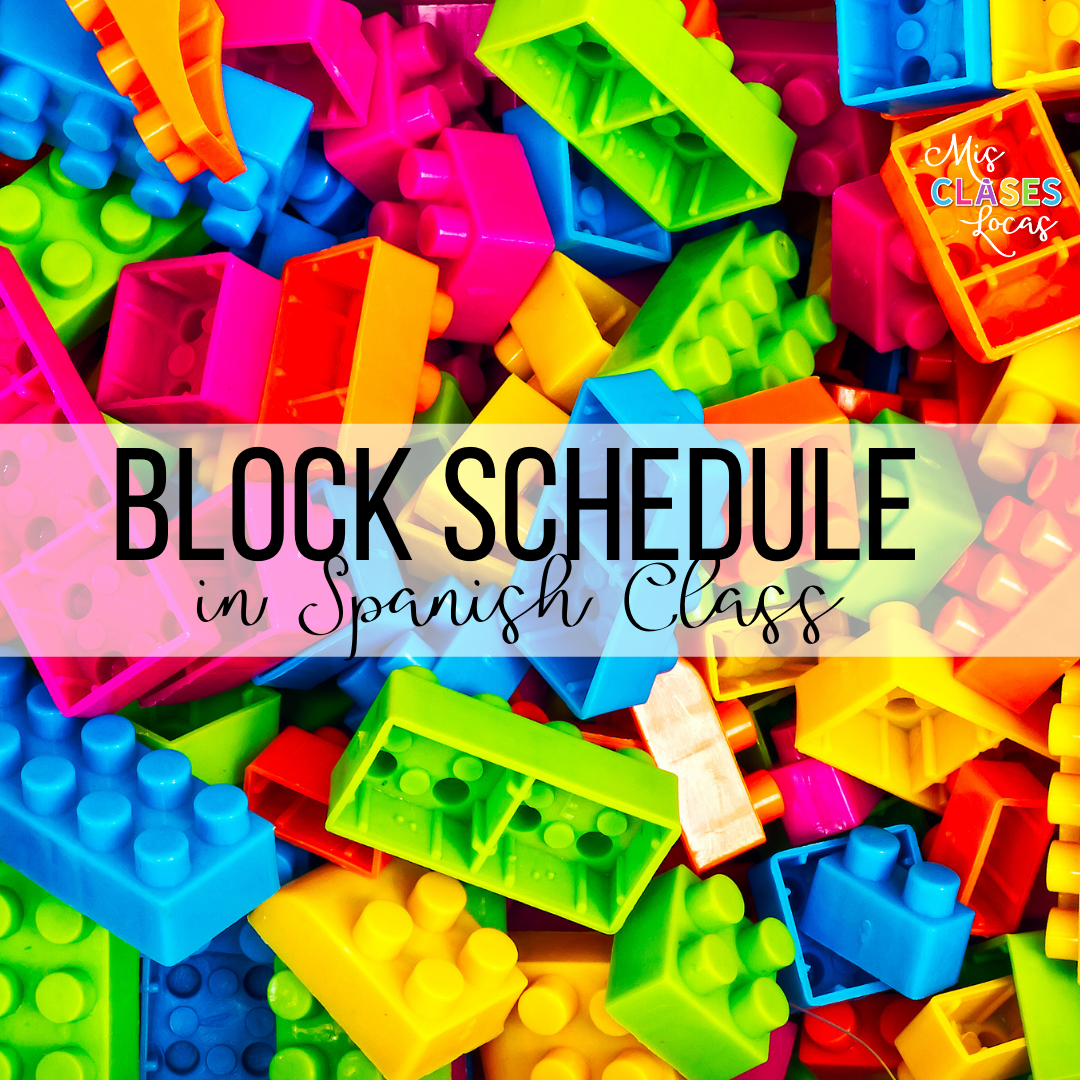 Block Schedule in Spanish Class
First of all. This year is hard. You are doing the best you can (& that is enough). Here is a big virtual abrazo and please do not hesitate to reach out. I am not an expert on teaching with a block schedule, but I just thought I would share what has been working for me this year using block, hybrid, while socially distancing in person.
Until this year I had only ever taught a block schedule during my student teaching over 10 years ago. That was a partial block where we had three days of 8 period days and each Wednesday/Thursday were blocks of odd and even classes. Well that did not really even count as block, since I only taught on block once per week and never really got the hang of it. So this year among all the new changes I am using in person block schedule for the first time.
My current teaching situation
I know that every single school is doing something completely different right now and many teachers had zero say in their current teaching reality. Every single one of us currently teaching has a completely unique plan, community and school. Each one has its own specific challenges and we all just need to support each other in any way that we can. For context to the rest of this post, here was my first quarter situation in small town, public school in Iowa. (& it will probably be changing back to all full time in person soon)
I teach Spanish 1-4 full time in school with students every day on a new 99 minute block schedule, teaching a semester in a quarter. 
The HS students are split in A/B groups that attend in person every other day.
I teach the same 99 minute in person lesson two days in a row with each half of the students.
Each day I have blocks of Spanish 1, Spanish 2, and a newly combined Spanish 3/4. I also have a prep, part of which is virtual office hours for the students who are at home that day.
On the other day students work on online work from home, which is usually an extension or practice of the in-person day. We are expected to give 1 hour of online work for the virtual day and if not completed students are "absent" for that class that virtual day. (This is when I have been assigning a mix of: Sr. Wooly nuggets, Garbanzo reading, Edpuzzle Videos, Lyrics Training practice, Google Slides questions and activities, Duolingo practice, etc).
How to plan for a block schedule in Spanish class? – Daily warm Ups
After researching and talking to block schedule experts, I realized like everything I needed a new daily and weekly set up. For those of you who have been following Mis Clases Locas for a while, you know that I love daily themed warm ups. Well since I only see students every other day, I had to change how we start class. Instead of changing what we do each day, every in person class starts with the same routine, which includes listening, reading, and speaking now:
Spanish 1
Music – Hispanic Heritage – 2 songs, discuss & vote
Daily chat – calendar, how people are feeling, how online went yesterday, plans for tonight, etc
Then plans for the day broken up by a bathroom/brain break
Spanish 2/3/4
Free choice reading (Spanish 1 will start after 1st quarter).
Music – Hispanic Heritage – 2 songs, discuss & vote
Daily chat – how people are feeling, how online went yesterday, weekend chat if it is the first in person class that week (past), plans for tonight or this weekend (future) etc
Then plans for the day broken up by a bathroom/brain break
**
Due to the every other day schedule and us only voting on days with in person classes, it took a full quarter to do our 
Song from each country
bracket. We are doing the exact same bracket again in quarter 2 with all new students as well. It does not matter what time of year it is, music brackets are still fun. I will probably do our "march music bracket" both in quarter 3 & quarter 4 as well so both groups get to do it. 
How to plan for a block? – unit examples 
I have modified the unit to fit my in person block, then online supplement, every other day schedule. Here is how I am using it. I am introducing a new one of the verbs each on person day:
Each Spanish 1 in person class 99 minute rough block schedule using this unit
**Covid Hybrid Tip** 
I have scheduled daily posts on Google Classroom with the daily agenda, zoom link, plus our unit slideshow. This way if anyone happens to be online for the day, everything is already scheduled to post and they can join in virtually if needed. 
Hispanic Heritage – 2 songs and vote
Daily chat 
Introduce new vocab of day & questions of day

Some kind of practice with vocab and questions (students might turn and ask the 3 questions to a neighbor in Spanish from their distance, I might ask multiple people they questions, they might write the answers, etc)

Persona Especial – Student sits up front at a distance from me, all with masks and we use the slideshow from my original high frequency unit. I take notes on the board during the interview and students later use the guided notes sheet from the original unit to take their own notes later. One student records this interview on my phone, I upload it unlisted to Youtube & then share this with all students in the class to watch again and review on their online day.

bathroom/brain break 

Intro & play song from that verb – To get more movement students might stand and jump or raise a hand every time they hear the repeated verb.
Jokes – I project & we discuss the three jokes for that verb
Free Write – Students get out their Chromebooks and do the free write of the day in the big slideshow. They also go in and type the answers to their joke pages.
Possible other activities depending on time and which day of the unit

 

¿Tienes…? 

– digital Find Someone Who after learning about that verb the previous class as a communicative review. 

Use the provided story to either story ask story tell, or mad lib style the story.
Troubleshoot online sites, plus get prepared for the following day of distance learning

Wrap Up – Maybe a quick exit ticket, go over again what is expected the next day for online & they sanitize their area.
Spanish 3/4 – Daily example from Vida y Muerte Novel Unit
**Covid Hybrid Tip** I have scheduled daily posts on Google Classroom with the daily agenda, zoom link, plus a slideshow of activities pulled from the Teacher's Guide ready to go as options. This way if anyone happens to be online for the day, everything is already scheduled to post and they can join in virtually if needed. 
Free choice reading – (yes, we still did this while reading a class novel)
Music – Hispanic Heritage – 2 songs, discuss & vote
Daily chat 
Conversation Circles – to review previous day of reading (an idea from the Teacher's Guide)

Students wear masks and chat with a partner for 3 minutes on a topic (such as chapter 1, the mom, the conflict ect).
Then students write what they talked about for 2 minutes
Repeat two times with new topics and partners (if you are allowed to switch)

Bathroom/Brain Break
Read new chapters of the day

Students have the option of being read to by the teacher & discussing, or reading on their own & doing activities posted on Google Classroom.
Due to the short chapters in this book, we did the Prologue in one day and then Ch1-4, 5-8, 9-12 & 13-16 each as a day.

Post Reading Activity

This could be a game like Quizizz, discussion with partner, comprehension based activities from teachers guide, etc
Other Block Schedule Ideas
Digital Stations  
While they can take some time to set up, a longer block allows for all of your normal warm up activities (15 min), teacher instruction, four 15 minute activities (try reading, listening, speaking, and writing) and then a closing wrap up discussion &/or exit ticket (15 min).
An easy way to plan this "Everyday IPA" format (name c/o Meredith White) is to pick a theme related to your study such as food. Then find an authentic reading infographic, a short authentic video & use these ready to go quick quizzes from Sra. Chase. Then students just chat and write about what they just read and listened to. So with a couple authentic resources, you now have a full block of activities using all modes of communication.
For a block sub plan, I made a slideshow in this Everyday IPA format, which could also work for a day of self paced digital learning. For the speaking they could record a video of themselves or chatting with a friend over the topic and insert the video.
Over plan!
I have always been a planner and I have a lot of back up activities in my brain ready to go. But, with a block schedule, you really need some go to extras for when the lesson goes way faster than you think and you are left with a big chunk of time. Some go to digital extras are games like: GimKit. Quizlet Live, Quizizz, Kahoot, etc where you can just search what you are studying and hope someone has already made something you can just use on the fly.
If you need or want something not using a screen try: free write, draw the most recent story, create a T/F quiz over the content of the day, free read, or just a free chat with others in Spanish.
If you want more ideas, this blog post has so many ready to go plans and ideas for a block schedule from a teacher who has used this schedule for years. Also, a really important point she makes is you really do need to break up the block with lots of different things.
One positive is I am enjoying block & not having as many transitions each day. I am also enjoying making fully digital unit slideshows with literally everything included so any student can have access to it, both in person or at home. I hope that post COVID I get to keep using a block schedule.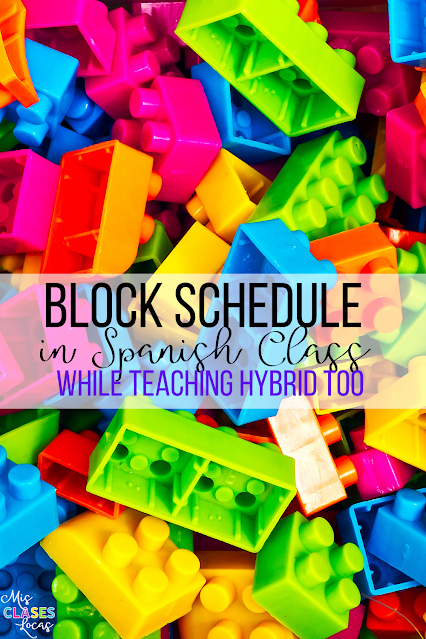 Do you have more ideas for teaching on a block? Please share!

I absolutely love the PD opportunity motioned above. Although I may receive a commission for anything you purchase, I am only shouting about this conferences because it is an amazing opportunity that I am a part of!