Inside: Tips for starting your own teacher blog or Teacher Pay Teachers (TPT) account.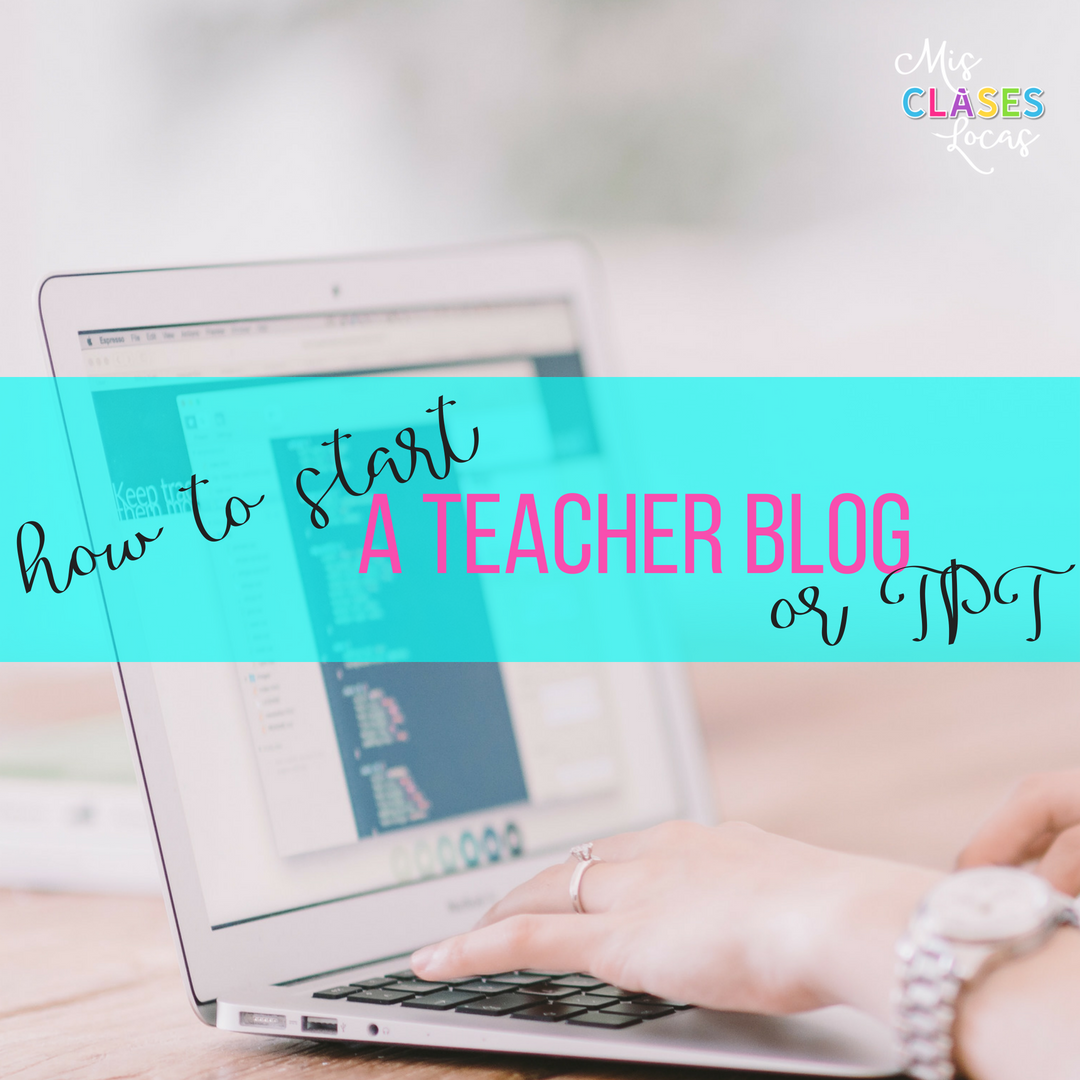 Contribute 
I love that 
Martina
 says to come from a place of contribution, which is exactly how I started this blog over four years ago. I wanted to give back to those who had shared so but with me during my first critical years teaching. Start with sharing on Twitter, Facebook groups, Instagram or a blog and post some free ideas to get started. You do not have to have a set niche or angle. Just share what is working well and what you are struggling with. It is OK to be real.
Then maybe later create something for TPT with a price tag. Your contributions could also be to share your talents by presenting at a world language conference, or starting a local PLC. This will help people to know who you are and maybe to trust using a resource you have created. At the same time, do not spread yourself too thin. You do not need to be on every single social media platform. Pick those you enjoy and stick with that.
It Takes Time to get started on TPT
Creating resources and selling them is not a get-rich-quick scam. During my first month on
TPT
over four years ago, I made $1.50. I had one resource for many months and very slowly have added more over the years. I know some people do this full time and have a lot more time to dedicate and may grow a bit faster. I have always taught full time, as well as have young kids, so slow and steady it is. I also had an inner struggle for a while with wanting to just share everything for free. But I figure I would gladly pay a few dollars myself to save myself precious time. Do not get discouraged if it seems to take a while to get going. But if it is your goal to be serious with TPT, pay to upgrade to the premium membership right away, so you will make a much higher commission.
Be Unique
Be a first rate version of yourself, not a copy of someone else. What do you do that is different in the classroom? Now take that, spiff it up to make it user-friendly, add terms of use and try it out on TPT. The first resources I ever posted were
música miércoles
and
baile viernes
. These were activities and ideas that I created myself (and have been repeatedly scolded for their gringo sounding names, but hey, alliteration). It was the blog post and idea of the activity that took off, and the multiple resources then followed. Once I became known as the music lady, I worked to expand it in other ways I used music in my classes such as: 
afro-latino music
, 
song from each country
 & 
music brackets
. The only way to know if people are going to download your stuff if to put it out there, market it a little and see the reaction.
Do Copyright Research
Along with being unique, follow copyright and study up on it! I was ignorant of this for a while, which has caused me to remove multiple items from my store in the past year. Basically, if the owner of the copyright, such as an author or producer of a show does not want derivative works (using the names, storyline, etc) out there, that is their choice. Be smart and ask first. The safest thing is to create resources that are general or complement a novel or unit of study. For example, I wrote a comprehensible article about
Mexico
to go with a novel study set in that country.
The same goes for images in blog posts and resources.
Pixabay
 is an example of a site with royalty free photos, or you can purchase individual images on sites such as Canva (where I make blog post images).
It is not about fonts, clip art and borders
I know I am in the minority in this unpopular opinion, but I personally could care less about a pretty document. As a high school teacher I would much rather have a functional Google Drive-compatible resource that I can upload on the classroom for students to edit that is just plain black text, as opposed to some pretty PDF. I know very little about fonts, except that I want my students to be able to easily read a document. If you are creating for Kindergarten, sure make it cutesy, but for high school, please make it functional.
What do I use to create?
I have a Mac and sometimes use Pages and Keynote, which do have some pretty templates, but this will not be editable for many users if they do not have a Mac. Because of this, I have moved to mostly creating using Google Slides. You can change the layout to be a normal size paper 8.5 x 11 vertical document and it is much easier to manipulate things than with just Docs. For blog images I use
Canva
 (and just upgraded because the automatic resize is amazing).
Other Tips for getting started on TPT
Start an email list with Flodesk*
Be consistent with your social media handles for your "brand." (I am finally @misclaseslocas on all social media)
Get a professional logo. A couple of years in, I finally had a logo designed by Rachel, and I wish I would have done it sooner. I later had her revamp my blog as well.
Keep track of business expenses for taxes or you will be very mad at yourself later. (Things like that logo design above, TPT Premium, Canva for work, Tailwind etc.).
Get Tailwind to schedule your Pinterest pins for marketing. I just started recently, but I love it. If you use my referral code, you will get a $30 credit (& I get one too).
Less is more – You are better off with a few quality resources than a bunch of small items.
Bundle – Once you have some related items, use the bundle feature to group them together for easy purchasing.
Make good descriptions – Use your TPT resource description area to really give a lot of good information to a potential customer and link to related resources. This resource has good tips.
Participate in Site wide Sales – There are usually four site wide sales a year that are big sale days if you put your store at a discount.
Prices – First think about what you would pay for this resource and also check out this pricing chart to see if you are on the right track.
Great products over marketing. If you have a limited amount of time, use it to create great resources. Useful, unique resources will begin to market themselves once you have people recommending them. Social media becomes a time suck if you are not careful, so use it wisely.
Investing time into a teacher blog and/or TPT takes a lot of time and energy, so only do it if you truly enjoy it. I love the connections it has helped me make with teachers all over the world. It is like being a teacher of teachers, and hearing great reports back from my "students" is the best feeling ever. I especially love helping to support teachers who are early in their career or are isolated like myself, since I see so much in them and know that without my own virtual mentors, I would not still be in the education field!