Inside: Mis Clases Locas diverse book recommendations to read in English and/or Spanish. My favorite books I read in 2020.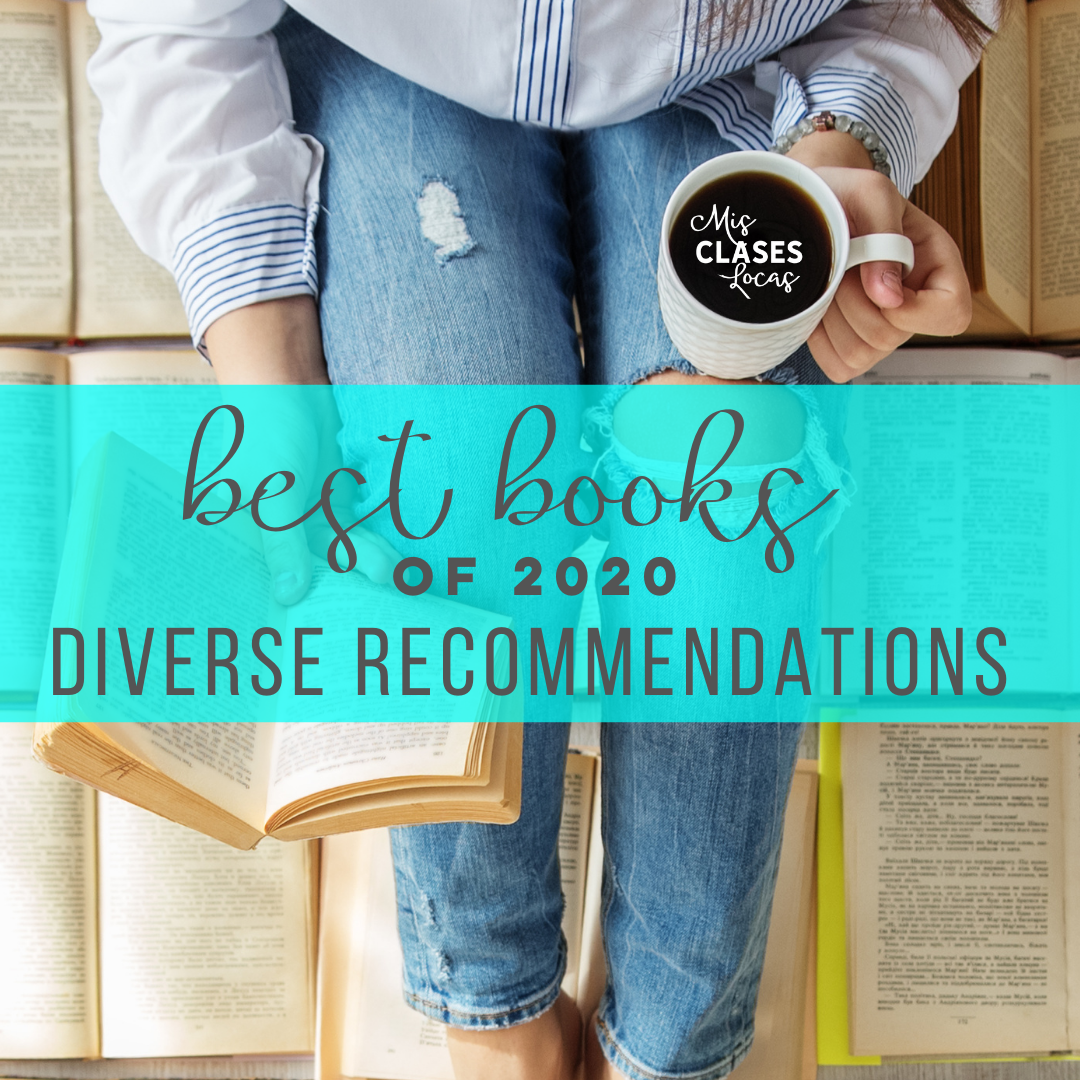 Guess what?! We almost made it to the end of 2020! Honestly the two things that kept me the most sane this year were working out at home and reading. I have read a ton of books for fun this year, so if you are looking for some recommendations to disconnect and relax over break, this post is for you. If you are only interested in Spanish teaching content and not interested in possible books to read for fun in English or Spanish, feel free to take a pass. (I
f you are looking for books for your Spanish classroom, check out all of my libro lunes book reviews.)
Before I get into the list, I am going to answer the biggest question I have gotten.
When do you read? 
The answer for me is actually pretty simple, instead of wasting time on my phone, I read. When I was locked inside during quarantine with my kids, I read. During nap time on the weekends, I read.
For me, it is about being intentional and having good books ready to go. The Goodreads app has been a game-changer. I can add books to my want-to-read list, and then when I go to the library I can just pull it up. Even easier, I can go online to my public library reserve books, and then just go pick them up with their curbside pickup.
What about Audiobook? Do they count?
ABSOLUTELY! I started with them listening on my drive to and from school, which made up quote a bit of my audiobooks this year. With quarantine and my library being closed for a while, this has been the year of the audiobook for me. I would listen on walks, while cleaning, or while my kids were playing nicely with each other.
Even better, every single audiobook I listen to in 2020 was FREE! With my public library I have access to Libby and Hoopla apps on my phone. Plus as an educator, you can get Advanced Listener Audiobooks from Libro.fm.
Sign up here!
Do I read in Spanish?
Sometimes. I try to go back and forth and read more in Spanish during the summer. At night and on the weekend during school, I lean towards what is easy and that is usually books in English. Most of the books I read in Spanish during the year are readers and novellas from my classroom library I am trying out during in-class free reading.
While I said these are the best books of 2020, what I mean is these are the best books I read in 2020. Some actually came out this year, but others have been around a while and I just discovered them this year. Basically, these are my favorite books I read this year from the categories I read. So, for example, I do not really read much fantasy, science fiction or mystery, so I did not include them. My Goodreads is full of fiction (historical & YA) and nonfiction self help and memoirs, mostly written by women. This year I really made an effort to diversify my reading, and as you can see many of my favorites this year are from BIPOC women.
Diverse Book Recommendations – Fiction 
The debut novel from Abi Dar
é is a must read. It is an #ownvoice story

written

by a woman who grew in in

Nigeria

 and follows the

fictional

story of a fourteen-year-old

 girl stuck in

servitude

 just

trying

 to get an education. It taught me a lot about life in Africa's largest city, as well as the struggles that women and girls face around

the

 world.
Best Historical Fiction: Dominicana
This historical fiction novel is set in 1960s New York City and the Dominican Republic. It follows a 15 year old who is married off by her family to live in the US. I enjoyed reading about the little written about historical Latinx immigrant experience. It is based on the author's abuela and her story. The story is real, heartbreaking, and shows the power of strong women (who is actually just a child). I would highly recommend it.
I historical fiction so much, with this category there is a bonus honorable mention from Ruta Septys. (Especially since I think a lot of my readers would like this book as well).  I learned so much about Franco's post Civil war Spain from this book. To me, it was fascinating and I could not put it down.
Elizabeth Acevedo writes young adult fiction that gives representation to afro-latinx and LBQTQ characters in such a natural way. This is her newest book that I devoured in a day. It follows the story of two teen girls, one in the US and one in the Dominican who find out they are half sisters. It is written in a poetic prose style, similar to her novel The Poet X. Also, I just found out this book will become a movie with Elizabeth as a producer!
Kelly Yang's sequel to
Front Desk
was just wonderful. As a middle grades book it tackles the tough topics of immigration and discrimination, set during the real events of Prop187 in California in the 90s. The female lead is Asian-American with a diverse cast of friends, including those who are at risk of being deported. If I taught upper elementary or middle school, this book would be highly recommended to students.
I really enjoyed this fictional story of a teen who moves from Mexico to the US with her family, intertwined with real life stories from a variety of immigrants. This book is also available in English as the The Book of Unknown Americans, but I happened to read it in Spanish.
Diverse Book Recommendations –
Non-Fiction 
If at all possible, you should listen to Alicia Keys memoir on audiobook. her soothing voice narrates and she breaks into song on many occasions. I have loved and followed Alicia through her career, and it was like a trip down memory lane learning the backstory of her rise to success, and journey into motherhood. I finished it loving her even more for her humanitarian effort and beautiful, authentic soul.
Comedian Ali Wong's humorous memoir has me literally crying laughing. Dear Girls: Intimate tales,
untold secrets & advice for living your best life is a funny letter to her own daughters. If you are a mom with young kids who enjoys some crude humor, this is for you. If you do not feel like reading laugh out loud tales from pregnancy, birth, and raising little kids, then you should pass and read something else.
I was not kidding that I like reading books by female authors and the only exception on this list is Atomic Habits by James Clear. I just recently finished listening to this book on audiobook and I would honestly read it again sometime. Of the many self-help books I read this year, this one was most most actionable, clear and straight to the point. It is all about the tiny habits that run our lives and if we can get a few of them under control, our whole life moves in a positive direction. As with everything in life, sometimes how you feel about a book is all about timing, and this book came to me at a time when I really needed to move in a positive direction, and it was just what I needed.
Bonus Fun Books
Cuba series & books by 
Chanel Cleeton
Romance & historical fiction fun, great for a beach read.
American Royals Series – Katherine McGee
Easy reading young adult drama and fun, similar to high school drama shows and movies.
Have you read any of these diverse book recommendations? What did you think?
If you have diverse book recommendations, please let me know!
For those of you also teaching this week, sending abrazos!
Enjoy your holiday break reading!!
Links in this post are Amazon affiliates and I may receive a small commission if you chose to purchase with the links provided. Thank you for your support!