Inside: Are you asking yourself "What to do the first day after winter break in Spanish class?" Here are my no prep plans for the first day of school in the new year for all levels of Spanish class including digital and distance learning! First day back from winter break ideas for Spanish class.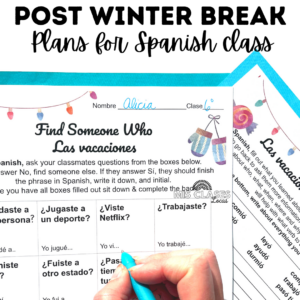 First day back from winter break
Happy New Year friends! I hope you have enjoyed your break. I spent quality time with my little family and enjoyed some much-needed rest.
**If you happen to be teaching a new section of exploratory right now, check out my updated post Exploratory Spanish – What to do with 1 Quarter.

My plan each year has been to ease into the new year by talking about what students are dying to discuss, during their break. For in-person, similar to my first day of school plan, I usually used the same basic activity across all levels. I know you want to get right to it, so here is an update if you are distance or hybrid this week. 
But what if I am Distance, Hybrid, or Paperless?! 
2021 update 
Chat about winter break with quarantine-friendly options that can be used in editable Google Slides in person, hybrid, online, or a combination of all of them. These ediyable slides include reading, speaking, and writing practice and could be used as a class starter or for a full plan for your first class back. (This is what I personanlly used in 2021 to start the semester in my Spanish 3/4 class)
Original 1st day after Winter break Plans(In Person)
**Update: If you are online or want to be paperless you could do most of this plan over zoom using the TPT EASEL digital overlay to have students complete the Find Someone Who on their computers or use the slideshow above. See this blog post for more info on using EASEL >>  Find Someone Who Spanish Interpersonal Speaking
First in Spanish, welcome students back and show them a couple of pictures of my break, describing it in Spanish. 
Next, give students a couple of minutes to brainstorm something they did over the break (and write it if they would like). During this time I will write some common phrases on the board as an example. I know even in a couple of weeks they lose confidence and I do not want to put students on the spot. 
Then, discuss a few volunteers' answers, circling and repeating the high-frequency phrases.
Pass out different versions of the find someone whosheet depending on the class.
Variations for Spanish 1/2 on 1st day back from Winter break
Spanish 1/2 could use the newer Find Someone Who version just focusing of fue or my fue question cards. It is better to ease them in with just one verb in the past tense. The question cards have many options all using the same questions. You could post the big questions and have students sign under them, or break students into small groups with sets of all the questions. (Or even do all of them to get lots of repetitions in!). 
Spanish 1/2 (alternate) Or if you want to use versions of the same 

holiday break FSW

 in all classes, you could use the 

easiest

 version 

with the yo form listed to answer on the front, and the s/he form listed on the back to later talk about their classmates. 
Upper-level Variations for the first day back from Winter break
Spanish 3 – use the holiday break FSW with the yo form listed, as to help with confidence using the correct yo form in the past tense, and a word bank of possible s/he forms on the back. 
Spanish 4 – use the holiday break FSW with the least support and will come up with the yo and s/he forms on their own. 
Learn many ways to use a Find Someone Who in this blog post. 
Before setting them loose, students will get a chance to look through the possible questions and make sure they know what everything is asking. We will clarify as needed, so once the activity starts, it can be in all Spanish. 
With a clipboard, sheet, and pencil, students will go around asking each other the questions in Spanish. They will add in elaborating details and sign each others' sheets. 
Once they have all squares signed, students will practice the s/he forms by writing about what their class did. Depending on the class, you can see above how much assistance they get with the writing. All students will also write about what they did. 
Optional Extensions on 1st Day after Winter break
Depending on the class and interest I may pick a couple of extensions. These would probably happen the next day depending on time.
Discuss as a class who did what. 
Make a giant Venn Diagram comparing and contrasting students, or the teacher and a student. (This would be a good way to add in the plural forms).
Have students draw what a classmate did. Put these up around the room or project with a document camera and guess who the picture is describing. 
Have students draw what they did. These could be used to have them describe to each other in Spanish. Or have the teacher use them to describe what they did. 
Play 2 Truths and a Lie (students write two things they actually did and one lie. The teacher then reads these and the class guesses who it was and what their lie was). 
Do a free write where students write what they did and what a classmate did. 
Here's to an amazing 2022!
Here are other ideas for this time of year


originally posted 12.31.18 by Allison Wienhold – most recently updated 12.29.21