Inside: The Plate Sketch Game or drawing on a plate on your head game. A perfect holiday activity for Christmas in Spanish class. Are you trying to find the "Christmas game paper plate drawing on head?" Here is the Navidad plate sketch game! Spanish class Christmas activity.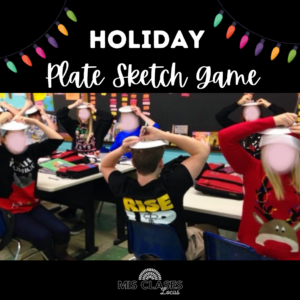 Plate Sketch Game – Spanish class Christmas Activity

If you are looking for a 20-30 minute activity that is fun, holiday-related and includes Spanish input, the plate sketch game is for you! This Spanish class holiday activity is perfect for those short days before break, after a final, or as a part of a homeroom holiday party.
8 years ago I first used The Plate Sketch Game by Cynthia Hitz. It is the Christmas game paper plate drawing on the head. It was the perfect day to do it since it was tacky Christmas sweater day at school. I used this Google Presentation of the activity shared by @lopezelena. Thank you Cynthia for the idea and Elena for the presentation. All you need are paper plates and markers and read the instructions found in the links above.

Now I have learned it is best to use PAPER plates and not the Styrofoam ones I already had in my room. The markers smeared and we ended up using pens for the second class. Sharpie would probably be the best choice but may get a little messy.


The Holiday Plate Sketch game is a great way to use the target language, could use Winter vocabulary, and have fun.



Supplies for the Plate Sketch Game or "drawing on a plate on your head game"
Cheap paper plates – enough for all students (Or you could use mini dry-erase boards too)

Thin markers, sharpies, or pens


Directions for the Plate Sketch Game in Spanish class
Instruct students that once the game starts they place the plate on their head and DO NOT LOOK AT IT.

Students draw what is described without looking.

At the end, give students "points" for having things make sense, like a star on top of the tree, etc.

To extend it you can give awards for the best, goofiest, worst, etc. Students could present their drawing in Spanish and try to describe why their plate should "win"
Some of the plate sketch masterpieces from my first year from Christmas game paper plate drawing on head
If you are looking for more holiday ideas, check out these blog posts
Have extra plates? Play Positive Plates team-building activity.
Ready To Go Holiday Resources to Save You Time!
No-Prep Plans for Post Winter Break in Every Level You Teach!
Plate Sketch Game post was originally shared on 12.17.14 by Allison Wienhold & most recently updated 12.13.22