10 Ways to Get your Spanish Class Moving 
Now that I have a deskless classroom there is so much room for activities! I have seen so many articles floating around lately about how important it is for students to move during the school day. As we get to the end of the year getting students up and moving is essential for all of those pent up wiggles. I have started asking myself, how could students move while doing this activity? For example instead of sitting as a class and discussing questions, post them around the room and have students float from question to question asking and answering in pairs. Here are some of my favorite ways to incorporate movement in Spanish class.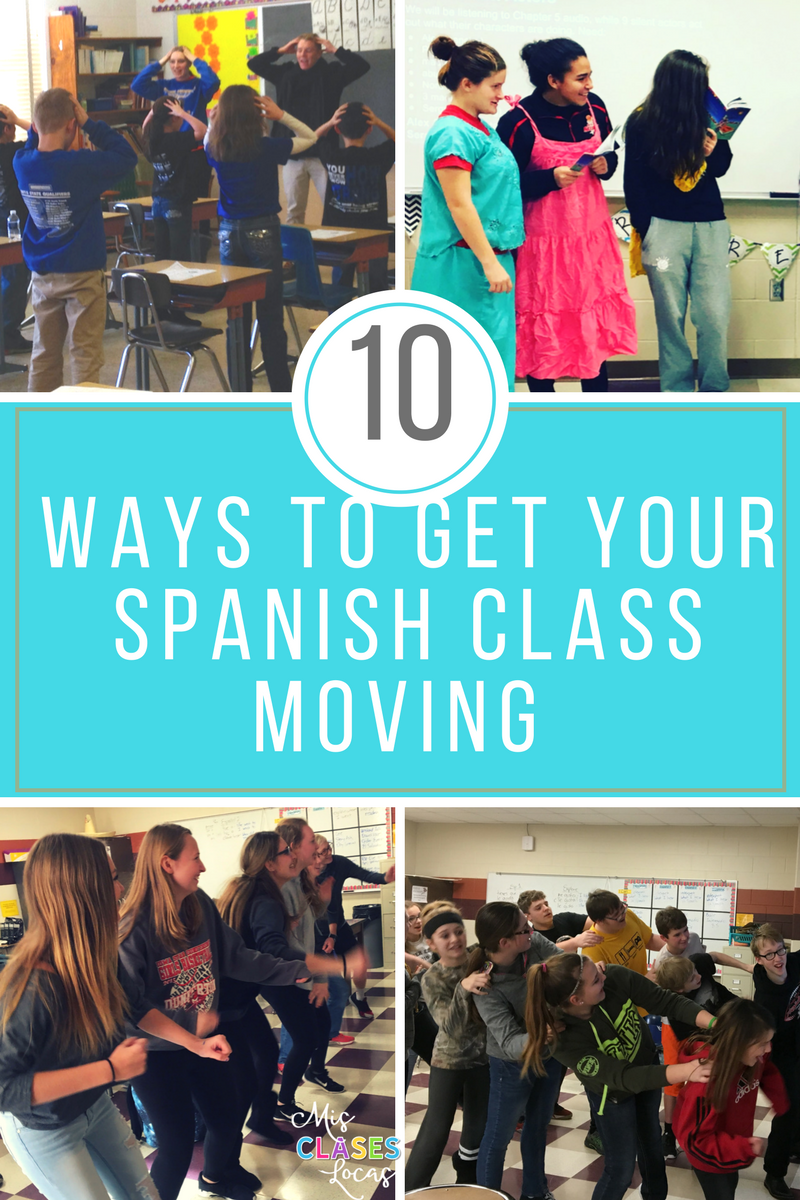 If you have ever read this blog or follow me on Instagram, you know my love of #baileviernes. At the end of each class on Friday, I play a just dance song in Spanish during passing time. Some students run to class to start dancing to their favorite songs. If the class is really into it I will restart the video as the bell rings for the whole class to get a chance to dance. 
Does everyone participate? No. 
Do those who do not like to dance enjoy watching their classmates have fun? Yes. 
Does this help to build a positive classroom community? Yes. 
Do I let students take pictures and videos? Yes. (Free advertising for taking Spanish;)
For classes who love to dance, Just dance videos are also a motivation to work hard and get everything done, so they can use one as a brain break, or dance again at the end of class. If your class uses it, please post a picture or video using #baileviernes. 
I have really been trying to make sure to include a brain break in each class. It is a great way for everyone to recharge and get ready for a new learning episode to take place.I have a ton of ideas for them in this post. Also, just because it is a brain break, does not mean the learning has to stop. For example, play Sra. says with the vocab you are using in class. The biggest piece of advice is to make sure to PLAN brain breaks into your day, just like you plan everything else. If it is not written in the agenda, I find myself skipping the break in favor of more content, which is the complete opposite of the whole point! Not only is it great for the students, but the teacher to reset as well.
La Maestra Loca, Annabelle Allen shares her quick twist on a brain break. These are rapid fire and only last 1-5 SECONDS. She shares a huge list of them 

here. In my deskless room, this can be as easy as stand up if you are wearing red and switch places, or stand up and do three jumping jacks and sit down. It could also be a couple quick TPR moves. This is all done in Spanish and just gets everyone to wake up and refocus.  


I learned about Running dictation through Martina Bex's curriculum. The instructions can be found here. It is a great Friday activity that gets everyone moving to review a class story or chapter of a novel. I used this activity during an observation this winter as a review of chapter 3 of the novel Brandon Brown Quiere un Perro. It went great and my administrator was impressed with how everyone was actively engaged. I know there are many versions, but my instructions can be found above. I type and print 8-10 sentences in a large font. I tape these around my hallway and let the other teachers in my area know that my students will be out in the hall. The extension activities in blue at the bottom are for fast finisher groups and are not required for everyone.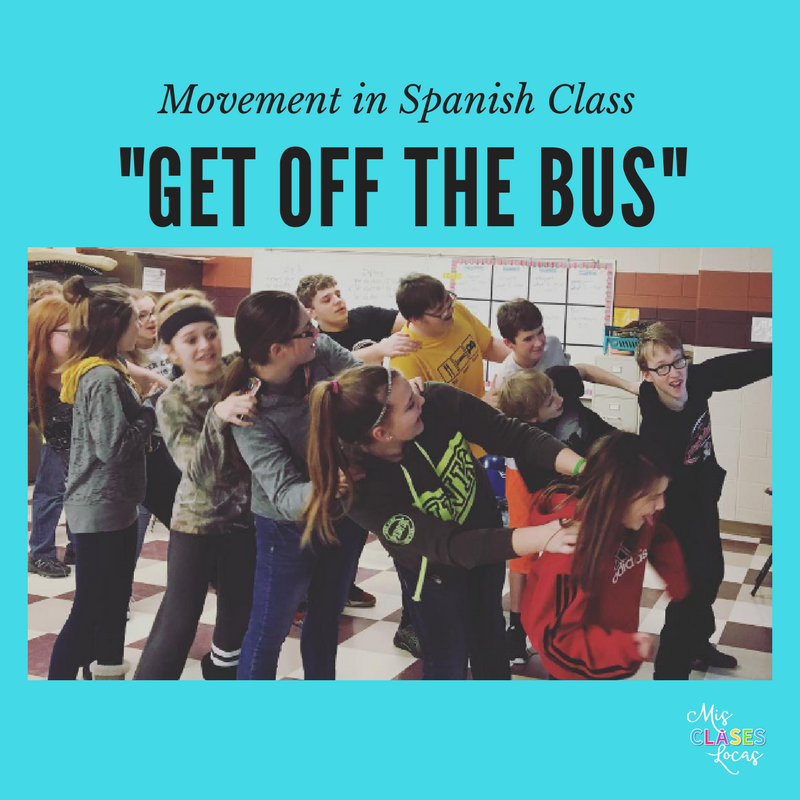 I learned this activity from Camp Adventure, but it works great in the classroom. Everyone starts in the middle of the classroom "on the bus." To make this more entertaining, have students actually pretend to be on a bumpy bus ride with a driver in front leaning side to side. Two options are given, which I project side by side. Everyone must "get off the bus" or chose a side. Below you can see how with novice students were practiced talking about what we liked more. You could also do this with true/false, possible/probable, or with intermediate students take sides on debated issues. Once they chose a side, you could have a representative tell why they made their choice. Then get back on the bus and repeat. If you have more than two options you could turn it into 4 corners instead. 
A "what do you like more" version of Get off the bus
Reader's Theater
While reading a class novel, a great way to get students up and moving, while also providing visual input in reader's theater. Select a portion of the text that has good

conversation a

nd have students act this out. To mix it up sometimes I have all students in groups prepare, and then let a couple volunteer groups act it out. 
Another twist is to have "silent actors." I play the audio recording of a book chapter, and students get to dramatically act out with props, without actually having to speak. This is great for novice students, to make sure that everyone is getting the correct pronunciation and it is much less stress on the actors. Above you can see silent actors for chapter 5 of the novel Tumba. 
If you are doing a unit about sports, the novel Felipe Alou, or poverty in Central America, the activity 
Guantes de cartόn
 would be a great fit! You can see the whole lesson plan 
here
, but basically you have students create cardboard baseball gloves and try to play a game! My students in the photo above even brought in a nice stick they found at track practice to use as our bat. 
A great interpersonal activity that allows a lot of movement is a find someone who/ people hunts. There are many names and versions of these activities that can be found online for your specific unit or goals. It works nice to have all questions focusing on the same target phrase such as "do you like…" with options for others to sign. I always tell students that they must ask and answer the question out loud in Spanish to be able to sign someone

another sh

eet. It is a nice way to get in a lot of repetitions of the informal you and I forms. To extend the activity, you can have students then use the s/he or we forms to write or talk about what they

found out about their

classmates. I have a ready made weekend activities find someone who, that I can pull out as an easy Monday activity to practice the past tense. 
A great way to start with a new group of students is to play
name game speed ball
. Basically you have students toss a ball while asking each other their name in Spanish. This could be adapted for any question in Spanish. To make it "speed ball" have students make a certain order, which includes everyone. Then let a student time to see how fast they can be, while also being accurate. This works great as a brain break as well. 
Children's Songs
Authentic children's songs in Spanish are a perfect and natural way to get students moving around. Teach the motions to songs like Los Pollitos Dicen or Head, Shoulders, Knees & Toes in Spanish and then use them throughout the year. These are the songs students will be singing to for year to come!
What other activities do you use to get your class moving? Please share in the comments!