Inside: What's my answer? A fun game for Spanish class that gets students moving from Mira Canion.
I just discovered a new game in the back of the Fiesta Fatal Teacher's guide. If you have ever purchased a guide from Mira Canion, you know they are Packed with ideas. Last year was my first time teaching it, so I just used the chapter by chapter activities to start. This year, I started to read some of the many extra ideas in the back of the guide and came across a new game, What's my answer

 

to use after chapter 2. Both classes had a blast and it forced everyone to be engaged.
To Prepare for What's my answer?
Create a list of questions (and answers) as if you are interviewing the main character & print it off to use during he game. (What is your name? Where are from? etc)
Copy the list of answers on cards. (we had 19)
Print 3 or more copies or the whole set, each on a separate color of card stock (laminate for durability). 
(optional) – Have students complete the pre-game personalized questions. You could ask students, or have them fill out a questionnaire of how they would answer the same questions. 
What's my answer: Game instructions
Divide the class into the number of teams you have sets of cards (3 worked well)
Distribute the color-coded answer cards to each team.
Each team should have at least one answer card per team member. Motivated and willing students on each team can take the leftover answer cards since the number of cards will likely not divide equally. 
Instruct teams to make sure that each team member knows what their answer cards mean, and have them begin to think of what question might correspond to their answer cards. Have them also practice reading the answers aloud.
Teacher reads a question card.
As the question card is read, the student in each team with the corresponding answer card is to run to a designated part of the room, slap the card on a leveled surface and read the entire answer card aloud before another team member can do the same.
 If the answer is not correct, all teams have the opportunity to continue answering the question in the exact same format.
A score keeper on the board can record a point for each first, correct answer. 
As the teacher, you can ask a question multiple times. That way, students who have already used their answer cards still have to pay attention. 
Students were so into it we shuffled answer cards, so they had to listen for different questions and kept going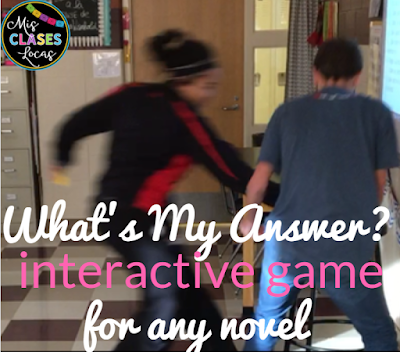 My very competitive students were literally sprinting across the room sliding into home to try and get to the stool first to lay their card down. It was a great way to practice answer questions, as well as a review about the character of the book. Thank you Mira for a new game to add to my toolbox for teaching with novels that includes movement. 
More activties you might like