Inside: A positive team-building activity for any class. A great activity for Spanish class before Thanksgiving or an end of school year activity.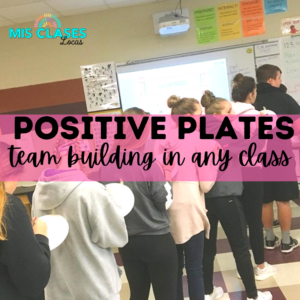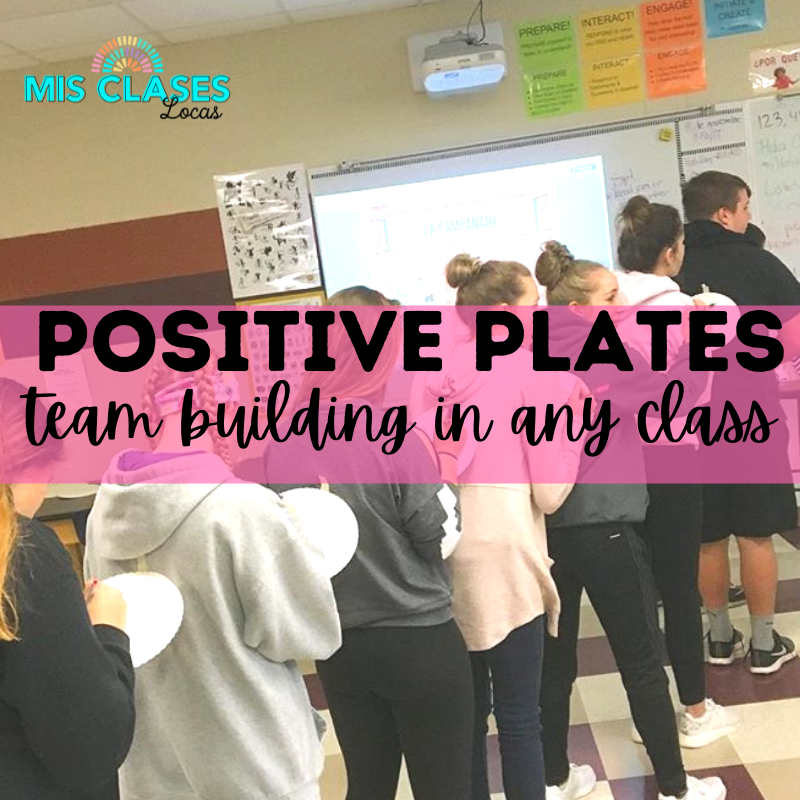 A few years ago I posted this team-building activity. Since it is the perfect one-day positive activity to do around Thanksgiving, I thought it was worth a share again. If you are looking for more ideas for around Thanksgiving, check out my Thankful Turkey, How To Teach Gratitude in Spanish Class & many ideas for Thanksgiving. 


Since so many people asked on social media after a picture I posted, I figured I would give a little more detail about an activity we did that I am calling "Positive Plates." I have a particularly negative class that I am trying my hardest to move in a positive direction. I had a light bulb as to a camp activity we could incorporate. I had done this activity as a team-building activity in English with Camp Adventure, and while in bed on Monday night, it came to me to do it in Spanish the next day. 
We had already been discussing what a good friend does, as well as what makes a good friend as a part of Martina Bex's El amigo simpático story unit. The goal of the Positive Plates is to give others compliments, promote a positive class culture, as well as stay in Spanish. 

Materials for Positive Plates Activity
Paper plates (or card stock) – one for each student
strong Tape
Pens or thin markers
Prep for Positive Plates
As a class, we brainstormed a huge list of compliments we could give a friend in Spanish on the board. I separated it into categories of "you are"…(adjective – nice, intelligent)," "you can"…(activity action – play piano, do the math), and "you have"…(noun – pretty eyes, cool shoes). I was trying particularly to focus on our unit vocab, but you could even come up with a list to project as well.  
After the first section, I realized it would have gone smoother if each plate already had tape on it, so I prepped them in advance for the bigger section. 


Make sure to stress the POSITIVE PART, so that no negative things are written. 
Positive Plates Activity
Students taped a plate on each other's backs and got a pen or marker. 
They were instructed to walk around the room and write anonymous positive things about every other person, without ever looking at their own until the end. I told them to try and write something that has not already been said. We ended up with a whole line of writing with one group. If you wanted it to be more organized, you could do an inside/outside circle and then switch. I let them wander around to get some extra movement in. 
In the end, students got to take off their plates and read all of the nice things people wrote about them. These are theirs to keep, and I hope that someday they can pull these out of their "good news file," when they are having a rough day. 
This would be a great, positive activity before a holiday break if you need something before Thanksgiving or the end of the school year. You could even do this activity outside. What are other ways you build a positive class community?
More Fun Activities for Spanish class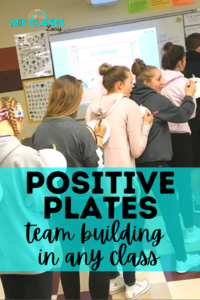 NEW Virtual PD is open for sign-up now! –  WLTS Back to School
The Back to School World Language Teacher Summit will be online July 17th-21st, 2023. I will present the first day about the 1st Weeks of School: Proficiency, Procedures & Positive People. Sign up TODAY for free*!
Get a Free Week of Spanish Class Starters below
*The conference is free to sign up for. If you choose to upgrade, I will make a small commission. Thank you for your support of Mis Clases Locas! – affiliate disclaimer
Positive Plates original post 11.16.17 by Allison Wienhold – most recently updated 6.29.23