Inside: El Ratón Pablito a book you need for your Spanish class library.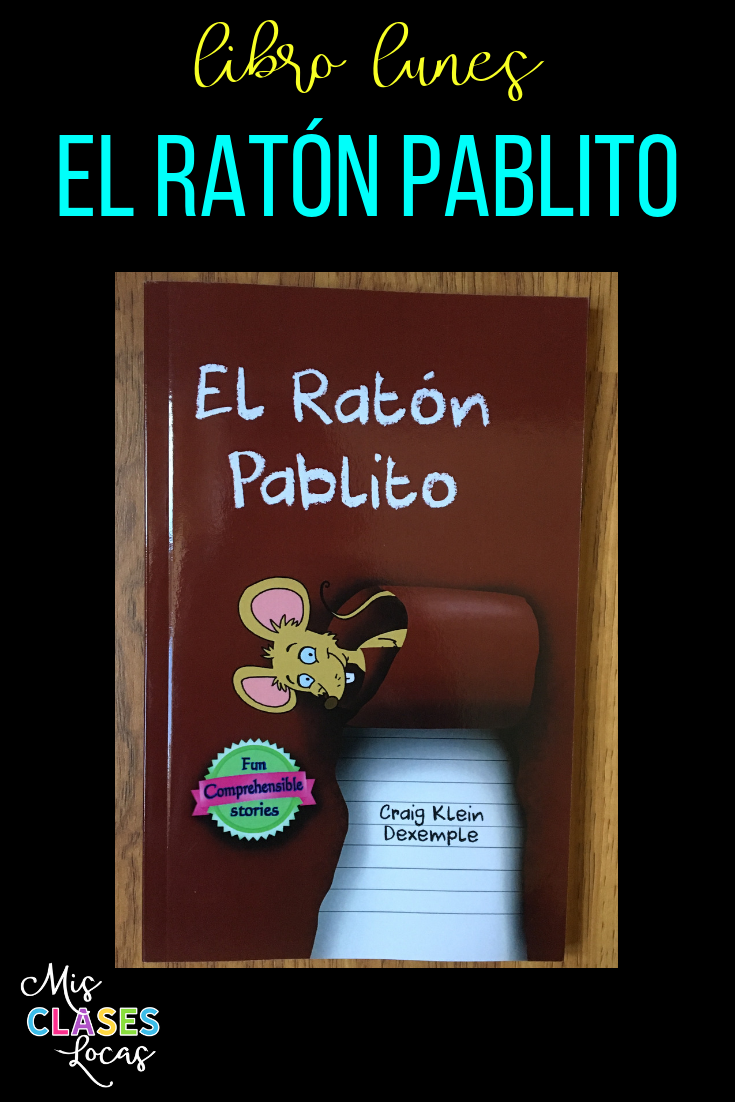 To see many of my classroom library recommendations all in one place, you can visit My Amazon Store book list!
This past summer my friend Craig, a fellow Iowan, asked if I would be willing to read through a project he has been working on. I gladly volunteered, since I love his other books and materials. After reading 
El Ratón Pablito, 
I KNEW I needed multiple copies for my Spanish classroom library. 
This book is actually a collection of fun and comprehensible stories. Each chapter is its own short story, with the mischievous Pablito showing up to weave them all together. There are many pictures, which aid in the comprehension and give it almost a graphic novel feel. You have the option to purchase it in color or black and white 
here. I have black and white, but may need the color one as well!
We start class with choice free reading on Tuesday and Thursday in all classes from my classroom library. We began for the first time in Spanish 1 in November and this book has been a favorite in both sections. After 5 minutes the first day, the student reading this book asked if they could have five more minutes!! Twist my arm! Students have told me that they like 
El Ratón Pablito
 because they can actually finish a complete story or two in one free reading session. This gives novice readers confidence and shows them that they Can read in Spanish alone. The glossary in the back of the book allows them to look up any unfamiliar words on their own, and the pictures provide additional support. 
Besides free reading, I could see this novel used in many ways in novice Spanish classes. 
Kindergarten Day 
Students get to cozy up on the floor with blankets and pillows and be read to. This could be a regular Friday treat reading one story per week. I don't usually like to break up reading a book, but since each chapter is it's own story, they would be understood on their own. 
Using the Videos
Many of these stories also have amazing animated videos retell the story. These videos can be found here. An example can be found below. If you would like to access all of the videos, you can pay a very small fee for a membership for a year, which would be well worth it for teaching the book. The combination of story and video could be its own mini unit. There are even target structures mentioned in the video that could be focused on. The videos could be used Movie Talk style in class, or give extra visual and audio support and repetition of the story. 
Class novel study 
With a class set of novels, this book would be amazing for a novice full novel study. Craig actually teaches K-8 Spanish, so this could be used in elementary, middle school, or even high school Spanish 1. As soon as I can get the funds, I want to get a class set for my novice students. Additionally, some of the chapters are centered on rich culture such as La Tomatina, Bull Fights, Day of the Dead and more. These could be expanded on into their own mini cultural units as well. 
Finally, my students think it is pretty awesome that their teacher is on the back cover suggesting the book. Thanks Craig for another amazing resource for Spanish class!