Inside: La Tomatina in Spanish class. A fun back to school Spanish cultural unit to start Spanish 2.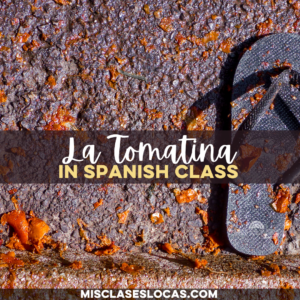 Why learn about La Tomatina in Spanish class?
Are you looking for an engaging topic to start your school year in Spanish class? How about a festival where people literally have a giant food fight with tomatoes? As someone who taught in rural Iowa, a lot of food comparisons can be made with this celebration. Even if you do not have time for a mini unit about this event, the getting to know you tomato fight activity below would work well at the start of the year.
La Tomatina is a yearly event that takes place in Buñol, Spain at 11:00 am on the last Wednesday of August. For me in Iowa, this typically falls during the first full week of school. This means this fun cultural celebration is a great way to start Spanish 2 or Spanish 3.
When to teach about La Tomatina?
Due to the celebration happening the last Wednesday in August, it has been an entertaining way to start the school year. For many years in my curriculum I started the year with a Tomatina mini unit in Spanish 2. Some years we also did La Tomatina Spanish 3 if they had not done it the year before. As a #deptof1 any time that I could overlap plans for levels and just differentiate, it really helped lighten the planning load. 
How does La Tomatina fit in Back to School in Spanish plans?
Each year, the 1st week of school has been a bit different depending on what day school starts, shot days, etc. I usually wait until the first full week to start the unit. This means I might spend more time getting to know you or summer activities before jumping into the Tomatina mini-unit.
Spanish 1 – Day 1 – 1st Day of Spanish 1 – Name Game Speedball  & then 1st unit of Spanish 1
Spanish 2 – Day 1 – Fue Find Someone Who from 1st Day of Spanish 2 Plans & then La Tomatina unit
Spanish 3 – Day 1 – Mi Verano Find Someone Who from 1st Day of Spanish 3 Plans & then (possibly La Tomatina unit depending on the year)
Tomatina Mini Unit
I firmly believe that if you find something that is well done and works for you and your students, do it! This means that a lot of what I do in my classes has been purchased from excellent teacher-authors who save me precious time, that I can use to hang out with my two little boys. This means that every single thing that I am using in this mini unit was created by someone else. I am going to stretch this unit to four days, but you could do a one-day lesson if that is all the time you have to work with. 
The bulk of what I originally used was from La Tomatina Cultural Unit from Martina Bex. If you only have one day or want to use it with younger students, I would recommend La Tomatina – Simple Reading.
Day 1
Day 2
Follow La Tomatina Cultural Unit – Martina Bex

Embedded reading #1 

Video activity

Embedded reading #2

Movie talk (if time – or move to the next day)
Day 3 – La Tomatina Tomato Fight Getting to Know You Game
If you happen to start the week of the event. Day 3, would be the actual Tomatina. You could move this activity around depending on when you do the unit. 

Tomatina event, using the Snowball Fight activity from Amy Lenord. Give students a red paper and have them write something about themselves in Spanish. Students crumple the paper and with the official music playing, they have their own snowball fight for one minute. Once the time is up, students each pick up a piece of paper and gather in a circle. The teacher reads these out in Spanish, and students guess who they are describing. When students return to their seats, they do a quick free write about what they learned about their classmates. You can see the Tomatina snowball fight in action below. 

Embedded reading #3 from 

La Tomatina Cultural Unit
Day 4
Video activities 

from 

La Tomatina Cultural Unit 

Mini Writing Assessment – Students write as much as they can about the festival. 
More La Tomatina Resources
Other cultural mini-units
Do you have more resources for teaching about La Tomatina, please share! What are your other favorite festivals to teach about?