Inside: 10 books for your 2019 summer reading list from a teaching mom.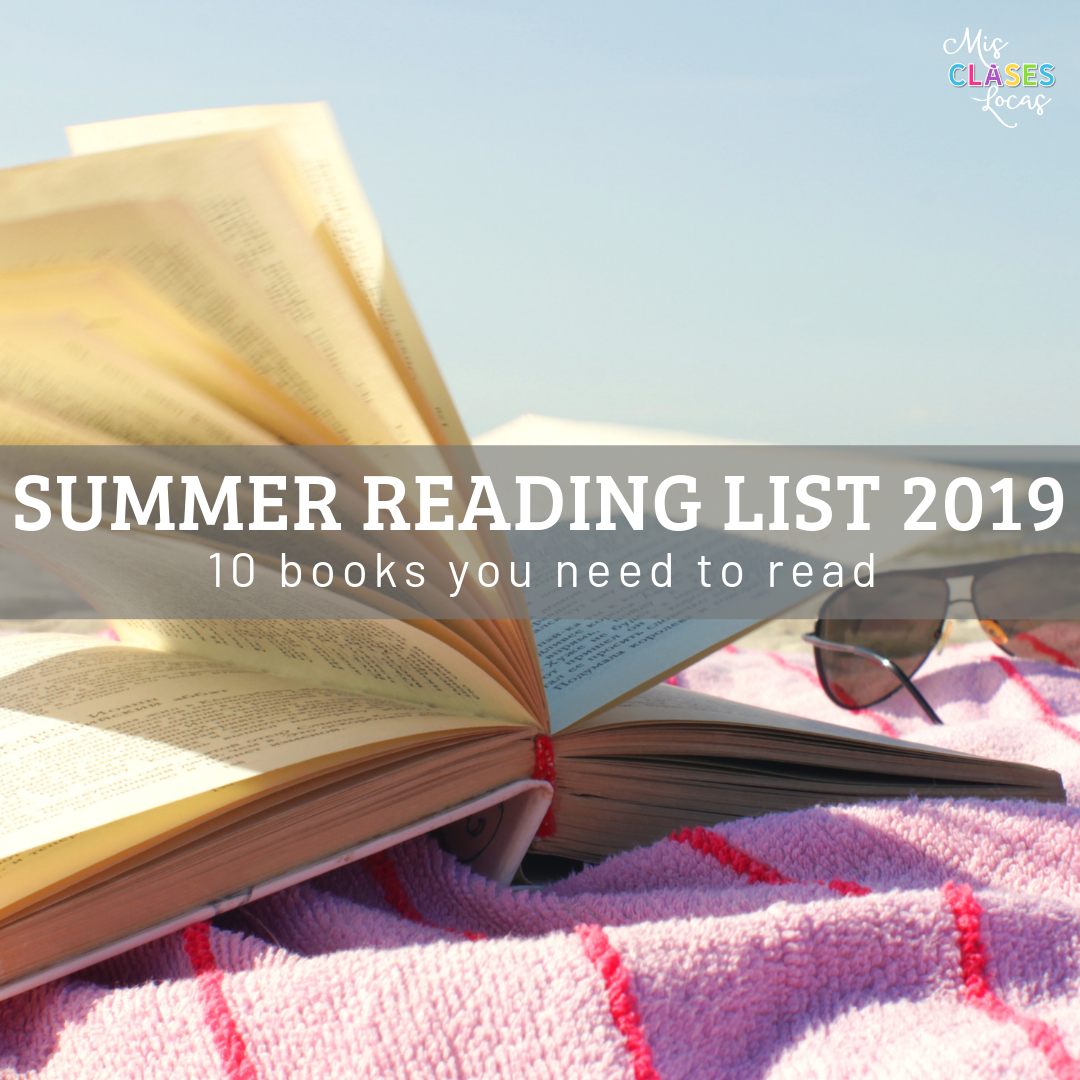 It is officially camp mama summer at our house. We kicked off summer with out first ever family vacation via plane and now are back for the official kick off of summer vacation at home. It is nap time of course and I am finally getting a chance to write a new blog post for all of you. This one is a little different from my usual Spanish teaching posts, so if you are not interested in possible books to read for fun in English, feel free to take a pass. But i
f you are looking for books for your Spanish classroom, check out all of my libro lunes book reviews. 
If you follow me
on Instagram
, you may have seen that my goal for 2019 is to read more for FUN. I grew up an avid reader, but since starting teaching and becoming a mom, I think I have read less less than 10 books for fun total before this year. I started with the goal of one book per month and quickly blew past that with now a goal to read 50 books in 2019. I have been sharing quite a bit of books I have read and have gotten multiple requests to put together a post with my recommendations, which is why I am sharing a summer reading list.
Before I get into the list, I am going to answer the biggest question I have gotten.
The answer for me is actually pretty simple, instead of wasting time on my phone, I read. This year during state testing, I read. While I was giving my student teacher space to fully teach, I read. When I was locked inside for 12 snow days, I read. During nap time on the weekends, I read.
For me it is about being intentional and having good books ready to go. I got the Goodreads app, which has been a game changer. I can add books to my want to read list, and then when I go to the library I can just pull it up. Even easier, I can go online to my public library reserve books, and then just go pick them up from a reserve shelf. Of the 26 books I have read this year, 22 were from the library. The other four were either new that I had to have, one my library did not have and an airport book.
Do I read in Spanish? Yes, this summer I do plan to read in Spanish as well to keep up my language proficiency while not using it each day in class. But, during this past school year, the answer for most was no. For me reading has come back in my life as a way to relax, and get away from everything, which includes work. Reading in Spanish had become work, and I needed reading to be an escape. So here are 10 books that I read this year and have given them all 5 star reviews.
Fiction
I have come to realize that I am a sucker for chic lit and young adult fiction. Considering I have read every book by Emily Giffin and Nicholas Sparks, you can see the types of books I am drawn to. But, I have realized this year there is nothing wrong with dropping a book you are not into. There is no need to plow through something meh. (*cough* A Gentleman in Moscow *cough*)
Here are my recent fiction favorites.
A 16 year old girl dreams of becoming a rapper, or at least make it out of her neighborhood. As a teacher, this book reminded me of the realities of my poor and working-class minority students. As a side note I would also recommend The Hate You Give, also by Angie Thomas, but if you have read THUG, you have to keep an open mind that On the come up is not a sequel, but rather a whole new character to embrace.
I am cheating a bit with this pick since if you read the first book, you basically need to read all three. I love the depth of the characters in this series, as well as all of the drool worthy travel. I spend summers living in South Korea and Japan and loved being immersed in many other rich Asian cultures. As a teacher, this book also taught me about family lives diverse from my own experience. If you read the series the order is: Crazy Rich Asians, China Rich Girlfriend, Rich People Problems.
Beneath Wandering Stars
This was a book recommended to me by another teacher on Twitter and I could not put it down. It follows the journey of a high school girl who does the Camino de Santiago in Spain. She is from a military family and after spending five summers living on military bases with Camp Adventure, I am a sucker for a good military story. Also, after living and studying in Spain, I loved all of her references to places I have traveled to. As a teacher her struggles remind me that my high school students many times have many adult issues they are working through.
The Sun is Also a Star
I realized this year that one of my favorite genres is Young Adult Lit and this one fits the bill. It follows the two separate, yet intertwined stories of Natasha, who is 12 hours from being deported back to Jamaica and Daniel, the always model son and dreamer who falls in love with her. It is also now a movie, so I can relate to my students who watched the film.
Dear Martin
In this other Young Adult Fiction read, Justyce writes to Martin Luther King while faced with the real issues of race as an African-American male living in the U.S. If you like the books of Angie Thomas, this is a must read. It also opens your eyes to the discrimination our minority students still face on a daily basis.
Non-Fiction
I do sprinkle in non-fiction for fun and actually 8 of my 26 books this year fit this category, ranging from self-help to biography.


Becoming
I have always loved Michelle Obama, but after this book I would say I am borderline obsessed with her. I loved finding out about her back story and hearing her side of everything. As a girl who also grew up in Illinois and followed the Obamas from way back it was a fun to relate to her story. Plus as someone who lives in Iowa, where the early campaigning is huge, it was interesting to me to read about all of the small towns, including my own that she visited, plus that she gave the commencement speech at UNI, in the town I live in (but the year between my undergrad and masters graduation). As a woman, I would recommend you read it.
The girl with the lower back tattoo
This is probably the most surprising one of the list, but I literally laughed out loud for most of this book. Amy Schumer is a comedian, but keeps it completely real to the point that I was crying tears of laughter like the emoji. This was one of those random books I picked from a display shelf at the public library, but then could not put down. If you are looking for a light and fun read, this is where it is at.
Girl, Wash your Face
This was the book that helped jump start my reading and the first of 2019. After reading it I am a full Rachel Hollis fan, listening to her podcast, watching her documentary and following her on social media. If you are a mom and teacherpreneur or any mom with a side hustle, this is the book for you. I also read Girl, stop apologizing this year as well, but it was just not as good as the original, or maybe it was not just the perfect time for exactly what I needed to hear. As with everything, when reading timing is everything.



Bonus! If you want to get more into reading, but just can't sit down to read,  Audible might be the thing for you! Listen to most of the above books while you work out, drive or work around the house! Give the  Audible Gift Memberships to yourself this summer!
Or if you want less commitment, try the free trial! I am using it this month and loving it!
Well there you have it. What would you add? What books should a read next? I really do encourage you to read for fun this summer and tag me so I can see what you are reading.
In full disclosure, the links above are affiliate links, meaning if you make a purchase I will get a small commission.