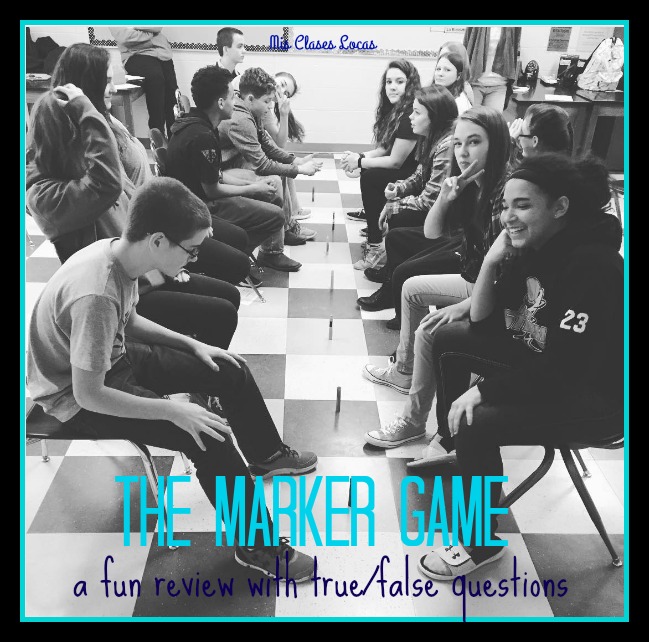 After posting the picture above on social media, I had a lot of interest in how to play the marker game. The original great idea came from Cynthia Hitz in this post. It is a low prep way to review a story, chapter, or chapters of a novel. All you need are true/false statements. 
Before starting, I project the rules, which are listed below. When I had tables, partners were across from each other at tables, and the inside circle would rotate after three statements to switch it up. Now that I am deskless, we just set up two lines facing each other. (Make sure students lean down to do a head check to make sure they will not bonk heads. This step may have been added for that reason:)
The Marker Game
True statement:

students race to grab the marker & hold up.

 
The team with the most members holding the marker receives 1 point
False statement:
students do NOT touch/pick up marker.
If nobody on team touches/picks up marker, the team earns 1 point

(Both teams have the possibility of earning a point.)

If both teams hold up marker, team with the most loses 1 point

If student touches marker & throws back, person sitting opposite stands up silently. Team with student that threw marker loses 2 points!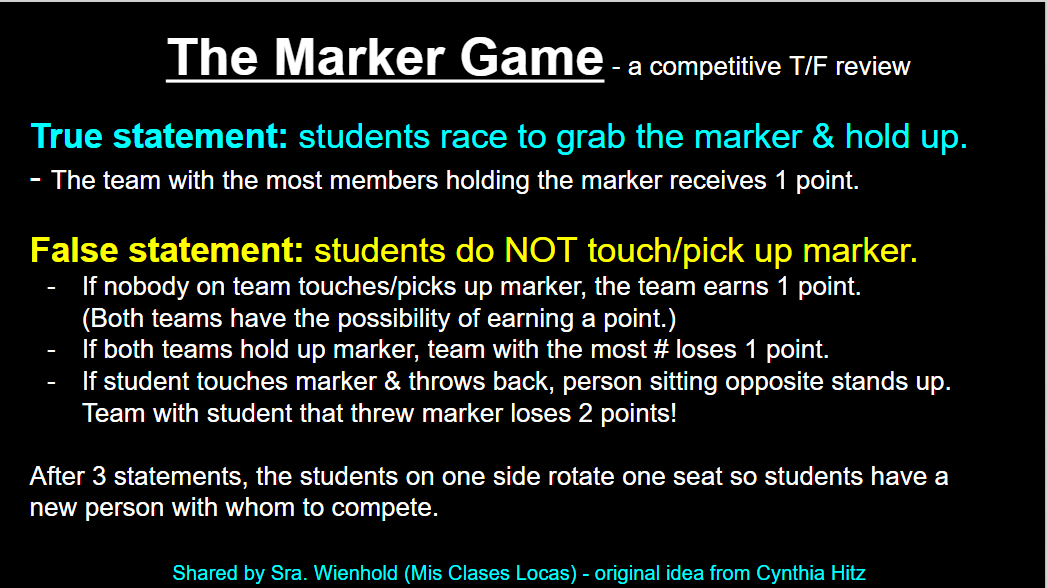 To help out my visual learners, I have the true/false statements projected on a slide. I have them transition in one by one with my awesome clicker as I read them. It helps to also transition in the answer (T or F) after each statement so they can check who gets the point. below you can see an example from chapter 8 of of the novel Brandon Brown Quiere un Perro.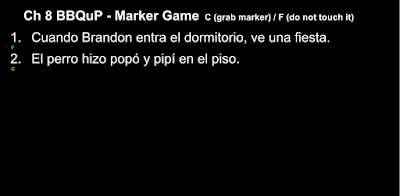 Here are previous posts for novels that include the marker game as well. 
Fiesta Fatal – Review of Ch1-3
Vida y Muerta en la Mara Salvatrucha – Ch10


All Teaching Brandon Brown Quiere un Perro Posts


What are your student's favorite review games to play in class?