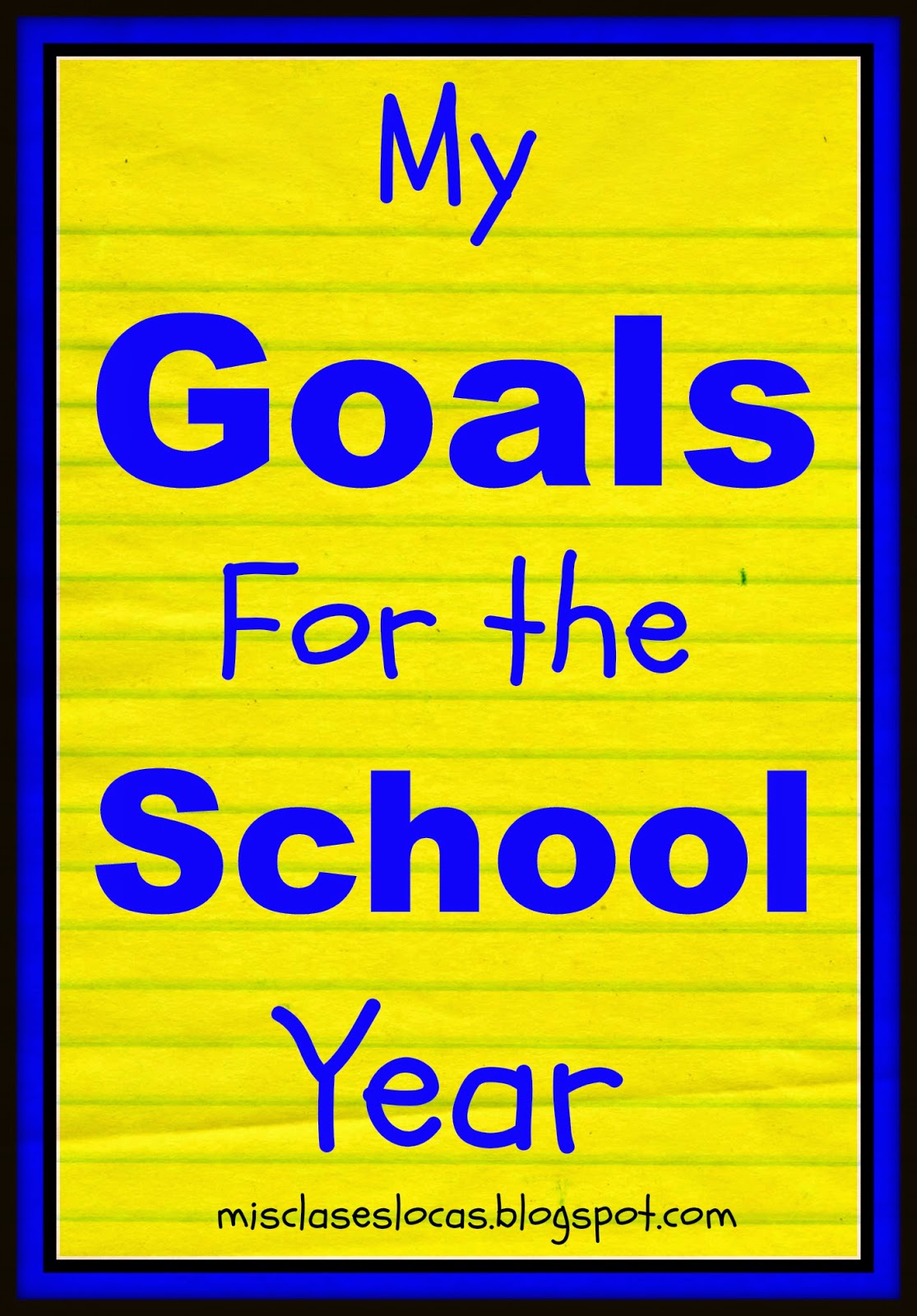 Inside: Goals for the School Year from a high school Spanish teacher
Professional Goals
NO D/F STUDENTS
I realized that by letting those couple students slip through the cracks the past two years, I have just been taking the easy way out. I know that last year I was not at peek performance.
(1st semester I was tired and pregnant and 2nd semester after maternity leave I was sleep deprived considering my little darling did not sleep through the night until summer.)
 It was easier to just mark a 0 when they failed to do an assessment, rather than hound them down, contact their parents and insist they do it. As a class where students have to get a C or better to go on the next semester or year it is tempting

(terrible I know)

to let them give up. Moving 
to proficiency based assessment last year from the awful
 textbook tests year one was a huge step in the right direction because if they DO the assessment they can not fail. This year I am taking it another step forward by insisting that EVERY assignment is turned in, so no 0's in the grade book, without the penalty of loosing a huge chunk for it being late. This means I need to stay on each and every one of them, as well as their parents to get everything in. 
SEND 5 POSITIVE PARENT EMAILS PER WEEK 
I was inspired by Srta. Johnson's tweet about sending positive parent emails, but decided to bring the number down in order to help keep my personal goal below of a school/home balance. I really need to send positive parent emails early to those students who I know have a habit of slipping later, to make sure that we start off on a positive note. Always remember the compliment sandwich!
ATTEND 2 CONFERENCES
Last year I attended my first Spanish teacher conference IWLA, and I plan on returning

(& hopefully presenting)

 this year. This year I REALLY want to try and make my first regional conference CSCTFL since it is in Minneapolis, only four hours away and very close to the house of my best friend. The only thing standing in my way is I would have to miss a day of parent teacher conferences to go. Any advice on how to present this to the principal as a very worthy excuse to miss conferences would be appreciated. At some point I would also love to attend a TPRS conference.
INCORPORATE SERVICE LEARNING 
Monday night I participated in #tlap (Teach Like a Pirate) chat for the first time and was very inspired by the topic of empowering students to change the world. It really got me thinking about the service learning opportunities in the community using Spanish that we have been missing out on. Last year my Spanish III made children's books that were taken to a school in Guatemala, which was great, but since most of them did not go to deliver them they did not get the essential component of service learning, reflection. This year I would like to think local and find something my students can do in the Waterloo, Iowa Latino community using their Spanish. If you have an idea please let me know!
SUCCESSFULLY IMPLEMENT NEW NOVELS & EL INTERNADO
I am very excited about the new additions to my curriculum this year. In Spanish III & IV I plan on them watching

and doing activities based around 
El Internado
every Friday. I have been binge watching it this summer and am on season 6 and I hope they get into it as much as I have. I am also getting 
four class sets of TPRS novels

(
La Calaca Alegre
, 
Brandon Brown Quiere un Perro
, 
Robo en la Noche
 y
Esperanza
)
 

as well as the coordinating Teacher's Guides

. I am anxiously awaiting their arrival so I can really start to plan. 
SPANISH SPEAKING GUESTS
I just decided that in my beginning of the year parent letter, I am going to ask them if they know of any Spanish speakers who would be willing to come and talk to class. It does not need to be on any specific topic, they could just show up and let me students interview them. We have 0 heritage speakers in my school so my students need to hear someone other than me talk to them in Spanish. 
CONNECT WITH SPANISH SPEAKERS AROUND THE WORLD
This goal goes with the two above, so you can see this year I REALLY want my students to connect, speak and write with native speakers. I am aware of a lot of platforms for actual communication, whether it be Google hangouts, SKYPE or Twitter, but what are the best ways to FIND a class or individual who wants to connect with us? Again, help is appreciated 😉
Personal Goals
KEEP TEACHING BABY BOY SPANISH
SCHOOL/HOME BALANCE
PHYSICAL ACTIVITY 3x/WEEK
What are your goals for the school year?