It is time for another #Confession post. I have gotten multiple messages lately with teachers feeling overwhelmed and thinking that based on my social media I happen to have it together. 
Newsflash I don't have it together. 
I feel like I need to insert a dose or reality to hopefully help you realize that you are not alone. This time of year is HARD. It is cold, dreary & burnout month. Students are over school and teachers are having a hard time seeing the light at the end of the school year tunnel. While I am right there with you, my biggest advice is to mix it up. (Sr. Wooly Week was a great change of pace for us last week). Take care of yourself and don't take school work home. Do you want to feel a little better about yourself? Here are 10 confessions of a February Teacher Mom.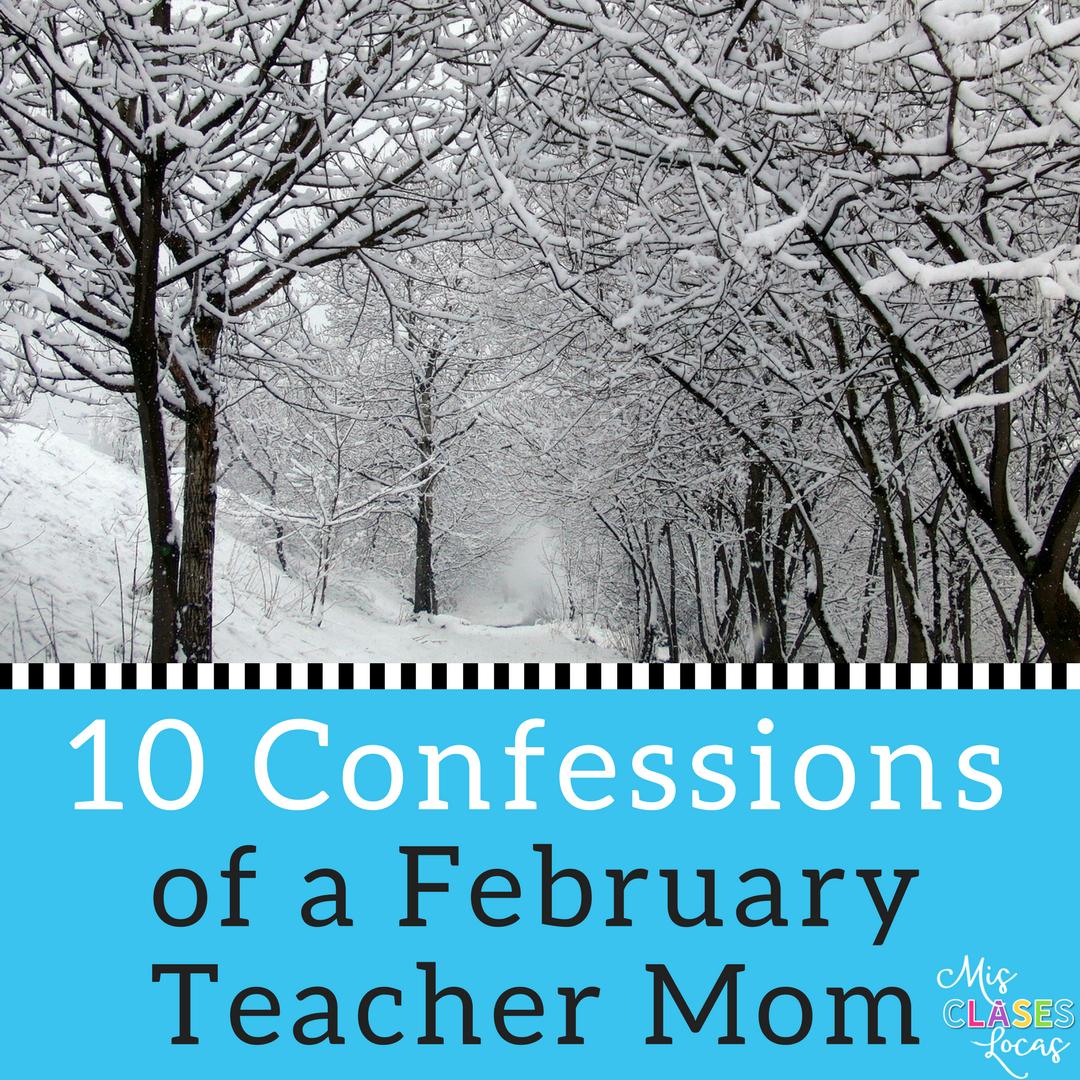 1. I said no to covering a class 
At my tiny school in the middle of nowhere we have very minimal substitutes. Basically unless your request leave way in advance, if you call in sick the day of, there will not be a sub to cover. This means that teachers are called in the morning to cover for other teachers during their preps. But, the thing is my prep period is sacred to me. It is key in how I don't take school work home. So when the secretary called me recently to cover. I said no. I am sure the office was mad at me, but c'mon! Teachers are sick from being overworked, so let's just overwork them some more and make more sick. It is OK to say no. I did.
2. I am struggling with Spanish 3
Typically the upper levels have always been "easier" for me to teach. Upper level kids typically want to be there and historically have been more motivated. Not this year. My first hour group of Spanish 3 has zero motivation to do anything in life. It is common to be missing 25-50% of class at the start since they all stroll in to school late. No one does any work or studying outside of class, and in class many are not mentally present.
All of these factors means we have stalled out and their Spanish proficiency is going backwards if anything. This should be my model group, the first class that I started all in CI from day one of Spanish 1. I have tried to mix it up. We tried an ebook, which went well overall and we are doing literature circles now (which they are giving the least amount of effort possible).  Any advice to hook them back in and hopefully get they to sign up for next year would be appreciated!
3. I go to school with wet hair
In a typical week lately my hair is either wet when I leave the house or loaded in dry shampoo. It has not been "done" (like at the start of the year) since I can remember. My go to wet hairstyles include: a low bun (that sometimes is taken out later), a french braid (diagonal across the the back into a side braid if I want to get crazy;).
4. I am overwhelmed as a Teacher Mom
Even though I said no to covering that one class, I feel like I have said yes to 100 new things lately. This semester I am: participating in a university study, hosting multiple out of district teachers for observations, hosting a university practicum student, being interviewed for a podcast, guest moderating #langchat, advising NHS, a model teacher in my district, working for Camp Adventure including presenting at four night classes, blogging, TPTing, mom-ing x2, wife-ing, Vice President of IWLA, teaching four preps, and finally hosting a TPRS books conference at at my school with EIGHTY teachers. Just looking at this list makes me realized I need to prioritize and scale it back. 
5. I stopped working out
I think I made it about 15 days into 80 day obsession. Like most New Year's Resolutions, mine ended since I pick snooze over morning workouts. 
6. Coffee is life for a Teacher Mom
Until I went to Spain I prided myself on not drinking coffee. Cue becoming a mom and I got my first coffee pot. I then prided myself on just one cup to start my day. Cue two kids and now a second cup might come with me on my drive, or the Dunkin Donuts two blocks from my kids' daycare has become a regular hangout. (2-6pm half price Dunkin drinks make for a great post school treat). 
7. I am not trying anything new
This semester every big novel unit I have done before. I thought about trying out some new books, but decided I would roll with my tried and true novels. I already have my big slide shows created with questions, activities, assessments, plus printed manipulative materials in binders, which means I can just write "Chapter 2" in my plans, and figure out what that means on the fly. 
8. I don't always follow through
There are Mondays with no weekend talk, days that the afro-latino song never gets played, and Fridays when I don't even play a baile viernes song in the reluctant classes. Just because at some point I blogged about some idea, it does not mean it consistently happens. (Case in point – Real World Homework I dropped last year and never went back). 
9. I frequently fail as a mom
There was one day I got a call from daycare that I had not turned in the next month's schedule on time and then proceeded to be late picking up my kids the same day. My kids eat frozen dino chicken nuggets, frozen pizza or frozen waffles with peanut butter more nights for dinner than I care to mention. To be more present, for Lent I am keeping my phone put away from the time I pick them up after school until they go to bed. So far, that has really helped me focus on them during our precious weeknight time together. 
10. This Teacher Mom is ready for summer
I can't wait for afternoons spent at the pool and splash pad, no alarm clocks, grilling out, live music in the park, and vacations. While I really do love teaching, there is no denying summers off is one of the best perks out there.