Spanish 1 has officially finished reading Tumba by Mira Canion! I would highly recommend it for a novice level Spanish class.
Last Thursday, we read chapter 9 together as a class, circling, checking for comprehension, and personalizing. Then last Friday afternoon the weather was a Gorgeous and sunny 75 degrees (one of the few and far between perfect days in Iowa). My upper level classes missed out since they watch El Internado on Fridays, but Spanish 1 was in luck! I decided to adapt the plans and move class outside.
I got the class pumped up as they entered with talk of an "aventura." I explained the 3 tasks they were to complete with their partner and the supplies their would need and we were off. The tasks for the day were:
Re-read chapter 9 with their partner

Work together to complete a graphic organizer of the chapter

On their own, create a 10 question True/False quiz in Spanish for their partner
For those that had time they gave these quizzes orally to multiple people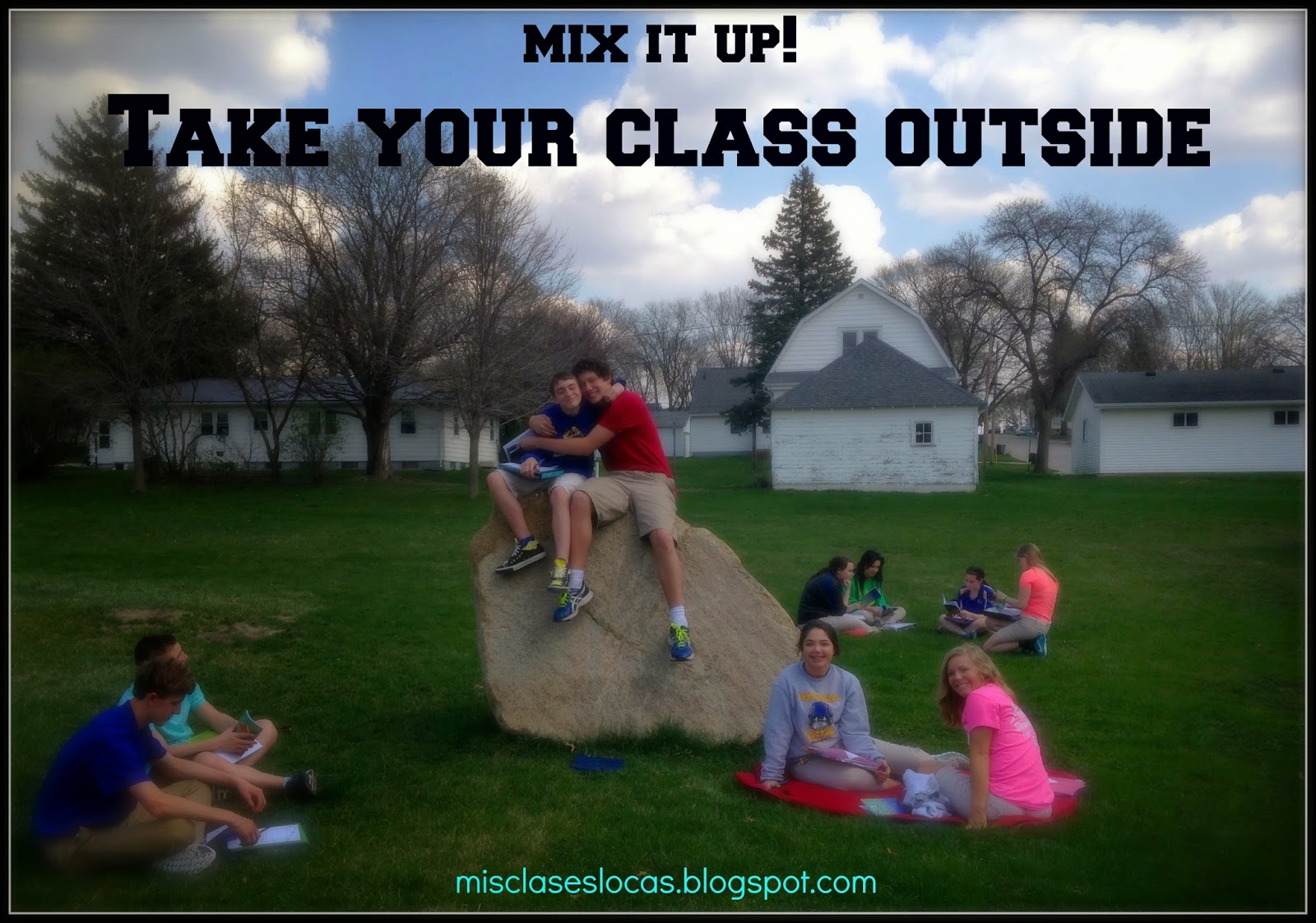 Tips for taking your class outside:
Give directions INSIDE before the caged animals are set free.

Set boundaries as to how far students can go to work.

Have tasks that do not require computers, as I did not want to risk their livelihood.

Keep it as a special occasion or treat, as to not get old and stale like the classroom:)

If you do not want to go the whole class time, use outside as a "brain break" in block classes, playing a 5-10 minute game in the TL such as Simon Says, Red Light Green Light, Fruit Salad, or What Time is it Mr. Fox?

(can you tell I spent 5 summers as a summer day camp counselor 🙂
As for chapter 10, we read it as a class, answered questions, and then took a fun summative Kahoot quiz.


This week students will be completing interpersonal speaking assessments in pairs, as well as individual presentational writing assessments. We will finish the unit watching El Libro de Vida.


What kind of things have you done outside with your students?